Blessed is the man that walketh not in the counsel of the ungodly, nor standeth in the way of sinners, nor sitteth in the seat of the scornful. But his delight is in the law of the LORD; and in his law doth he meditate day and night. And he shall be like a tree planted by the rivers of water, that bringeth forth his fruit in his season; his leaf also shall not wither; and whatsoever he doeth shall prosper (Psalms 1:1-3 KJV).
Another tree fell at our church this week. Her name was Mrs. Virginia Beasley, known to her church family as Miss Beasley.
For the past 15 years or so, I have sat behind Miss Beasley every Sunday at church. Her white hair has been the focal point of our side of the church. To me, her hair looked like soft, white cotton candy. I don't know how she felt about it, but I thought it was beautiful. Miss Beasely was known as the candy and gum lady at church. She brought a baggie full of goodies every Sunday and passed it out to the children who sat around her little ones and very big ones. They loved her for it and I know they will miss her just like I will.
What We Sometimes Forget
I'm sure you probably have a Miss Beasley at your church, too. Someone who sits in the same spot every Sunday. Never misses a service. Loves people and children and sharing what they have with others. What we sometimes forget about these church members is that growing deep roots in our faith doesn't guarantee an easy life and Miss Beasley didn't have one.
In 1996, Miss Beasley's daughter, Jo, was taken from her home by someone she knew, driven to a barn and brutally murdered. It was the day before Jo's birthday. As I sat behind Miss Beasley in church I often wondered how she got past that horrific event. I suspect that like most traumatic events in our lives she didn't get past it, she just learned to live with it, but it had to have been incredibly hard.
Miss Beasley had a necklace with her daughter's picture on it that she wore frequently. One Sunday, I commented about what a good picture it was of Jo. Her eyes teared up, "Why don't people ever talk about Jo?" She asked. "It's like they don't remember her." That broke my heart. Of course we remember, but we were trying to spare Miss Beasley more pain, which seems foolish because a mother's heart can't know more pain than the death of a child.
Even though others may never have mentioned Jo's death, I know she never stopped thinking about it. In fact, the night Miss Beasley died was 2 days before the anniversary of Jo's death. I'm sure she went to sleep thinking about her daughter. She died peacefully in her sleep, thus being spared reliving one more time the anniversary of her daughter's death.
The Difference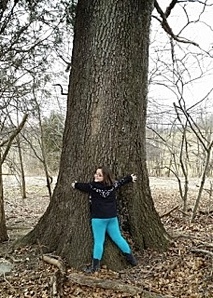 One day last week, my son and I took his 8 year old daughter for a walk on our farm. We stopped to show my granddaughter one of the largest trees I have ever seen. It's a huge old oak tree. This tree is so big that our arms won't reach around it. Abby, my granddaughter, was fascinated with this old tree, so I snapped a picture of her hugging it.
These great old souls didn't waver when the storms of life came.
Now when I look at that picture, I am reminded of Miss Beasley and others like her. These great old souls didn't waver when the storms of life came. The shadow the oak tree casts is huge. The sphere of influence that a strong Christian shares when they stay firmly rooted in their faith is even bigger and more influential.
The hard thing about a large tree with deep roots is that when it falls, it leaves such an empty, vacant space. And every time we see that spot, we ache for the tree that was there. That's how I feel with the empty spot where Miss Beasley used to sit. I ache for her presence and miss her. Yet the empty spot on the pew in front of me also serves as a reminder of two important realities:
I need to continue growing deeper roots to be an influence for good and for God!
God wants me to stay busy planting more trees and nurturing them to grow deep roots!
I want to be able to proclaim like the old African American spiritual, "I Shall Not Be Moved!"
Glory hallelujah, I shall not be moved,
Anchored in Jehovah, I shall not be moved;
Just like a tree that's planted by the waters,
I shall not be moved!

In His love abiding, I shall not be moved,
And in Him confiding, I shall not be moved;
Just like the tree that's planted by the water,
I shall not be moved!

I shall not be, I shall not be moved,
I shall not be, I shall not be moved;
Just like a tree that's planted by the water
I shall not be moved!
---
Follow these links for full lyrics or Johnny Cash YouTube video.