Something unusual happened while waiting in line to board WestJet flights in Toronto and Hamilton, Ontario. We're told it happened on "A Night Before Christmas." Passengers were greeted by a virtual Santa who called them by name and asked them what they wanted for Christmas.
The wish list included a train, a TV, a tablet, toys and airline tickets. The requests ranged from wants to wishes to needs. One dad merely asked for socks and underwear.
As soon as the travelers boarded their planes the WestJet volunteers became Santa's helpers. They scrambled to malls and Best Buys and department stores. The lists had been made and they checked them twice. And that's when the magic happened.
Both flights landed in Calgary. As passengers waited around the carousel wondering whether their luggage would show up on time or not, the red light began flashing. But instead of luggage flowing down the chute, gift-wrapped packages began arriving in its place.
One woman cried when she opened a camera. A boy exclaimed "No way!" when he saw an Android Tablet with his name on it. And then some big doors opened and one family found the 50" flat-screen TV they had asked for.
They all seemed pleasantly surprised and genuinely grateful... even the dad who got his socks and underwear. (Although you have to wonder if he wished he'd dreamed a little bigger.)
We all have our dreams, don't we? Dreams of how we hope our life will go. Joseph was no different. As a Jewish man he would want to work and support himself and a family. He was a "tektonos,"or a craftsman (Matthew 13:55). He worked with his hands to make an honest day's wage.
Although honestly, it must not have been much. Luke tells us that when Joseph and Mary took their baby to Jerusalem to present him to the Lord they offered "two turtle doves" and a "partridge in a pear tree." (Actually it was "two turtle doves" or "two young pigeons." Just checking to see whose paying attention.) It was the sacrifice of the poor.
Your dreams, apart from God, are not big enough.
He dreamed of working hard and providing a simple home for his family. They would never have much but they would have love. And Joseph would be righteous. Matthew notes he was a
"tsaddiyq"
— a "just" or "righteous" man. He recited the
Shema
. He followed dietary laws. He didn't hang out with tax collectors and sinners.
That was his dream. Until God interrupted with a different one. Mary tells him she is pregnant but not by another man. Joseph wants to be righteous, but the Law says she had to be stoned and he can't do that. And while he's working this over in his mind he falls asleep and an angel appears in a dream:
Joseph, son of David, do not fear to take Mary as your wife, for that which is conceived in her is from the Holy Spirit. She will bear a son, and you shall call his name Jesus, for he will save his people from their sins (Matthew 1:20-21).
Why would Joseph be afraid to take Mary as his wife?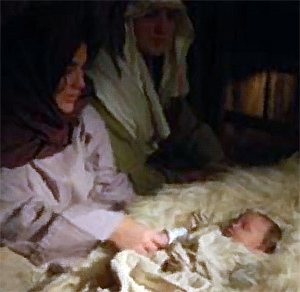 Certainly he would not want to break God's law. But think about the cost it would require for him to raise this baby as his own. His reputation as a righteous man would be gone. No invites to parties. No business at his shop. He'll be looked down upon by the other "righteous" men.
Any dream he had of a quiet, righteous life was gone as quickly as the dream you had last night but forgot by the time you awoke. But sometimes God supplants our dream with a bigger dream. A better dream.
Most of us dream like Joseph. We want to do well with our bank account and we want to have fun. So we work hard and then we play hard on the weekends. And the problem for you and me today is that an angel has interrupted our dreams and presented another one: Jesus. No, we aren't being asked to take a young pregnant girl as our wife, but we are being asked to have our worlds upended by Jesus.
Your dreams, apart from God, are not big enough. God's dreams for you, when heard and obeyed, can transform your life. God has something big in store for us. Jesus has come. He has brought salvation. From sin, yes. But also from a life that is centered on self. He wants this baby to be born into your life. Paul would later write that his goal was that "Christ be formed in you" (Galatians 4:19). God's plan for you is that Jesus is born in you.
That's a big dream. It's a better dream.
This Christmas don't settle for socks and underwear.