[Jesus said,] "Truly I tell you, unless you change and become like little children, you will never enter the kingdom of heaven" (Matthew 18:3 NIV).
There's a crispness in the air where I live. Leaves are showing off their vibrant colors. People are cleaning chimneys and stocking up firewood. Sweaters and coats are being featured in the stores. Winter is only a few weeks away.
So, before the snow flies, I wanted to be sure you have some critical information that many will choose to ignore. They will certainly do so to their own peril. And there will be disappointment, fumbling, and collapse. So let's get it all laid out with precision in advance of snowfall — the rules for building a snowman.
The engineering department at a college in West Virginia has put it down on paper. No more of this careless child's play! From this point forward, there's no excuse for failing to have the perfect snowman. And, for the sake of easy memorization, they worked it out to exactly ten surefire steps.
First, you will need at least two inches of wet snow on a large flat surface. Second, roll a ball that is three feet in diameter for the base. Third, construct a second ball two feet in diameter that must be centered exactly on top of the first. Fourth, roll a third...
Whoa. Hold on! Stop already!
They were being playful. Just thinking of ways for kids to think of structures and construction. There's no "one perfect way" to build a snowman. No perfect snowfalls. No need to measure the diameter so precisely. And no call for being so harsh toward another's effort.
So what's the point here?
Rules for building a snowman sounds very much like the thing that frustrates people who want to know the will of God or drives sensitive souls from Christ.
People can get discouraged while reading the Bible.
They don't know the original languages.
Can't keep the rules of hermeneutics fixed in their minds.
Can't figure out how to get the right answers their preacher said are so plain.
You simply need a childlike heart with which to hear and follow Jesus.
Enter someone with a surefire five-step or ten-step method for "getting it exactly right."
Whoa. Hold on! Stop already!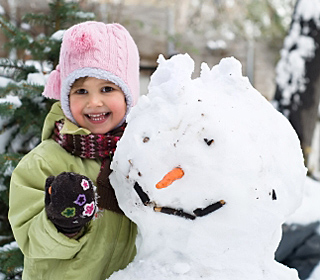 Without depreciating good biblical scholarship, the Bible wasn't written for theorists and systematizers. It is less a manual of doctrines than a treasury of stories about people who experienced God in their lives. When your life is in a similar situation of fear, sin, or celebration, read their stories for clues about how to handle yours. Don't flatten it out as a construction manual. See how others lived with God in hope, faith, and love. And know that he will be with you as well.
You don't need engineering blueprints — for building snowmen or religious systems. You simply need a childlike heart with which to hear and follow Jesus.
At that time Jesus prayed this prayer: "O Father, Lord of heaven and earth, thank you for hiding these things from those who think themselves wise and clever, and for revealing them to the childlike" (Matthew 11:25 NLT).