Special Note:
I have loved Rubel's articles for years so I was not surprised when I loved this one. But I more than loved it. I had just quoted the verse he ends with in an email to a young single mom abandoned by her child's father before the little girl was born. It was Holy Spirit timing. But I also love this because I have two forever grandsons who were first foster grandsons. I hope this moves you to join me in the world of really loving foster children into your family.
His name is Davion Navar Henry Only. He is 15 and has had weight problems. More seriously, he has exhibited serious anger issues. Although he is bright, he has had issues with poor academic performance. Before you judge him too harshly or count him a lost cause, however, let me tell you more of his story.
Davion was born in prison and removed from his birth mother, a drug addict and convicted thief. His life has been spent in Florida's foster care system, and he has been hoping for a "real family" as long as he can remember.
Davion's life took a different turn this summer, when he decided to try to find the birth mother he had never known. He used a library computer and data off his birth certificate to search for her. He found a mugshot from her conviction for petty theft and drug use — and her obituary. She had died only a few days before at age 55. "This is ridiculous," he remembers thinking. "How did I not know?"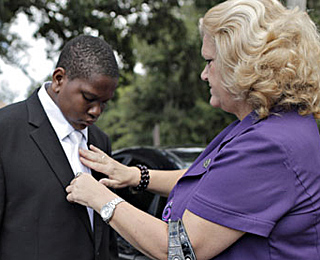 With the help of his caseworker, Connie Going, he went to her funeral and connected with some of her family. While they were not in a position to offer him a home or guardianship, different ones of them affirmed how happy they were to meet him and to connect with his mother's child. They said they cared about his welfare and wanted him to have a different and better life than she had known.
I hope his story draws positive attention to some of the additional 399,548 children who are in foster care!
"He got in the car and said, 'I didn't know I was loved, Miss Connie,'" said Going. "That began the turning point."
Davion spent his summer doing tenth-grade schoolwork. He made all As, except in geometry. He has lost 40 pounds. And he is working on the anger. Then, in September, he stood before St. Mark Missionary Baptist Church in St. Petersburg to make this plea: "I want a forever family to love me until I die."
According to the Tampa Bay Times, this is what happened:
"Without looking up, Davion wiped his palms on his pants, cleared his throat, and said: 'My name is Davion, and I've been in foster care since I was born. . . . I know God hasn't given up on me. So I'm not giving up either.' " Later, in a TV interview, he pleaded, "If you can, reach out and get me, and love me until I die."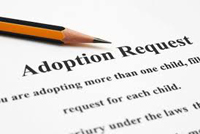 Last Friday, ABC News reported there had been some 5,000 phone requests and another 5,000 email inquiries about adopting him! A spokesman for Florida's Department of Children and Families says, "We're hopeful that we can connect Davion with his forever family." I hope so too! And I hope his story draws positive attention to some of the additional 399,548 children who are in foster care across the United States who want the same for themselves — a real-and-forever home.
Father to the fatherless, defender of widows — this is God, whose dwelling is holy. God places the lonely in families... (Psalm 68:5-6 NLT).