There are times in our lives when troubles seem to fall faster than raindrops from a summer shower. There are times when we feel like if just
one more thing
goes wrong we won't be able to survive. It isn't easy to handle life's tougher problems when they appear on our doorsteps; but when they come one right after another, it's even harder.
For a moment visualize a boxing match where one fighter delivers blow after powerful blow to his opponent. Unless the other fighter is stronger and has more stamina, if the fighter delivering the blows punches hard enough and accurately enough he will eventually win the fight.
Now imagine you are the boxer that is effectively little more than a punching bag and the other fighter delivering the blows is LIFE. How do we survive when we are hit with one brutal blow after another? How do we find the strength and the courage to get up and try again?
The Christian Fighter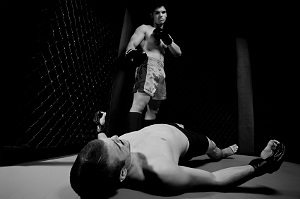 I have a cousin who is as dear to me as a sister. Her name is Martha, and she is a three time breast cancer survivor who is now again in Stage 4 cancer. All my life I have loved and admired her. When she was diagnosed with breast cancer the first time she was still in her 30's. After treatment, she made it a little over five years before it came back. This time the treatment was much more aggressive and included surgery, chemo and radiation. Surely, we thought, surely this is enough.
I was standing on the sidewalk in Atlanta holding some shopping bags when my cell phone rang. The cancer was back.... again. This time, the cancer was in other organs. This time it would be a longer, harder fight.
Martha and I live in different states, and like most women our age we have been busy with family, work, and many other things over the years. In the past, if Martha and I got to see each other once a year, we were content because, after all, there was always "next year" to get together.
How foolish we human beings are sometimes. Martha and I both realize that we cannot take "next year" for granted. So far this year, we have been together twice and we have plans to spend a week in the mountains together in October.
Martha has been a Christian since she was young and her faith has never wavered. She and her husband have raised three wonderful, successful Christian daughters. For many years they lived in a home next to the ocean.
A few years ago a hurricane flooded the area and they lost their house, cars and most of their possessions. They picked up. Moved inland. Then, built a much smaller house. "Our girls are grown," she said with a smile. "This little house will be fine."
A few months ago, I called her one afternoon and I could tell by the tone of her voice that something was wrong. "I'll call you back," she said. "I just got home from work and someone broke in our house and the police are here."
Thieves stole all her jewelry, computers, electronic gadgets, and a lot of other stuff. The police did eventually catch the men and women who did it, but the majority of Martha's belongings were never recovered.
Three weeks ago, while Martha and her husband were visiting us at a beach house we had rented, lightning struck their house and in an instant destroyed everything from the refrigerator to the televisions.
When We Ask God Why?
Anyone who has lived any length of time knows that life is not fair, but because we are humans we still wonder about things. We can ask, "Why God?" Why should someone who has served you so well have to suffer so much? Why do these things keep happening?
Remember Job?
There's no one else better to have in the ring with you!
Surely if anyone ever had the right to ask, "Why?" it was Job. He suffered one awful loss after another, but God's reply to Job is a reminder of how little we know or understand. After God reminded him of who created the universe and everything in it, Job said:
"I know that you can do all things; no purpose of yours can be thwarted. You asked, 'Who is this that obscures my plans without knowledge?' Surely I spoke of things I did not understand, things too wonderful for me to know" (Job 42:2-3 NIV).
That's true of every human being who has ever said, "If one more thing happens I can't stand it," or cried out to the heavens, "Why, God? It just isn't fair!"
When we do that we are talking about things we don't understand and things way above our comprehension level.
The Prize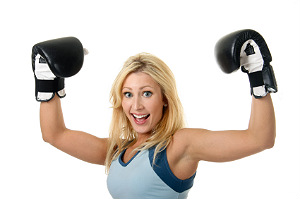 Remember the boxers I mentioned earlier? Think about them again. When tough times come, we can give up and climb out of the ring, or choose to keep fighting as long as the Lord will allow.
Why does a boxer get back up and keep taking blow after blow? Why does he keep swinging punches? Certainly not because he likes getting beat up. He does it because he wants the prize.
Why does a Christian keep fighting?
Why did Paul keep running the race?
Why does Martha journey on with hope and faith?
The Prize! Only the Christian's prize is bigger and better than any trophy ever made.
I have fought the good fight, I have finished the race, I have kept the faith. Now there is in store for me the crown of righteousness, which the Lord, the righteous Judge, will award to me on that day — and not only to me, but also to all who have longed for his appearing (2 Timothy 4:7-8).
Martha isn't just a fighter... she's a Christian prize fighter, a Champion of the Lord. He is her strength and her shield. He can be yours, too, and help you keep fighting if you will let him. So no matter what knocks you down, you get up, because victory is assured. There's no one else better to have in the ring with you than the LORD!