Tonight, a bunch of tired people full of good food filed up three flights of stairs to trade right shoes with each other. Yep, you got it, a bit of a stinky exercise. However, the point was powerful. Ricky Pruitt, my fellow ministry team member, spoke to our 90 plus team members in Peru tonight.
So what was Ricky's deal with the shoes? Simple! We carefully chose the shoes to bring with us for this very demanding mission trip. We didn't choose any shoes, but we chose the specific shoes for our task — shoes that would help us accomplish our mission. And if we chose our shoes carefully, think how carefully God has chosen us for his work in the lives of those around us every day, and especially for this special time with these precious children.
Ricky kept reminding us who we are and why we are here:
But you are a chosen generation, a royal priesthood, a holy nation, His own special people, that you may proclaim the praises of Him who called you out of darkness into His marvelous light ... (1 Peter 2:9 NIV).
We are chosen! We are here by God's purpose and design and for God's work. We are the shoe that fits, so let's use this precious time to make a real difference in the lives of these children in the ways that only we can!
For many of us, this was an important reminder. Our schedule and activities are highly organized, but our work is always fluid. For our team, the technology wouldn't work because of a number of unpredictable problems. One of our team mates was ill, and she and her husband were in charge of today's message. In addition, other folks scheduled to show up for special reading times with some of us were late or didn't show at all.
Our work here is sometimes a lot like juggling warm jello — the more you juggle it, the more you get on you. Yet Ricky's message reminded me that our work doesn't make much of a lasting difference unless the Holy Spirit steps in and makes the important stuff happen in the hearts of the children and helps it stick.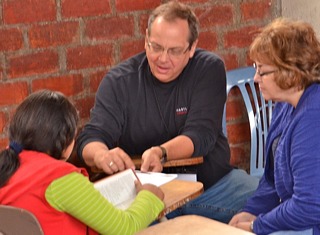 So today, with all the technical glitches and a few no shows, the Spirit did some really cool and unexpected "God-stuff." He placed the right people in the right places at the right time to make the right connection to children that needed the Father's touch of grace. The Spirit prompted several of us to reach out, invite, and encourage kids in ways we may never have done on our own and if our day had unfolded according to our own plans. And the coolest thing was that I got to do much of it with my wife Donna.
God has chosen us to be where we are to make a difference.
So as tired as I was and ready for a shower and to go to bed, I was blessed to be reminded that I was the shoe chosen to do the job God wanted! And I remembered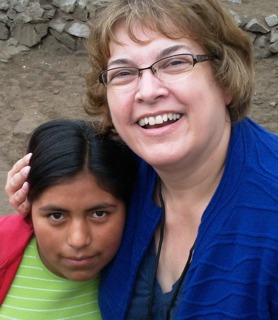 that the activities we did with the children today were a bit herky-jerky, but the little kids were much more open and attached to us than the day before. We were given the opportunity to read the Gospel of Luke in English with some of the brightest and sweetest young men and young ladies that have grown up at the community that you could ever imagine. Meaningful connections were made and very challenging questions were asked.
So tonight, I am going to be too late and too tired, but reminded that I am here with 100 chosen people to be here for this moment and this task. It is a good tired ... even if I have taken both shoes off to type up this report!
So when you get up each morning for the next several weeks, I hope you will join me in being reminded that just as you have carefully chosen your shoes for the day's task, God has chosen you and me and us to be where we are to make a difference as his special people.