On the evening of that first day of the week, when the disciples were together, with the doors locked for fear of the Jewish leaders, Jesus came and stood among them and said, "Peace be with you!" After he said this, he showed them his hands and side. The disciples were overjoyed when they saw the Lord (John 20:19-20 TNIV).
Jesus was alive. He was standing right there among them. It was too good to be true! It was more than they could have ever hoped to be true! It was more than they could imagine! It was, to put it in the most basic of terms, not humanly possible ... at least not until Jesus did it.
Jesus was raised from the dead. And what was the proof Jesus offered for these first disciples? What was the proof Jesus gave these guys who knew him best — the guys who had followed him around for over three years, who had eaten with him and laughed with him, who had been on the water with him, and who had heard his voice a thousand times? Jesus showed them his hands and his side. Jesus showed them his scars.
The Word became flesh and made his dwelling among us. We have seen his glory, the glory of the one and only Son, who came from the Father, full of grace and truth (John 1:14).
Think about this! God proved his existence by showing his human scars. How do we grasp this wonder?
We have to try to understand God in human flesh! How could the Holy God love us so?

We have to appreciate the wonder that God in human flesh would allow himself to suffer crucifixion for us! Why would God so limit his power that he would endure such torture, humiliation, and death?

We are challenged to comprehend how a dead and lifeless body can live again! Why would God choose this to be the way he would triumph over sin and death?
For God so loved the world that he gave his one and only Son, that whoever believes in him shall not perish but have eternal life. For God did not send his Son into the world to condemn the world, but to save the world through him (John 3:16-17).
Rooted in the resurrection story of Jesus is the most important truth that any of us can grasp: the One True and Living God became human flesh in Jesus, died for our sins, and triumphed over death and returned to life ... and did it for us!
The scars in Jesus' hands and side are the marks of God's great love for us. For Jesus' first followers, they were the unmistakable marks of his identity and the proof of his resurrection. The scars tell the story of God's great love. They were so important, that Jesus showed them again a week later to convince doubting Thomas that it was true (John 20:24-29). Thomas' confession is now our confession, "My Lord and my God!" (John 20:28).
Today, as we seek to share this story of God's great love, we must never forget the importance of the scars on Jesus' hands and side. True ministry in Jesus' name and patterned on the way Jesus did ministry, will always call us to enter the world of those we are trying to reach and make ourselves vulnerable. There is simply no other authentic way to share this story of God's grace than sharing our lives with those we are trying to reach. Folks want to know our heart (to see the scars on our side) and they want to know our willingness to help (to see the scars on our hands), and when they do, then they can catch a glimpse of the living Jesus and find real life in him! (John 10:10).
Jesus performed many other signs in the presence of his disciples, which are not recorded in this book. But these are written that you may believe that Jesus is the Messiah, the Son of God, and that by believing you may have life in his name (John 20:30-31).
How do we grasp this wonder?
---
What amazes you most about this life-story of Jesus as he tries to help his followers grasp his resurrection?
Why do you think it was so hard for Jesus' disciples to believe he was reaised from the dead while seeing him and hearing his voice?
Why was it so important for Jesus to show his hands and his side before they could truly grasp that it was really him?
Why is it important for us to share our heart and our help with others if we want them to know Jesus?
How do we help folks come to faith in the resurrected Jesus today?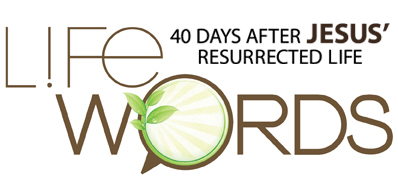 Our Summer Series on the Post Resurrection Sayings of Jesus