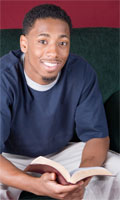 Since, therefore, the children share flesh and blood, he himself likewise shared the same things, so that through death he might destroy the one who has the power of death, that is, the devil, and free those who all their lives were held in slavery by the fear of death. For it is clear that he did not come to help angels, but the descendants of Abraham. Therefore he had to become like his brothers and sisters in every respect, so that he might be a merciful and faithful high priest in the service of God, to make a sacrifice of atonement for the sins of the people. Because he himself was tested by what he suffered, he is able to help those who are being tested (Hebrews 2:14-18 NRS).
©

"

Freed!

"
by
Straight from the Bible
is licensed under a
Creative Commons License
. Heartlight encourages you to share this material with others in church bulletins, personal emails, and other non-commercial uses. Please see our
Usage Guidelines
for more information.