Then Jesus said to his followers, "And who do you say I am?" Simon Peter answered, "You are the Christ, the Son of the living God."
— Matthew 16:15-16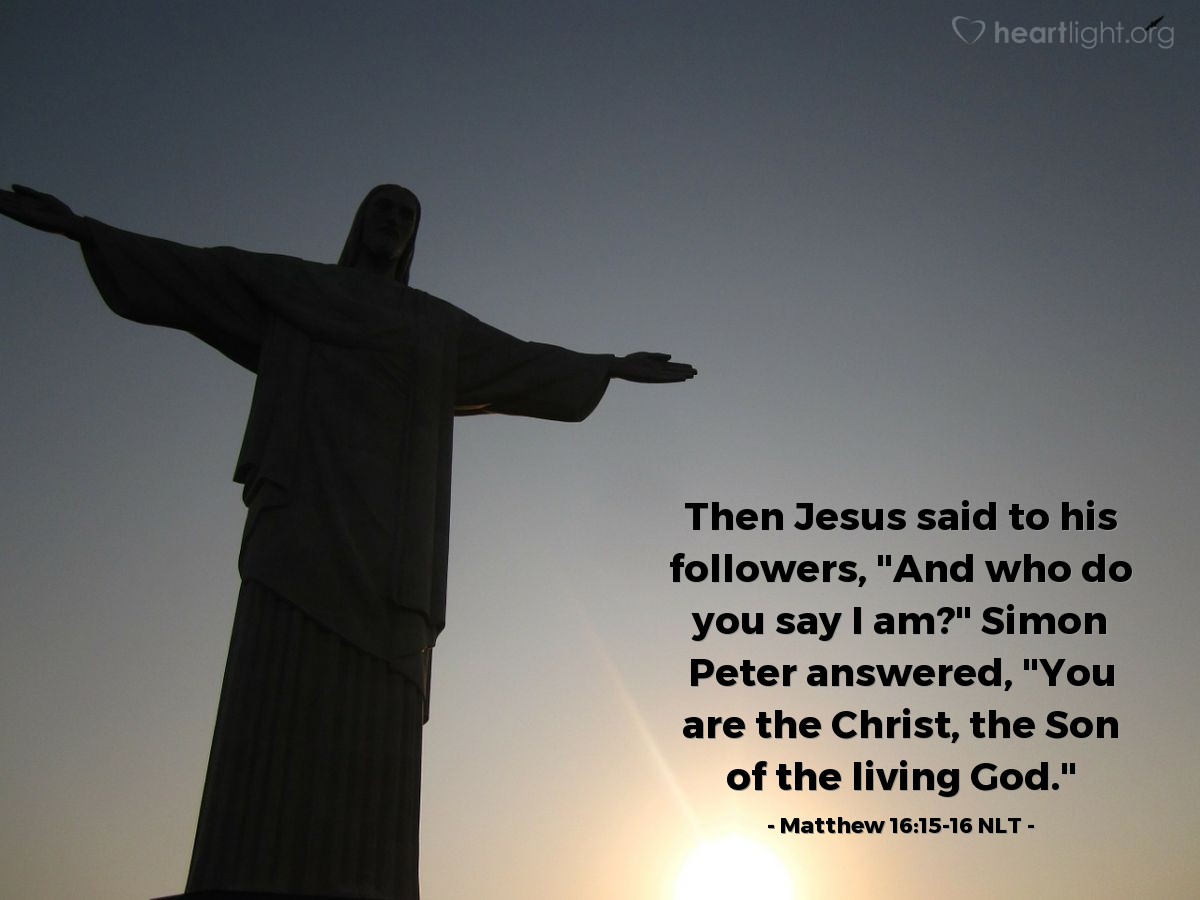 Key Thought
Peter's answer is simple but profound. "You are God's Son, the promised Messiah. You are the one God has promised for all these years. This is what I believe!"
Salvation today still hinges on fully relying on Jesus as our Savior. There is no one else on whom it can depend. The central issue in our lives then becomes whether or not we truly believe that Jesus Christ, our Lord, is the Son of God and whether or not we live our lives differently because of that faith!
Today's Prayer
Almighty God, how can I ever begin to thank you for sending Jesus! Help me live with him as Lord over all of my life. In Jesus' mighty name I pray. Amen.
Today's Verses in Context
Jesus went to the area of Caesarea Philippi. Jesus said to his followers, "I am the Son of Man. Who do the people say I am?" The followers answered, "Some people say you are John the Baptizer. Other people say you are Elijah. And some people say that you are Jeremiah or one of the prophets. " Then Jesus said to his followers, "And who do you say I am?" Simon Peter answered, "You are the Christ, the Son of the living God." Jesus answered, "You are blessed, Simon son of Jonah. No person taught you that. My Father in heaven showed you who I am. So I tell you, you are Peter. And I will build my church on this rock. The power of death will not be able to defeat my church. I will give you the keys of the kingdom of heaven. When you speak judgment here on earth, that judgment will be God's judgment. When you promise forgiveness here on earth, that forgiveness will be God's forgiveness." Then Jesus warned his followers not to tell anyone that he was the Christ.
Matthew 16:13-20
Related Scripture Readings
Jesus did many other miracles that his followers saw. Those miracles are not written in this book. But these things are written so that you can believe that Jesus is the Christ, the Son of God. Then, by believing, you can have life through his name.
John 20:30-31
The jailer told someone to bring a light. Then he ran inside. He was shaking. He fell down in front of Paul and Silas. Then he brought them outside and said, "Men, what must I do to be saved?" They said to him, "Believe in the Lord Jesus and you will be saved—you and all these people from your house." So Paul and Silas told the message of the Lord to the jailer and all the people that lived in his house. It was late at night, but the jailer took Paul and Silas and washed their wounds. Then the jailer and all his people were baptized. After this the jailer took Paul and Silas home and gave them some food. All the people were very happy because they now believed in God.
Acts 16:29-34
This is what God commands: that we believe in his Son Jesus Christ and that we love each other. This is what he commanded.
1 John 3:23