"I tell you this, and I say this to every person: 'Be ready!'"
— Mark 13:37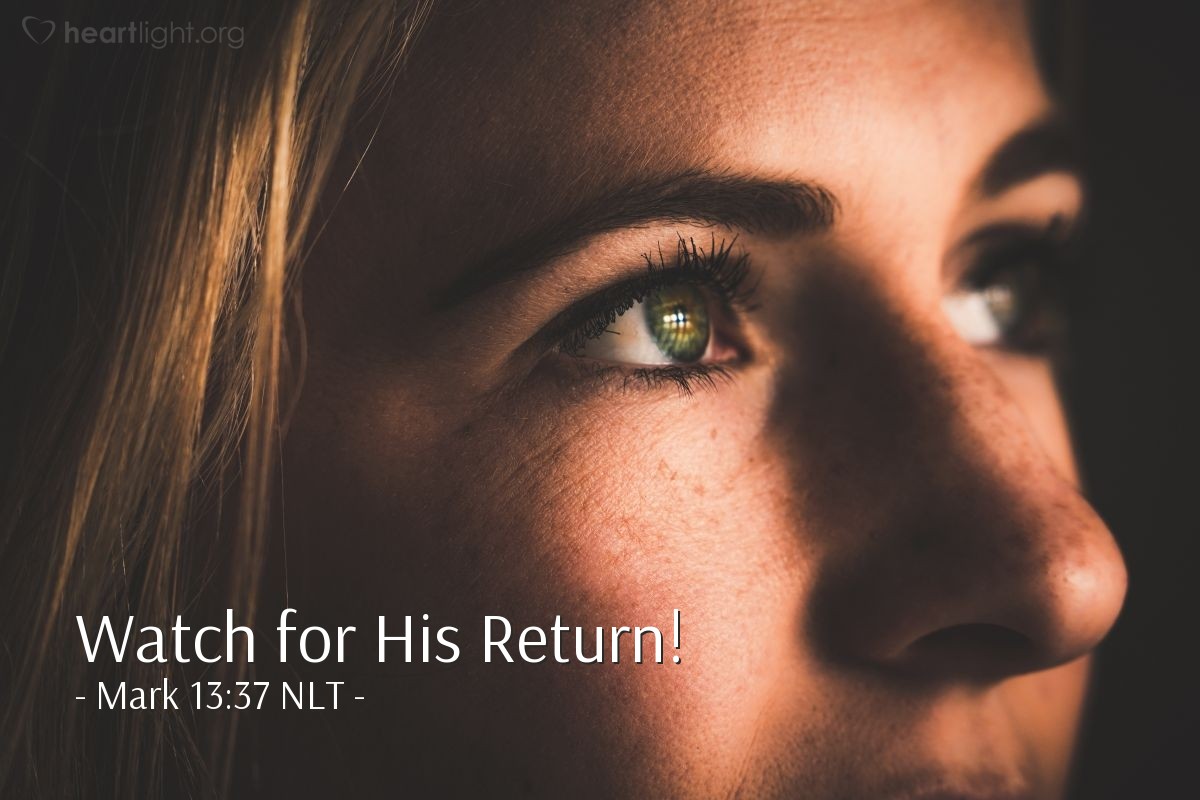 Key Thought
As Jesus tells this as a story (see the preceding story), he is in effect saying, "Watch for my return!" Throughout his ministry, he emphasized that he, the Son of Man, would return in glory and with the angels of heaven. His return would usher in the ultimate victory of God and bring complete and eternal salvation for his followers. However, we must be watching and prepared for his return. His voice, his words, his earnest pleading reaches out to us through the centuries and beckons us to be waiting and longing for his return.
Today's Prayer
O Father, thank you for the assurance that your Son will return and usher your children into your presence and eternal glory. Thank you in Jesus' name. Amen.
Today's Verses in Context
"The fig tree teaches us a lesson: When the fig tree's branches become green and soft, and new leaves begin to grow, then you know that summer is near. It is the same with these things that I told you would happen. When you see all these things happening, then you will know that the time is near, ready to come. I tell you the truth. All these things will happen while people of this time are still living. The whole world, earth and sky, will be destroyed. But the words I have said will never be destroyed. "No person knows when that day or time will be. The Son and the angels in heaven don't know when that day or time will be. Only the Father knows. Be careful! Always be ready! You don't know when that time will be. This is like a man that goes on a trip and leaves his house. The man lets his servants take care of the house. He gives each servant a special job to do. One servant has the work of guarding the door. The man tells this servant to always be ready. This is the same as I am now telling you. So you must always be ready. You don't know when the owner of the house will come back. He might come in the afternoon, or at midnight, or in the early morning, or when the sun rises. The owner might come back quickly. If you are always ready, then he will not find you sleeping. I tell you this, and I say this to every person: 'Be ready!'"
Mark 13:28-37
Related Scripture Readings
The Son of Man will come again with his Father's glory and with his angels. At that time, the Son of Man will reward each person for the things he has done.
Matthew 16:27
"The Son of Man will come again. He will come with great glory. All his angels will come with him. He will be king and sit on his great throne.
Matthew 25:31
The people that live now are living in a sinful and evil time. If any person is ashamed of me and my teaching, then I will be ashamed of that person. I will be ashamed of that person at the time I come with the glory of my Father and the holy angels."
Mark 8:38