Jesus said, "There was a rich man that always dressed in the finest clothes. He was so rich that he was able to enjoy all the best things every day. There was also a very poor man named Lazarus. Lazarus' body was covered with sores. Lazarus was often put at the rich man's gate. Lazarus wanted only to eat the small pieces of food left from the rich man's table. And the dogs came and licked his sores!"
— Luke 16:19-21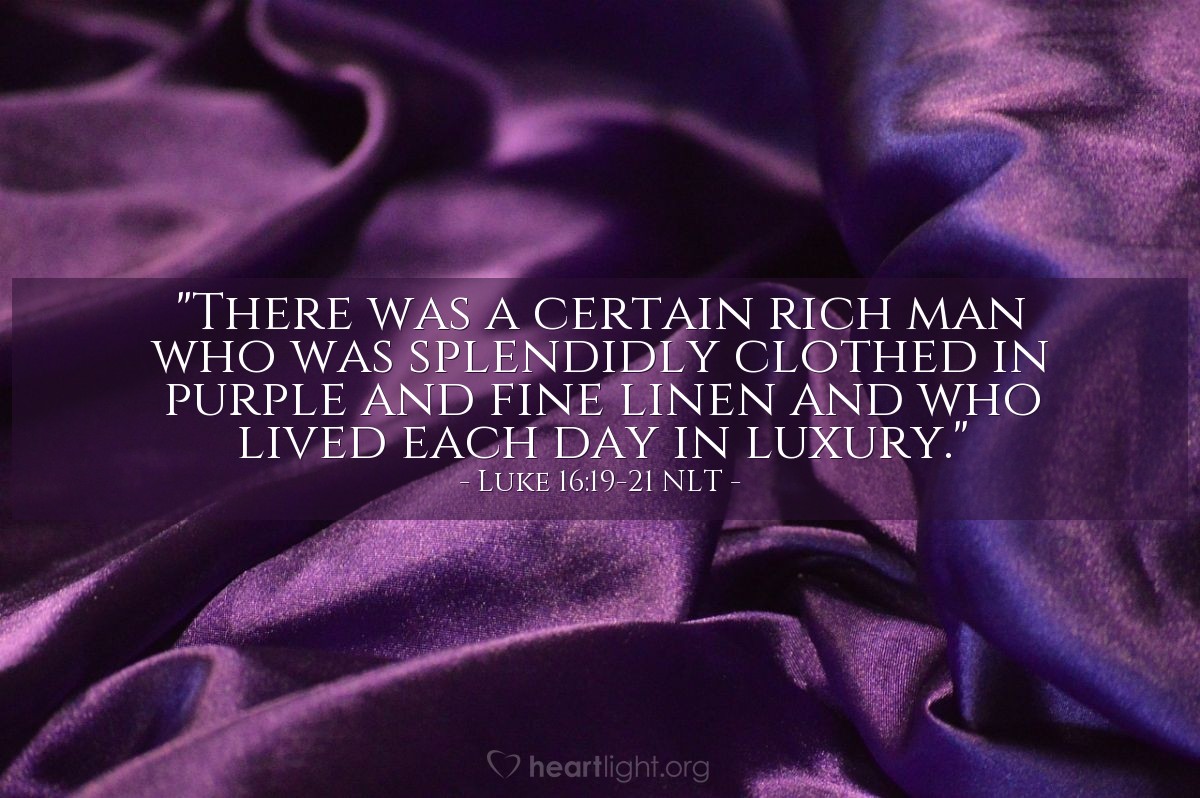 Key Thought
This image makes us want to throw up. However, what makes us sick is probably the thought of having dogs licking Lazarus' open sores. Yes, like other images in Scripture, this is revolting. Even more sickening to God—and it should be to us—is a man who has so much but who is doing so little to help someone so close. Lazarus wasn't even looking for much. However, rather than anointing the sores with oil and bandaging Lazarus' wounds, the rich man spurned him and only the dogs would offer him comfort and companionship. Who is your Lazarus? And yes, who is my Lazarus?
Today's Prayer
Father, open my eyes to see the people you have placed in my path for me to show compassion. Stir my heart with your Spirit to respond when I see them. Strip away the calloused and dead skin that surrounds my heart of compassion. Teach me the best way to show your love and grace. In Jesus' name I pray. Amen.
Related Scripture Readings
Then a Samaritan man traveled down that road. He came to the place where the hurt man was lying. The Samaritan saw the man. He felt very sorry for the hurt man. The Samaritan went to him and poured olive oil and wine on his wounds. Then he covered the man's wounds with cloth. The Samaritan had a donkey. He put the hurt man on his donkey, and he took him to an inn. At the inn, the Samaritan cared for him.
Luke 10:33-34
Sing to God. Sing praises to his name. Prepare the way for God. He rides his chariot over the desert. His name is YAH. Praise his name! In his holy temple, God is like a father to orphans. God takes care of widows.
Psalm 68:4-5
"Then the king will say to those good people on his right, 'Come. My Father has given you great blessings. Come and get the kingdom God promised you. That kingdom has been prepared for you since the world was made. You can have this kingdom, because I was hungry and you gave me food to eat. I was thirsty, and you gave me something to drink. I was alone and away from home, and you invited me into your home. I was without clothes, and you gave me something to wear. I was sick, and you cared for me. I was in prison, and you came to visit me.' "Then the good people will answer, 'Lord, when did we see you hungry and give you food? When did we see you thirsty and give you something to drink? When did we see you alone and away from home and invite you into our home? When did we see you without clothes and give you something to wear? When did we see you sick or in prison and care for you?' "Then the king will answer, 'I tell you the truth. Anything you did for any of my people here, you also did for me.'
Matthew 25:34-40
About This Devotional
What Jesus Did is a one-year devotional guide through the gospels, using one short passage each day and following the Gospel in consecutive order. Each devotional consists of a passage, reflection and a prayer which opens up the day's scripture and shows how it challenges you to live for Jesus.
What Jesus Did! is written by Phil Ware.
Easy-to-Read Version copyright © 2001 by World Bible Translation Center. All rights reserved.