"Why do you call me, 'Lord, Lord,' but you are not doing what I say?"
— Luke 6:46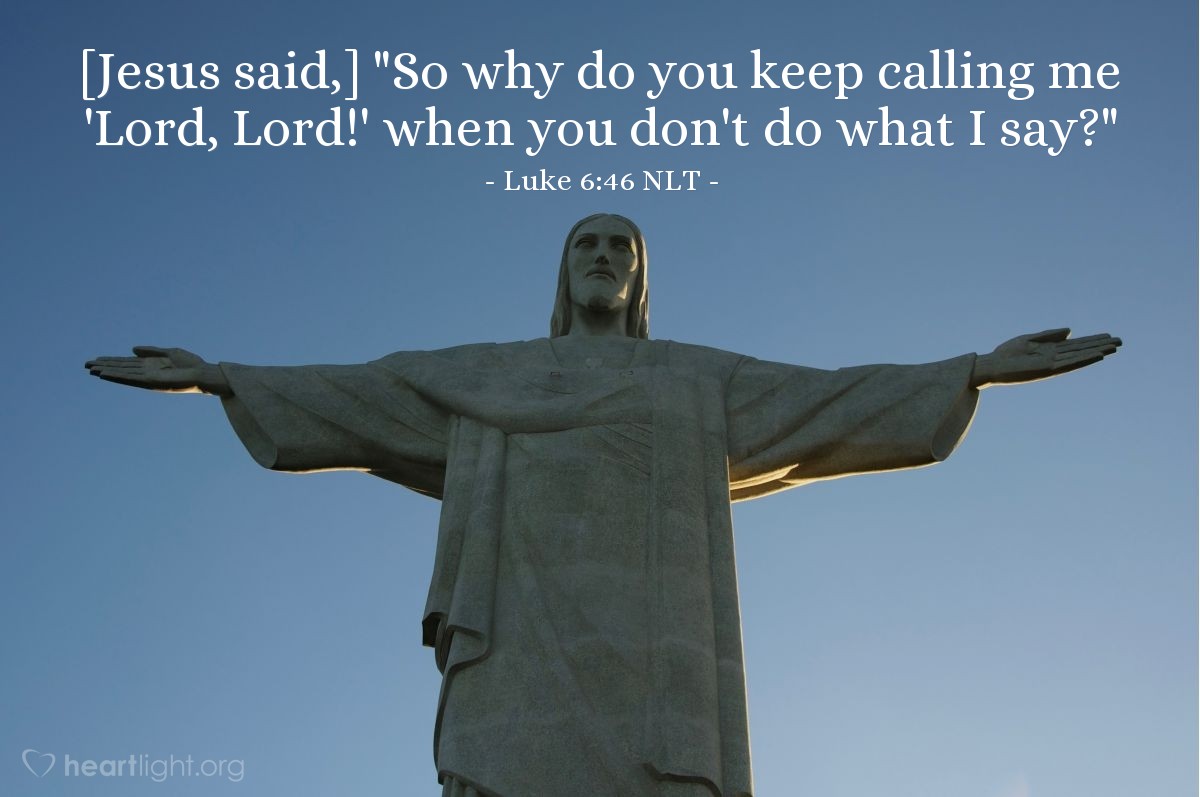 Key Thought
Jesus has one simple point: if I am your Lord, then you will obey what I tell you. If you don't, then I'm not your Lord. It's that simple. It's that clear. So why have we grown so passionless about obeying what he says? After all, if we have trouble with obedience, our fundamental problem is really a lack of love for Jesus. He said "If anyone loves me, he will obey my teaching" (John 14:23). So as our passion for the Lord grows, so also should our obedience. If we love the Lord, then we'll do what he says!
Today's Prayer
Abba Father, give me a passion to obey your will just as you have filled my heart with your love through the Holy Spirit. In Jesus' name. Amen.
Today's Verses in Context
"A good tree does not give bad fruit. Also, a bad tree does not give good fruit. Each tree is known by the fruit it gives. People don't gather figs from thorny weeds. And they don't get grapes from bushes! A good person has good things saved in his heart. And so he brings good things out of his heart. But an evil person has evil things saved in his heart. So he brings out bad things. A person speaks the things that are in his heart. "Why do you call me, 'Lord, Lord,' but you are not doing what I say? Every person that comes to me and listens to my teachings and obeys—I will show you what he is like: He is like a man building a house. He digs deep and builds his house on rock. The floods come, and the water tries to wash the house away. But the flood cannot move the house, because the house was built well (strong). But the person that hears my words and does not obey is like a man that does not build his house on rock. When the floods come, the house falls down easily. And the house is completely destroyed."
Luke 6:43-49
Related Scripture Readings
"Not every person that says that I am his Lord will enter the kingdom of heaven. The only people that will enter the kingdom of heaven are those people that do the things that my Father in heaven wants. On the last day many people will say to me, 'You are our Lord! We spoke for you. And for you we forced out demons and did many miracles. ' Then I will tell those people clearly, 'Go away from me, you people that do wrong. I never knew you.'
Matthew 7:21-23
Then Jesus' mother and brothers came. They stood outside and sent a person in to tell Jesus to come out. Many people were sitting around Jesus. They said to him, "Your mother and brothers are waiting for you outside." Jesus asked, "Who is my mother? Who are my brothers?" Then Jesus looked at those people sitting around him. He said, "These people are my mother and my brothers! My true brother and sister and mother are those people that do the things God wants."
Mark 3:31-35
So Jesus came to them and said, "All authority (power) in heaven and on earth is given to me. So go and make followers of all people in the world. Baptize them in the name of the Father and the Son and the Holy Spirit. Teach those people to obey everything that I have told you. You can be sure that I will be with you always. I will continue with you until the end of the world."
Matthew 28:18-20