"Give love and mercy the same as your Father gives love and mercy."
— Luke 6:36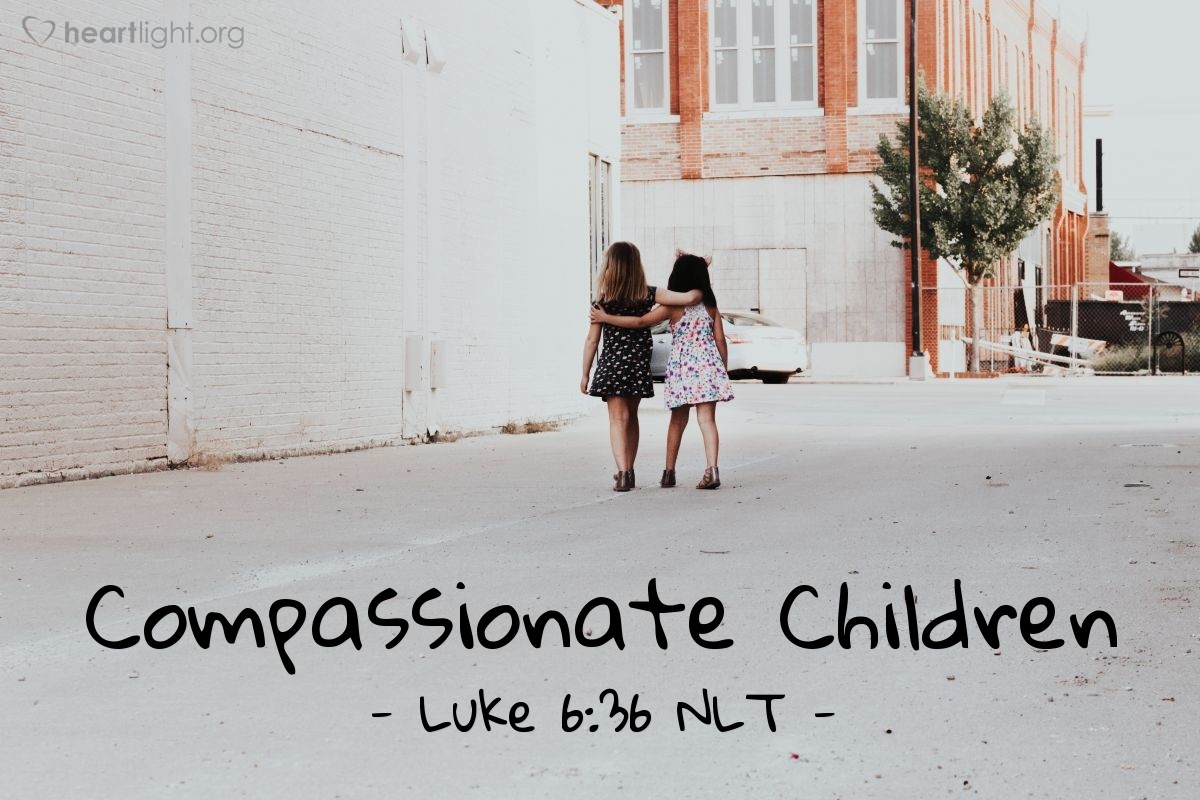 Key Thought
We MUST be compassionate! Hmm, that doesn't leave any wiggle room, does it? God is serious that we are compassionate. Why is showing compassion to others such an important principle to our Father in heaven? Because he has been so gracious, forgiving, and compassionate with us. How can we take the compassion and grace he has shown us and not be willing to share it with others? It is unthinkable! If we are going to be children of God, he is adamant that we reflect this area of his holy character!
Today's Prayer
Thank you, dear Father, that even though you are the only true and living God, the LORD God Almighty, you are also the God of compassion and grace. Without your example, dear Father, and without your generous compassion shared with me, I know that I would not have the conviction, the desire, or the power to be as compassionate with others as they need me to be. Please bless me and empower me to be more like you in this area of my life. In Jesus' name I pray. Amen.
Today's Verses in Context
"I say to you people that are listening to me, love your enemies. Do good to those people that hate you. Ask God to bless those people that say bad things to you. Pray for those people that are mean to you. If a person hits you on the side of your face, let him hit the other side too. If a person takes your coat, don't stop him from taking your shirt too. Give to every person that asks you. When a person takes something that is yours, don't ask for it back. Do for other people what you want them to do for you. "If you love only those people that love you, should you get some special praise for doing that? No! Even sinners love the people that love them! If you do good only to those people that do good to you, should you get some special praise for doing that? No! Even sinners do that! If you loan things to people, always expecting to get something back, should you get some special praise for that? No! Even sinners lend to other sinners so that they can get back the same amount! "I'm telling you to love your enemies and do good to them. Lend to people without expecting to get anything back. If you do these things, you will have a great reward. You will be children of the Most High (God). Yes, because God is good even to the people that are full of sin and not thankful. Give love and mercy the same as your Father gives love and mercy.
Luke 6:27-36
Related Scripture Readings
And don't make the Holy Spirit sad. The Spirit is God's proof that you belong to God. God gave you that Spirit to show that God will make you free at the right time. Never be bitter or angry or mad. Never shout angrily or say things to hurt other people. Never do anything evil. Be kind and loving to each other. Forgive each other the same as God forgave you in Christ.
Ephesians 4:30-32
Heavens and Earth, be happy! Mountains, shout with joy! Why? Because the Lord comforts his people. The Lord is good to his poor people.
Isaiah 49:13
God knows that I want to see you very much. I love all of you with the love of Christ Jesus.
Philippians 1:8