Jesus and the apostles came down from the mountain. Jesus stood on a flat place. A large group of his followers were there. Also, there were many people from all around Judea, Jerusalem, and the seacoast cities of Tyre and Sidon.
— Luke 6:17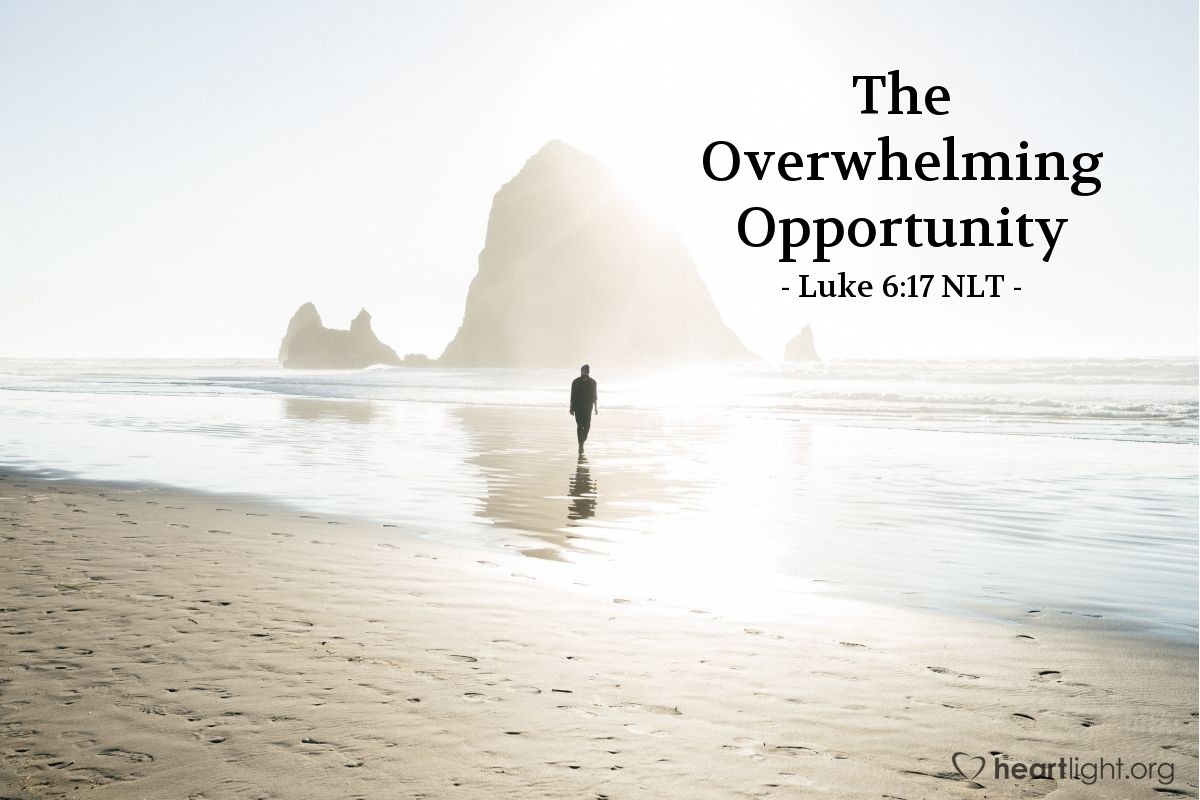 Key Thought
The 12 disciples Jesus chose to be his apostles didn't have to wait long to be overwhelmed with opportunity. After being called by the Master, they were immediately surrounded by the masses, yearning to find the grace that God offered through Jesus. Who is sufficient for such a challenge? None of them! None of us! Yet the issue isn't our sufficiency, but the one on whom we rely. Jesus equips and makes us ready for service in his Kingdom. He is the one who makes us perfect in our weakness to be a blessing to those searching for grace. Don't be discouraged by your insufficiencies, but draw near to the Lord and depend upon his grace to be sufficient for you.
Today's Prayer
Father, I confess that I have sometimes limited your work in my life by trying to do that work by my own power. I truly believe, dear Lord, that you long to do greater things in me than I can imagine. However, I know that my limited strength often keeps from being useful to you. This is not because you cannot be sufficient in my weakness, but because I do not look to you to make my weakness a perfect place for your strength to be displayed. Please forgive me and change my heart, so that I can be fully useful to you. In Jesus' name I pray. Amen.
Related Scripture Readings
But this is the message we tell everyone: Christ was killed on a cross. This message is a big problem to the Jews. And the non-Jews think it is foolish. But Christ is the power of God and the wisdom of God to those people that God has called (chosen)—Jews and Greeks (non-Jews). Even the foolishness of God is wiser than human wisdom. Even the weakness of God is stronger than human strength. Brothers and sisters, God called (chose) you. Think about that! And not many of you were wise in the way the world judges wisdom. Not many of you had great influence. Not many of you came from important families. But God chose the foolish things of the world to give shame to the wise people. God chose the weak things of the world to give shame to the strong people. And God chose what the world thinks is not important. He chose what the world hates and thinks is nothing. God chose these to destroy what the world thinks is important. God did this so that no man can boast before him. It is God that has made you part of Christ Jesus. Christ has become wisdom for us from God. Christ is the reason we are right with God and have freedom from sin; Christ is the reason we are holy. So, like the Scriptures say, "If a person boasts, that person should boast only in the Lord."
1 Corinthians 1:23-31
Do I need to give you more examples? I don't have enough time to tell you about Gideon, Barak, Samson, Jephthah, David, Samuel, and the prophets. All those people had great faith. And with that faith they defeated kingdoms. They did the things that are right, and they got the things that God promised. With their faith some people closed the mouths of lions. Some people stopped great fires, and other people were saved from being killed with swords. They did those things because they had faith. Weak people were made strong because of their faith. They became powerful in battle and defeated other armies.
Hebrews 11:32-34
So I am happy when I have weaknesses. I am happy when people say bad things to me. I am happy when I have hard times. I am happy when people treat me badly. And I am happy when I have problems. All these things are for Christ. And I am happy with these things, because when I am weak, then I am truly strong.
2 Corinthians 12:10