"Also, your relative Elizabeth is pregnant. She is very old, but she is going to have a son. Everyone thought she could not have a baby, but she has been pregnant now for six months! God can do anything!"
— Luke 1:36-37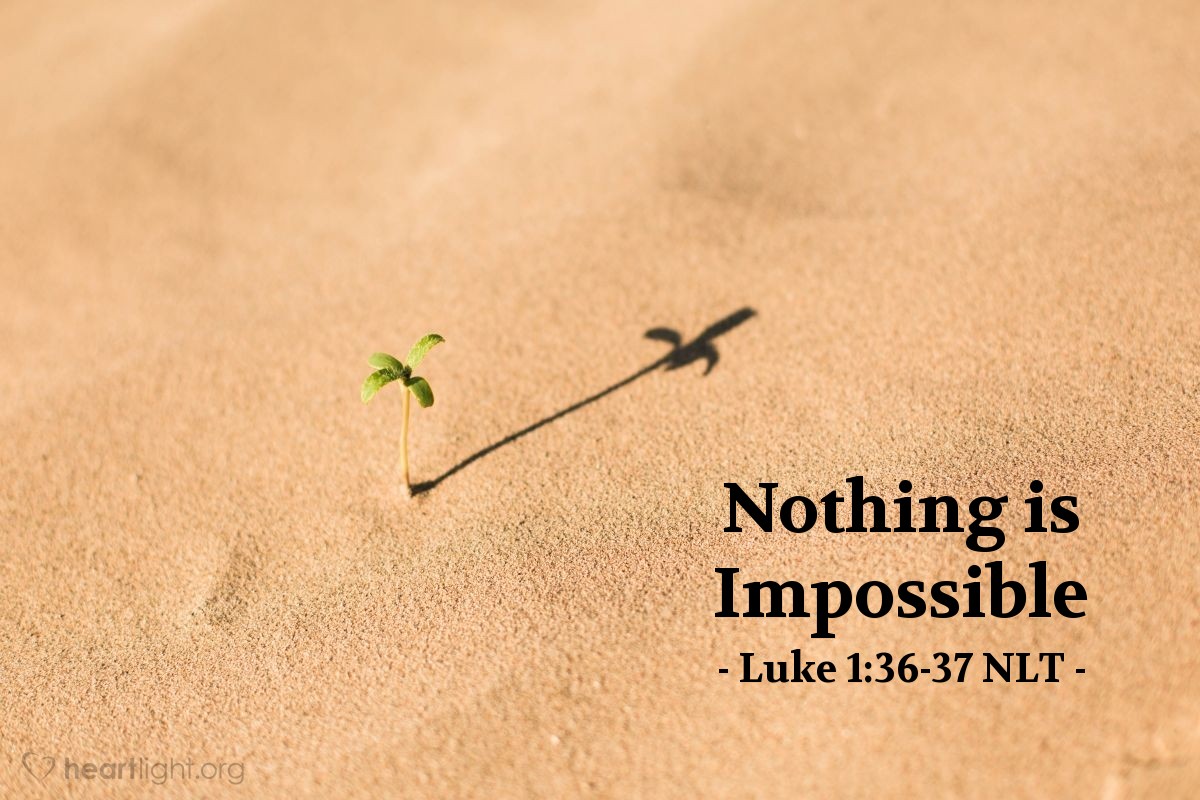 Key Thought
It's almost as if the angel is saying, "How about a little help with that impossible faith, Mary? Go check with your old cousin Elizabeth. The impossible has really happened to her! She's pregnant!" God's great promises to his people often happened with miraculous conceptions that were beyond experience and that stretched their faith. Mary is given assurance that God not only can, but he actually does do the impossible in the lives of everyday folks. What does God want to do in you? How does he want to use you for his glory? Don't think it's possible? Go ask Mary who first asked Elizabeth! NOTHING is impossible for God!
Today's Prayer
Father, shake loose my pedestrian dreams and give me a heart of faith to believe in your ability to do great things through everyday folks like me. Give me the gift of faith to believe that you are doing great things through your people. Take me, mold me, and use me to your glory. In Jesus' name. Amen.
Today's Verses in Context
During Elizabeth's sixth month of pregnancy, God sent the angel Gabriel to a virgin girl that lived in Nazareth, a town in Galilee. The girl was engaged to marry a man named Joseph from the family of David. Her name was Mary. The angel came to her and said, "Greetings! The Lord (God) is with you. You are very special to him." But Mary was very confused about what the angel said. Mary wondered, "What does this mean?" The angel said to her, "Don't be afraid, Mary, because God is very pleased with you. Listen! You will become pregnant. You will give birth to a baby boy. And you will name him Jesus. He will be great (important). People will call him the Son of the Most High (God). The Lord God will make him king like his ancestor David. Jesus will rule over the people of Jacob forever. Jesus' kingdom will never end." Mary said to the angel, "How will this happen? I am still a virgin!" The angel said to Mary, "The Holy Spirit will come to you and the power of the Most High (God) will cover you. The baby will be holy. He will be called the Son of God. Also, your relative Elizabeth is pregnant. She is very old, but she is going to have a son. Everyone thought she could not have a baby, but she has been pregnant now for six months! God can do anything!" Mary said, "I am the servant girl of the Lord (God). Let this thing you have said happen to me!" Then the angel went away.
Luke Luke 1:26-38
Related Scripture Readings
So I bow in prayer before the Father. Every family in heaven and on earth gets its true name from him. I ask the Father with his great glory to give you the power to be strong in your spirits. He will give you that strength through his Spirit. I pray that Christ will live in your hearts because of your faith. I pray that your life will be strong in love and be built on love. And I pray that you and all God's holy people will have the power to understand the greatness of Christ's love. I pray that you can understand how wide and how long and how high and how deep that love is. Christ's love is greater than any person can ever know. But I pray that you will be able to know that love. Then you can be filled with the fullness of God. With God's power working in us, God can do much, much more than anything we can ask or think of. To him be glory in the church and in Christ Jesus for all time, forever and ever. Amen.
Ephesians 3:14-21
When Jesus came there, he saw many, many people there. Jesus felt sorry for them, and he healed the people that were sick. Late that afternoon, the followers came to Jesus and said, "No people live in this place. And it is already late. Send the people away so they can go to the towns and buy food for themselves." Jesus answered, "The people don't need to go away. You give them some food to eat." The followers answered, "But we have only five loaves of bread and two fish." Jesus said, "Bring the bread and the fish to me." Then Jesus told the people to sit down on the grass. Jesus took the five loaves of bread and the two fish. Jesus looked into the sky and thanked God for the food. Then Jesus divided the loaves of bread. Jesus gave the bread to the followers, and the followers gave the bread to the people. All the people ate and were filled. After the people finished eating, the followers filled twelve baskets with the pieces of food that were not eaten. There were about 5,000 men there that ate. There were also women and children that ate.
Matthew 14:14-21
Then Jesus said to his followers, "I tell you the truth. It will be very hard for a rich person to enter the kingdom of heaven. Yes, I tell you that it is easier for a camel to go through the eye of a needle than for a rich person to enter the kingdom of God." When the followers heard this, they were very surprised. They asked, "Then who can be saved?" Jesus looked at his followers and said, "This is something that people cannot do themselves. But God can do all things."
Matthew 19:23-26