---
"Go out and stand before me on the mountain," the Lord told [Elijah]. And as Elijah stood there, the Lord passed by, and a mighty windstorm hit the mountain. It was such a terrible blast that the rocks were torn loose, but the Lord was not in the wind. After the wind there was an earthquake, but the Lord was not in the earthquake. And after the earthquake there was a fire, but the Lord was not in the fire. And after the fire there was the sound of a gentle whisper (1 Kings 19:11-12).
---
---
The land slipped away behind us, and the lake lay still as glass. A lone bird called out across the water and the only answer was the gentle slosh of our oars cutting into the water.
The silence warmed our skin, and even the children paused their chatter to take it in. The beauty was almost palpable. The sun pushed through the crisp air and kissed our cheeks.
We need this, this letting of earth slip away sometimes. Our souls crave the engulfing silence of nature. Our hearts were wired to need to reset, recharge, to take a deep breath of air scented only by pines and fir trees. To find God everywhere, and perhaps most in the quiet.
It's good to embrace seasons of quiet.
Of not producing noise and adding wisdom to every conversation.
 
Of listening.
Sometimes the most pivotal and meaningful seasons are the ones where God draws us into the wilderness:
Away from the bustling hubbub of humanity.
Away from popular options.
Away from pleasing people.
 
Away where only His approval matters!
It's powerful!
God's call on us, His deep work in the unseen places, His significant moments with us on the untouched lakes and in the undisturbed woods.
 
Don't run...
 
From the quiet.
 
From rest.
 
From training your mind to be still so you can listen.
It's a blessing!
I found I had less and less to say, until finally, I became silent, and began to listen. I discovered in the silence, the voice of God.
(Soren Kierkegaard)
'I discovered in the silence, the voice of God.'
Like Elijah, we sometimes find God!
Not in the wind.
 
Not in the earthquake.
 
Not in eloquent preaching.
 
Not in popular books.
In the sound of a gentle whisper.
In the little moments when, like Samuel, we whisper into the night, into the wilderness, into the glittering water, about impossible seasons ahead of us:
"Speak Lord, for your servant is listening" (1 Samuel 3:9).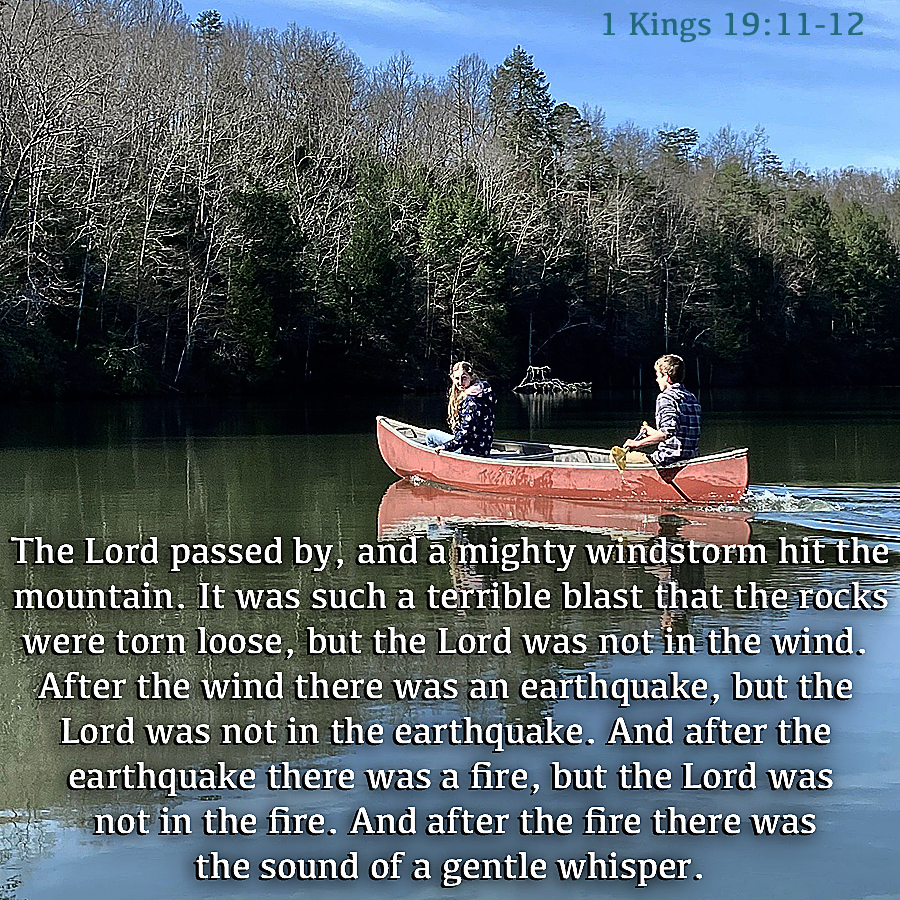 ---
---