---
Welcome to ToGather.church! (Find out more about ToGather.)

Opening with Prayer and Song:
Let's begin ToGather with Paul's prayer from Ephesians 1:16-19:
I have not stopped giving thanks for you, remembering you in my prayers. I keep asking that the God of our Lord Jesus Christ, the glorious Father, may give you the Spirit of wisdom and revelation, so that you may know him better. I pray that the eyes of your heart may be enlightened in order that you may know the hope to which he has called you, the riches of his glorious inheritance in his holy people, and his incomparably great power for us who believe. [Amen.]
Our God is powerful and gracious. He longs to draw near to us. Let's celebrate our all-powerful and ever-near God as we sing "Everytime," led by Anthony Brown and Group Therapy and featuring Travis Greene:

Focusing on the Scriptures:
Our message for ToGather this week is taken from our Verse of the Day in 1 Peter 2:2-3:
Like newborn babies, crave pure spiritual milk, so that by it you may grow up in your salvation, now that you have tasted that the Lord is good.
Let's proclaim this truth with the song, "Taste and See," by Travis Greene:
Phil's message reminds us of the importance of tasting the goodness of God, craving pure spiritual nourishment, and growing into Christ Jesus:
Phil referred to two passages that focus on growing into Jesus. In the first passage, 2 Peter 1:5-8, the apostle Peter challenges us to "make every effort to add" Christ-like virtues to our lives:
For this very reason, make every effort to add to your faith goodness; and to goodness, knowledge; and to knowledge, self-control; and to self-control, perseverance; and to perseverance, godliness; and to godliness, mutual affection; and to mutual affection, love. For if you possess these qualities in increasing measure, they will keep you from being ineffective and unproductive in your knowledge of our Lord Jesus Christ.
As we pursue Jesus, not only will the Holy Spirit help transform us to become more and more like Christ (2 Corinthians 3:18) — and maturity in Christ must be our goal (Colossians 1:28-29) — the Spirit will also produce the fruit of God's goodness in us:
But the fruit of the Spirit is love, joy, peace, forbearance, kindness, goodness, faithfulness, gentleness and self-control. Against such things there is no law (Galatians 5:22-23).
Today's message also encouraged us to pursue Jesus by reading about him in the gospels each day. Here is a simple daily gospel reading plan focused on Jesus. This plan involves reading one chapter from one of the four gospels each day. It helps us pursue Jesus: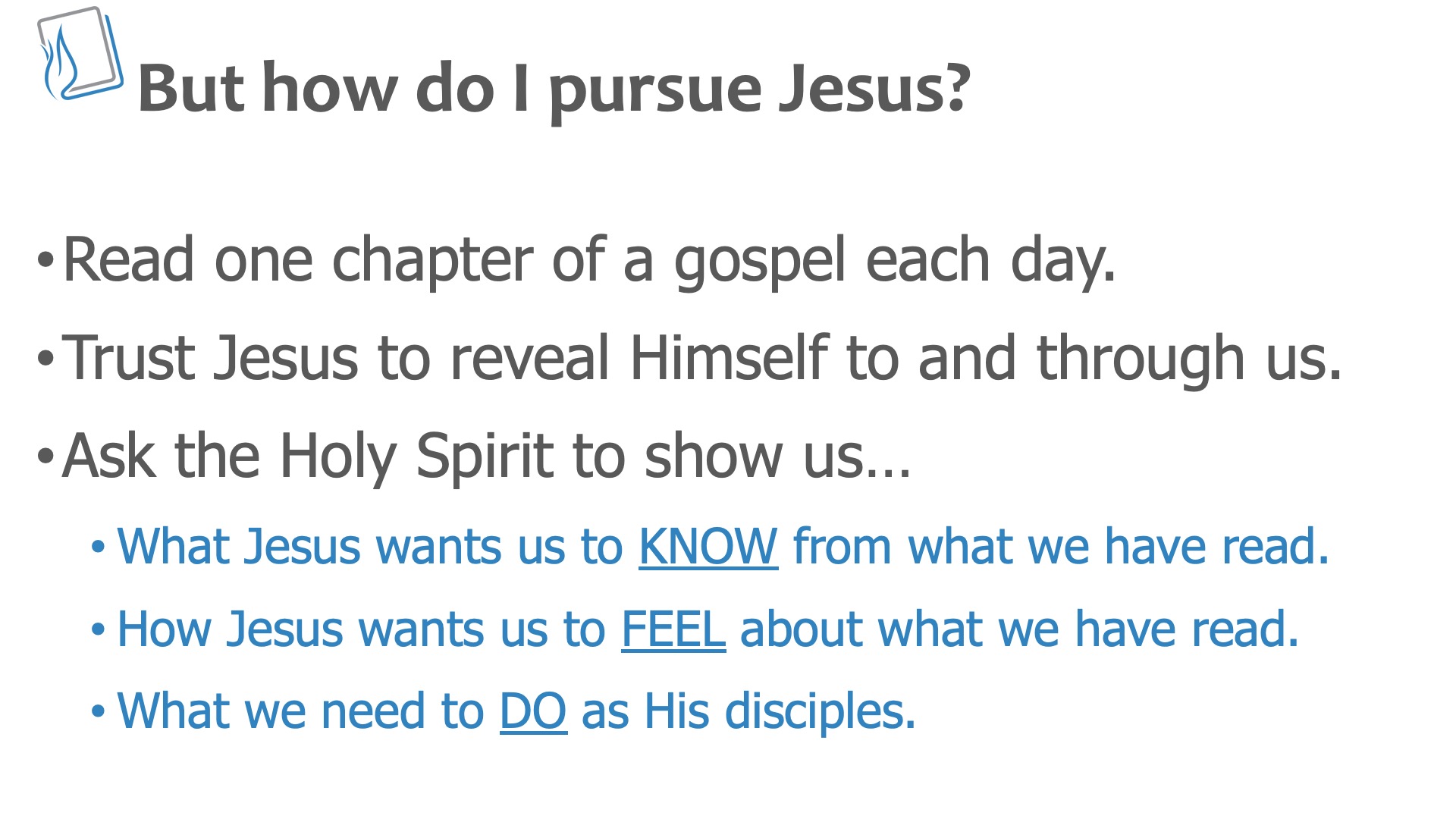 Sharing The Supper:
The song, "Just As I Am (I Come Broken)" is normally used as an altar call and invitation song. However, as Travis Cottrell leads us today, let's come to the Lord's Table just as we are to receive his gift of grace:
We have tasted and seen that the Lord is good!
Byron Ware shares our Communion reflection today and reminds us that Jesus is God's greatest gift to us:
Because Jesus is God's greatest gift to us, we can sing, "In Christ Alone (My Hope Is Found)" with Adrienne Liesching:

Closing Song and Blessing:
We have tasted and seen that the Lord is good, so we gladly sing the old hymn with fresh passion: "Tis So Sweet To Trust In Jesus" with Page CXVI:
We close ToGather with this prayer and blessing from Scripture:
[May you] grow in the grace and knowledge of our Lord and Savior Jesus Christ. To him be glory both now and forever! Amen. (2 Peter 3:18)

Special thanks to The Lumo Project and Free Bible Images for images related to the ministry of Jesus.
---
---