---
Welcome to ToGather.church! (Find out more about ToGather.)
Our time in song and the Scriptures today challenges us to see God as enough for us in our lives. Why? Because we genuinely value God as our lasting treasure. Our hearts consistently invest in what we make our treasure. Our actions focus on and pursue what we treasure and love. Our ToGather worship challenges us to make God the treasure our hearts seek, regardless of our circumstances.

Opening with Praise in Prayer and Song:
Let's begin ToGather with a prayer based on Colossians 2:2-3:
Dear God,
We pray that we can be encouraged in heart and united in love to understand your mystery of grace, Jesus Christ present in us. We know that you have hidden all the treasures of wisdom and knowledge in Jesus, who lives in us and is our assurance of sharing in your glory.
We want our hearts to find their treasure in you — our God who loves us and is always present with us as Father, Son, and Spirit — until we share fully in your glory, forever. Amen.
Let's worship God, our only lasting treasure, by singing "Holy, Holy, Holy (We Bow Before Thee)," with Shane & Shane:

Focusing on the Scriptures:
With Hillsong Worship, we proclaim and celebrate God as our true and lasting treasure with the song "So Will I (100 Billion X)":
Our Verse of the Day that is the foundation for today's focus is Matthew 6:19-21:
[Jesus said to his disciples:] "Do not store up for yourselves treasures on earth, where moths and vermin destroy, and where thieves break in and steal. But store up for yourselves treasures in heaven, where moths and vermin do not destroy, and where thieves do not break in and steal. For where your treasure is, there your heart will be also."
Phil's message based on this passage challenges us to make God our treasure and love him with all that we are:
For your reference, Paul's prayer that Phil prayed near the end of his message is from Ephesians 3:16-21. Also, you are encouraged to download the following image from Phil's message to help you evaluate how you can love and treasure God more fully: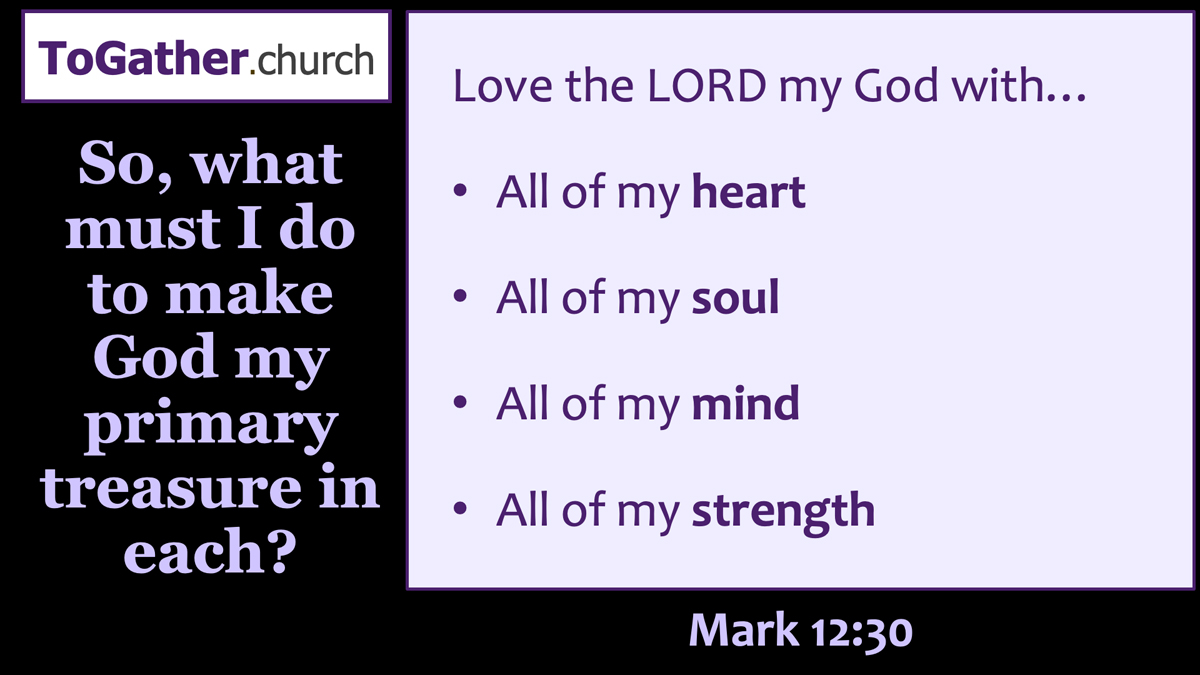 We also need to commit to praying for each other and asking for the power of the Holy Spirit to make God our treasure. Phil specifically mentioned praying Ephesians 3:14-21 for each other:
For this reason I kneel before the Father, from whom every family in heaven and on earth derives its name. I pray that out of his glorious riches he may strengthen you with power through his Spirit in your inner being, so that Christ may dwell in your hearts through faith. And I pray that you, being rooted and established in love, may have power, together with all the Lord's holy people, to grasp how wide and long and high and deep is the love of Christ, and to know this love that surpasses knowledge that you may be filled to the measure of all the fullness of God.

Now to him who is able to do immeasurably more than all we ask or imagine, according to his power that is at work within us, to him be glory in the church and in Christ Jesus throughout all generations, forever and ever! Amen.

Sharing The Supper:
We love because God demonstrated his love for us first (1 John 4:7-12). As we prepare to take the Lord's Supper, let's remember God's "Reckless Love" as we sing with Bethel Music & Cory Asbury:
Fred Spain leads us in our Communion reflection, based on Isaiah 53:
After hearing Phil's message, singing the songs we have sung, and sharing the Lord's Supper, we need to ask ourselves, "Is God my treasure? If I were to lose everything but still have God in my life, would he be enough?"
We want our hearts to find their treasure in God, who loves us and is always present with us
Shane and Shane share their powerful song "Though You Slay Me" (featuring a short message from John Piper) taken from Job 13:15-16:
Though he slay me, yet will I hope in him;
I will surely defend my ways to his face.
Indeed, this will turn out for my deliverance,
for no godless person would dare come before him!
Let's sing that we believe God IS enough for us and that we will trust in him!

Closing with Confession and Praise:
Please join with Mercy Me in singing "Even If" as a confession of faith in God:
We close with this promise that God will never forsake us and will bring us into his glory:
Who shall separate us from the love of Christ? Shall trouble or hardship or persecution or famine or nakedness or danger or sword?


...


No, in all these things we are more than conquerors through him who loved us. For I am convinced that neither death nor life, neither angels nor demons, neither the present nor the future, nor any powers, neither height nor depth, nor anything else in all creation, will be able to separate us from the love of God that is in Christ Jesus our Lord (Romans 8:35, 37-39).
May you be blessed with the faith and commitment to realize that God is enough, regardless of what the world and the evil one sends your way!

Special thanks to The Lumo Project and Free Bible Images for images related to the ministry of Jesus.
---
---