---
Welcome! We're glad you joined us for ToGather. We are praying that today's time of worship in song, prayer, Communion, and Scripture will bless you. Whether you are alone or with friends, family, home group, or house church, please know that God's people from all around the world are joining you virtually in worship. (Find out more.)
---
---
Opening with Praise in Word and Song:
When God revealed himself to Moses in the desert at the burning bush, he told Moses to take off his shoes because he was standing on holy ground (Exodus 3:1-10). As we enter our ToGather worship, we are on holy ground no matter where we worship. Just as Moses was in God's presence at the burning bush, we are in God's presence since the Holy Spirit lives inside each of us. We are individually God's holy temples where God lives (1 Corinthians 6:19). As we gather with as few as one or two others, Jesus is also present with us in a special way (Matthew 18:20), and together we are God's holy temple where God lives (1 Corinthians 3:16). Let's remind ourselves that the Lord is present and that we are on holy ground by singing the "Holy Ground Medley" with Hallal Music:
As we worship together, Jesus presents each of us to the Father as "holy in his sight, without blemish and free from accusation" (Colossians 1:22). We partner with the Holy Spirit to continue the process of transformation into this kind of perfection and holiness. One day, that transformation will be complete; we will be like Jesus (1 John 3:1-3). Our lives as Jesus' disciples are all about being changed from one degree of glory into a greater degree of glory to be like Jesus (2 Corinthians 3:18). Today, we also remind each other about our coming "forever-change" from mortal to immortal, from perishable to imperishable. This "forever-change" will occur when Jesus returns (1 Corinthians 15:53-58). This "forever-change" is the emphasis of our ToGather worship today!
---
---
Focusing on the Scriptures:
Jesus is the Lord of change! Some of his changes happen to us while we are in our mortal bodies in the perishable world where death still reigns. Even in the middle of this world of hard realities, we can look forward to our "forever-change" into bodies of eternal glory. Let's worship with anticipation of this greater glory as we sing about Jesus' promise, "I Will Change Your Name," with the Nebblett Family:
The apostle Paul promised us a glorious future with Jesus in our Verse of the Day passage:
Listen, I tell you a mystery: We will not all sleep, but we will all be changed — in a flash, in the twinkling of an eye, at the last trumpet. For the trumpet will sound, the dead will be raised imperishable, and we will be changed. For the perishable must clothe itself with the imperishable, and the mortal with immortality. (1 Corinthians 15:51-53).
Phil's message explores our future with Jesus when he returns in glory. On that great day, we will exchange our mortal bodies for immortal bodies that are made for eternal glory:
In recent weeks, we have celebrated Jesus' Resurrection Sunday and our Lord's victory over sin, death, sorrow, and hell. Our risen Jesus can turn "Graves into Gardens," so we celebrate our Savior's victory for us as we sing with Elevation Worship (featuring Brandon Lake) in anticipation of the even greater change that awaits us upon the Lord's return:
---
---
Sharing in Communion:
Jesus' message and ministry brought life to dead religion, delivering fresh, new, and inspiring truth. His message wasn't about a few new religious practices tacked onto old dying religion. He came to bring us new life, and his ministry and message bring new wine (Mark 2:18-22). The Holy Spirit longs to bring this freshness, this uniquely new wine, alive in us (John 7:37-39; Galatians 5:22-23). The song "New Wine," led by the Zoe Group, reminds us that Jesus is still making new wine out of us!
What's the first thing you want to do when Jesus returns, we experience our reunion with those who are his, and we go to share in the Lord's presence forever? In our Communion reflection today, Phil and Donna Ware talk about how powerful and personable Jesus was in earthly ministry. Our Savior loved to touch people and connect tenderly with them. Imagine being able to run to Jesus when he returns in glory. He will wipe all tears from our eyes as sorrow and death and grief are no more, and we will receive the Lord's welcoming embrace. Let's anticipate Jesus' return in the Lord's Supper we share today:
Our life as Jesus' disciples is all about our change to become like our Savior!
---
---
Closing with Song and Praise:
Until we go to be with Jesus (Philippians 1:18-24), the Holy Spirit is at work changing us to become more and more like Jesus (2 Corinthians 3:18). Let's ask the Lord to speed up that transformation in us as we sing "Less Like Me" led by Zach Williams:
While we know that the Spirit transforms us to be more and more like our Lord, we also know Jesus will return and bring our "forever-change" to life in us. Until then, however, we face the hard reality that we are mortal. We lose loved ones to death. We long to see those who have gone to be with Jesus before us. So, we take comfort in the Lord's promise to return for us. Let's close our time of ToGather worship with Eldon Degge's prayer adaptation of 1 Thessalonians 4:16-18:
Dear Father, who lifts our spirits,
According to your teaching, we look for the Lord himself to descend from heaven with a cry of command, with the archangel's call, and with the sound of the trumpet of God.
We firmly believe that the dead in Christ will rise first, then we who are alive, who are left, shall be caught up together with them in the clouds to meet the Lord in the air, and so we, they and us, will be with the Lord and with you forever.
Guide us to comfort and console one another with these words. Help us remember that our faith is the victory that overcomes the failure, sin, sickness, and death of this world!
In the name of our conquering and returning Savior. Amen.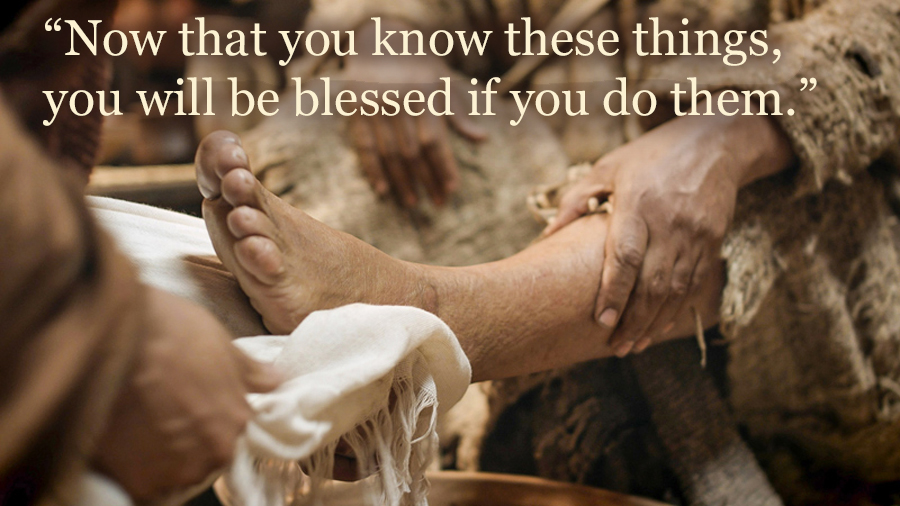 Special thanks to The Lumo Project and Free Bible Images for images related to the ministry of Jesus.
---
---