All of us create in some way.
Maybe we paint, or cook, or sing, or write, or take pictures, or build, or organize, or garden — the list is endless.
Unfortunately, many of us spend too much time fretting over what we create, and not enough time enjoying it. Creative types notoriously obsess over what we did, what we didn't do, if someone else is doing it better, if we truly have a gift, what if we don't really have a gift, what if no one likes what we did, what if no one is touched by what we did — because truly, if only one person would be touched by what we created, then that would be enough. Truly.
Our gifts can bring on a lot of anxiety.
Or not.
A couple of years ago, I was visiting some folks at an adult living facility, when I met Mrs. Dale Kipps. She was in her upper 80s. We were chatting about this and that when I mentioned I enjoyed writing. She said she had, too.
"Had?" I asked.
"Oh!" she told me — she hadn't written since she was 81. In fact, she said she hadn't written before she was 81, either.
As Mrs. Kipps' story goes, she had penned the class poem in her senior year of high school, and then had never written another creative line until she turned 81. That's when she felt God prompting her to write a devotion to Him. So she did. And the next day she felt the prompting again. So she wrote another one. Day after day she felt the prompting, and day after day she obeyed. She handwrote them on lined paper until her son brought her a Corona typewriter. Then she plunked them out with forefingers... day after day for a year.
I asked her if I could see them. "Yes," she said — though she'd never shown them to anyone else.
She rummaged in her bedroom for a few minutes, then came back with a worn gray two-inch binder. They were full of her devotions, most in sleeve protectors — over 300 of them. She stopped writing shortly before she turned 82 and has never written one since. She felt the Lord told her it was enough.
I started reading them — the beauty in the simplicity was startling. It was like reading the Psalms.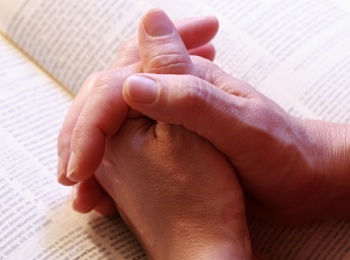 Needless to say, I was blown away. Here was a woman who was not filled with the angst of the artist. She wasn't worried about how good her work was, how many people were reading it, what accolades it received, or how her devotions stacked up to others' devotions — she wasn't even concerned if her devotions touched and uplifted another person — it was enough even if her work just blessed One.
She wrote for the purest of reasons — because God had prompted her.
And she was obedient.
Meeting her, listening to her, has changed my attitude forever regarding this craft. It has imbued me with the feeling, the knowledge, that writing, or painting, or singing, or any other creative pursuit has nothing to do with others. It is a gift God gives us to teach us about who He is and who we are in Him. It's a form of worship. It gives Him glory. If God has called us to a particular pursuit then it is worthy of our time and effort, regardless of how good others think how good we are at it.
God didn't supply us our various gifts to torture us — we do that to ourselves! He gave us the desire because He is a creator and He's invited us to join Him in His work. When we engage in our creative pursuits, we are one with Him.
Let's work on being obedient to our calling. Let God decide how He will use it. Maybe it is to encourage and edify another. Maybe it's solely a part of our own sanctification.
In God's economy, both are valuable.
Whatever you do, work heartily, as for the Lord and not for men, knowing that from the Lord you will receive the inheritance as your reward. You are serving the Lord Christ (Colossians 3:23-24 ESV).