Life Presses In
At a loss, Cynthia fingered the intricate lace bordering her handmade pillowcase. Its silken threads slide through her fingers. Just like life's energy she thought mournfully. I don't want to get up. What's the point? With Jack gone for the week fishing with the boys, it's just me — alone. Tears threatening to spill over again, Cynthia turned to her side and allowed herself a good long cry.
Two years earlier, when Cynthia's youngest son had graduated from college and moved to another city, Cynthia decided she'd had enough of the inside of her rambling house. It was time to take action. Somewhat bored with her slower lifestyle, Cynthia went through training to become a home health care aid. Many of her patients were elderly folk just returning home from a secondary care facility. They just needed someone to help them bathe and get dressed and organized in the mornings. To most people, Cynthia's job seemed tedious, difficult and backbreaking. But Cynthia loved it. Always having had a strong nurturing instinct, Cynthia relished the time with these older women and men who carried with them a wisdom beyond her own. Cynthia looked forward to getting up and going to her three assigned patients each morning.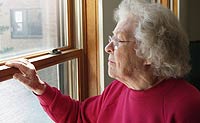 Until today. Alone in the house, she couldn't muster the strength to get up and around. Late last night, her favorite client had died. Cynthia's supervisor had called her with the news. All night long, Cynthia had cried bitter tears. And today of all days, Cynthia thought angrily, we were going to dress Marge up and take a photo to send to her granddaughter overseas. She was so looking forward to it. Oh God, Cynthia wept, what's wrong with me? I can't lay around moping every time someone I've met passes away. It was just so sudden, so unexpected. I, the professional, wasn't even prepared for it. Cynthia lay still for a while longer, just thinking of the generous person Marge was. She realized with a start that she could still do something for Marge. A letter, Cynthia thought, I'll write a letter to Marge's granddaughter and I'll do it now.
Sorrow is better than laugher,
For when a face is sad
a heart may be happy.
— Ecclesiastes 7:3


Pressing On In Prayer
She couldn't muster the strength to get up and around.
Dear Lord, why is death so very difficult? I can still see the face, hear the voice, and remember the scent of this person I cared for. I pray these memories never fade. I grew to really love this one you took home. I never expected to grieve so mightily for someone I might even have considered a stranger not too long ago. Yet it stings to recall the times we shared. Every memory is bittersweet, Lord. Why is this so?
A part of me wants to linger and reminisce. Another part wants to shut out the memory and walk away resolved not to be hurt again. Lord, I'm in agony here. I want to care for those who need me. But I'm afraid I'm not up to the task of seeing them die. The final goodbye is just too much for me. I want to believe that all I do makes a difference in their lives — that they're not going to get worse, but well. Still, I see their bodies continue to deteriorate and I struggle with facing the truth. Help me offer more than just a warm bath and comfortable care. Show me how to extend myself and truly give my heart. I want to offer them your comfort, your strength. So often, these ill men and women see no purpose in their lives. They want to die. Help me pass on to them a reason for living. Give me ears that will patiently listen to their stories and give me a heart that cries right along with them as they tell me of times that will never be again.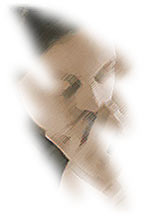 I'm in this business of serving for you, Lord. I want to love each person you bring into my life the same way Christ did. He loved compassionately, gently, and intensely. Lord, give me the boldness to do the same. Let me not hold back when I begin to experience a measure of my friends' suffering. Fill me with your Holy Spirit and empower me to give generously and with abandon. Amen.
Pain puts us all on the run for relief... to the refrigerator, the medicine cabinet, the bottle, the mall... the list is long.
— Bruce Nygren in Touching the Shadows


---
From Michele Howe's book, Prayers to Nourish a Woman's Heart and is used by permission. Michele is the author of several books, including Still Going It Alone: Mothering with Faith and Finesse When the Children Have Grown.