Note:
So now we are in the middle of the big rush to return, exchange, or decide to re-gift those Christmas presents we don't want or already have. So what are you going to do? How about taking a moment to read this and see if it changes your plans? I hope this re-gifting plan makes it into your New Year's resolutions! —Editor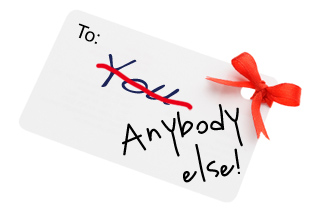 Re-gifting has become a fairly common occurrence this time of year. I heard John Orberg tell about taking a gift he and his bride received for their wedding and re-gifting as a wedding gift for a young couple, who in turn years later re-gifted it to another young couple. Chances are this Christmas season you will be the recipient of a gift that has been re-gifted to you, or you will re-gift something that you received last year. It is even possible that you could receive a gift that you gave last year. If you re-gifted it last year, then it is only appropriate that you get it back.
There is a gift that is worth re-gifting.
Peter and the apostles re-gifted this gift on the day of Pentecost:
When the people heard this, they were cut to the heart and said to Peter and the other apostles, "Brothers, what shall we do?"

Peter replied, "Repent and be baptized, every one of you, in the name of Jesus Christ for the forgiveness of your sins. And you will receive the gift of the Holy Spirit. The promise is for you and your children and for all who are far off — for all whom the Lord our God will call" (Acts 2:37-39).
The apostle Paul later re-gifted this gift to those in Rome and Asia Minor:
But now that you have been set free from sin and have become slaves of God, the benefit you reap leads to holiness, and the result is eternal life. For the wages of sin is death, but the gift of God is eternal life in Christ Jesus our Lord (Romans 6:22-23).

And God raised us up with Christ and seated us with him in the heavenly realms in Christ Jesus in order that in the coming ages he might show the incomparable riches of his grace, expressed in his kindness to us in Christ Jesus. For it is by grace you have been saved, through faith — and this is not from yourselves, it is the gift of God — not by works, so that no one can boast. For we are God's handiwork, created in Christ Jesus to do good works, which God prepared in advance for us to do (Ephesians 2:6-10).
John re-gifts this gift in the last book of our Bibles, Revelation:
"I, Jesus, have sent my angel to give you this testimony for the churches. I am the Root and the Offspring of David, and the bright Morning Star."

If you have received the gift of love, re-gift it.

The Spirit and the bride say, "Come!" And let the one who hears say, "Come!" Let the one who is thirsty come; and let the one who wishes take the free gift of the water of life (Revelation 22:16-18).
If you have received this gift of hope, re-gift it. Find someone who may have lost hope, or who may be losing hope. Share with them the reason you have hope (1 Peter 3:16). Encourage them to hold on and not give up. Walk with them for a while until they have their hope restored.
If you have received peace, re-gift it. Look around your place of work. You will probably see someone struggling to find peace. She is facing a major life decision. He is struggling with his marriage. The lady who works in the office down the hall has not heard from her daughter in three weeks. The salesman who calls on your company every week got word this morning that his wife wants a divorce. Pray for them. Tell them you are praying for them. Break the ice and ask them how they are doing. When the time is right, share with them a time when your relationship with God sustained you as you went through a difficult time.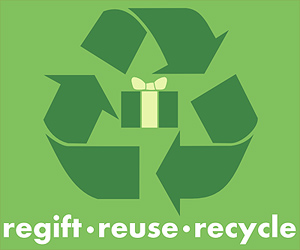 If you have received the gift of joy, re-gift it. Put it on your face. Let what you feel in your heart be visible in your disposition. It is not hard to find a person who needs more joy. You can help them see a different way. Use positive language. Look for joyful things to share. Gently share with them something God has done for you that brought you great joy.
If you have received the gift of love, re-gift it. Keep your eyes and ears open in your community of Christians for the person who comes in at the very last minute, sits alone, and leaves as soon as the last song ends. Seek them out and speak to them. Say more than a quick, "Hey, how's it going?" Look them in the eye and say, "How are you?" and wait for an answer. Pray for an opportune time to share with them the love story that is the Bible, and what it means to you.
This week we celebrate and live in the afterglow of God's gift of Jesus. He is hope, peace, joy, and love. He is the one gift truly worth re-gifting.