I doubt if any of you know Madeline Rackley, but I hope all of us can imagine ourselves in her shoes for a few minutes. We are standing in Judge Jim Coronado's courtroom in Austin, Texas on November 6, 2013, listening as the terms of our sentence are listed: ten days in jail; ten years probation; loss of a driver's license for two years; perform 200 hours of community service; have an ignition interlock device installed; not be allowed to drink; and be subject to random alcohol and drug testing.
What on earth did the 27-year-old woman do, kill somebody?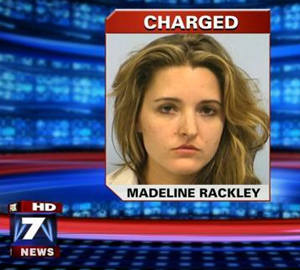 That's exactly what she admitted, pleading guilty to a second-degree felony charge of aggravated assault with a deadly weapon, reduced from an original charge of intoxication manslaughter, punishable by 20 years in prison. At 1:46 a.m. on July 1, 2012, Rackley drove her Honda Civic off a boat ramp into Lady Bird Lake. She and a front-seat passenger were able to get out of the car, but Jarrett Ryan Whittington, 25, apparently trapped in the back seat, was unable to escape.
Only 10 days in jail for killing a person? Somebody must have gotten to the judge!*
As a matter of fact, two somebodies got to the judge and begged for mercy. Gary and Mary Whittington, though grieving the loss of their only son, welcomed Rackley's plea agreement because they wanted to forgive her. The Austin American-Statesman reported that an attorney in the case said, "From the beginning [the Whittingtons] have said they wanted the least amount of punishment that would do the most good." Another observer noted that a life lost would not be restored by another life destroyed.
News of Nelson Mandela's death this week has reverberated around the world. In the 1960s, Mandela was convinced that only violence and guerrilla warfare could rid his native South Africa of the scourge of apartheid. In 1964 he was found guilty of sabotage and sentenced to life in prison. Prisoner number 46664 was sent to Robben Island, formerly a colony for lepers, a lunatic asylum, and then a prison where people were sent to be forgotten.
But Mandela, not forgotten, was released on February 11, 1990 after serving 27 years. His followers waited for his rage and a call for retribution, but the call never came. Instead, there came a call for forgiveness. A brutally segregated society that had not even allowed black people to vote soon elected a black man president. It's hard to imagine a more unlikely journey than from prisoner to president, but Mandela's journey didn't end there. John Dramani Mahama, President of Ghana, said Mandela became the moral compass of Africa and the world.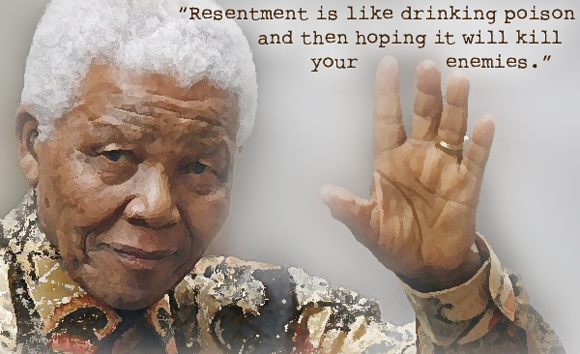 When Mandela might have sought revenge, he offered forgiveness. F. W. de Klerk, the last white president of South America's apartheid era, ordered Mandela's release from prison in 1990, and they virtually shared leadership of the nation, actually sharing the Nobel Peace Prize in 1993.
At Mandela's inauguration in 1994, the white guest nobody seemed to know was one of the jailers who had helped imprison the new president for 27 years. Though Mandela could have been president for life, he chose to serve only one term, believing the nation's needs to be greater than his own.
Asked to explain his forgiving spirit, Mandela said:
Resentment is like drinking poison and then hoping it will kill your enemies.
Before you get obsessed with New Year's resolutions, maybe there are some old year things that need to be cleared up. Do you need to practice the grace of forgiveness, extended even to people who don't deserve it and may not even appreciate it? Forgiveness says more about us than it does about those who are the beneficiaries of our forgiveness. Nowhere is that more vividly seen than at the cross of Christ where his simple prayer echoes across the centuries: "Father, forgive them..." (Luke 23:34).
But Mandela...
Find a pretty little box, put all your grudges and resentments inside, seal it with a prayer of forgiveness, wrap it in your finest paper and tie it with your grandest ribbon, then put it under your Christmas tree. When someone asks about it, just say:
"That's a special present from me to me, the greatest of all gifts, the gift of forgiveness."
---