It was an afternoon in the Dominican Republic when I heard my uncle arrive to his house, where my mom and I were temporarily living. My uncle's children and I went running towards him calling out "Daddy, daddy, daddy is here!" One of his children stopped me and told me, "Don't call him dad, he is not your dad, you don't have a dad, your dad is dead."
I lowered my face and ran back to my mom and asked her, "Mommy why isn't Daddy with us? Why did God take my dad away?"
My father was a minister and he passed away when he was 25 years old; I was only 6 months old, and growing up I had many questions — but no answers.
In the Dominican Republic, a father means provision and protection; and my mom and I had lost exactly that.
I felt abandoned, alone, unprotected, afraid of life, afraid of my present and my future, because of the absence of my father and the presence of poverty in which we lived.
It was because of poverty that I had to sell corn bread every single day on the streets at the age of 5. It was because of poverty that many times I had to go to school with an empty stomach. It was because of poverty that I saw the tears in my mother's eyes out of frustration for not having enough food or clothing for me.
Poverty took away my dream of becoming a musician, singer & recording engineer. It was because of poverty that I grew up believing that I was a failure and a loser.
But it was in the midst of poverty that I learned God is never late; He is never early either, but rather He is always there. Later I learned that the worst in life was not my father's death, but living without a dream, hope or purpose.
In Canada, a sweet lady went to an event and heard about Compassion International, a Jesus Centered ministry that sponsors children in the developing world. Her name was Terry and she raised her hand asking for a child packet to sponsor a child. That child was me!
God is never late; He is never early either, but rather He is always there.
She decided to demonstrate Jesus' love by sponsoring me through Compassion. She wrote letters to me telling me God was my eternal father and that Jesus loved me. I was able to have a breakfast in the morning, school supplies, uniform, spiritual guidance and the best of all, the words of encouragement from a true worshiper called Terry.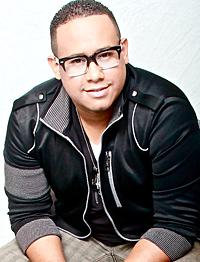 Today I am a recording engineer, musician and singer. Now, I live with the absence of poverty and in the presence of God. I sponsor 2 children and preach the gospel through music. I created a ministry called Evangemusic. Recently we went back to the Dominican Republic and gave away 300 backpacks, school supplies, bibles and a free live concert where close to 100 people gave their hearts to Christ.
God used Compassion International to bless me and now I am able to be a blessing to others. But, I go back to the Dominican Republic, Haiti or any of the world's poorest countries and I still see the need — children looking for food and hope in dumpsters.
Today, I know there may be some Terry(s) reading this, and you are given the opportunity to show God's love and give a child the chance to be delivered from spiritual, emotional and financial poverty. One dollar and 25 cents a day represented an opportunity for me and it can still change someone's life if you decide to be a blessing.
This child could be the next president of Haiti, or a doctor, musician, pastor, worship leader of Africa and maybe the next Samuel Orlando. These children will write you letters, and you can meet your child and see the results of your love. I encourage you to sponsor a child today and release him or her from poverty in Jesus' name; because being blessed is not enough; we have to be a blessing!