Lovine Beth (Bette) Johnson was a small-town girl from Ashby, Minnesota. William Overton Huckaby, Jr., was a small-town boy from Columbia, Tennessee. In 1943, Bette wanted to be part of the action in World War II, so she became a WAC, enlisting in the Women's Army Corps. Bill was also a soldier, and these two young adults, in what they would later describe as an act of providence, were assigned to work in the same office in Tampa, Florida. There the soldier and the WAC fell in love and married following a whirlwind courtship lasting only a few weeks. The courtship was brief, but the marriage was enduring, lasting forty-two years, ended by Bill's untimely death.
Mary Margaret and I first met Bette and Bill Huckaby in 1959 when I was a young preacher at the Northwest Church of Christ in Detroit and they were active members of a different congregation.
When people in the Detroit area began talking about establishing the Christian college that began as North Central Christian College, became Michigan Christian, and is now Rochester College, Bette thought women ought to get involved. She enlisted some friends to help, had Bill construct a portable display, and began selling pies and cakes to support the fledgling school. Rochester College Associates, and its predecessor organization founded by Bette Huckaby, has raised over $4 million.
When the Woodmont Hills church in Nashville outgrew its parking lot, we arranged to use part of a lot at a neighbor church. We then asked for volunteers to park down the hill, across the busy street, and make room for others in our own parking lot. No one was surprised to see a little old lady named Bette park as far away as possible, cross the street, and trudge up the hill.
Bette made it her personal mission to speak to as many people as possible and make as many friends as possible. She always sat about three rows from the front, and if the preacher paused very long, Bette might just offer a few words to help him fill the void. Bette thought some songs could not be sung appropriately sitting down, so, when one of those songs began she stood up. If nobody stood with her, that didn't bother her a bit.
Bette never wavered in her love for God and country. She was a patriot through and through. On Memorial Day weekend, Bette would put up a table in the church lobby, cover it with red, white, and blue bunting, and display her wartime memorabilia, including her WAC uniform — complete down to the khaki underwear. She shocked many an unsuspecting visitor by saying, "Be sure to stop by the lobby and see my underwear!" The words never before heard in church caused many to stop and think rather than just walk on by.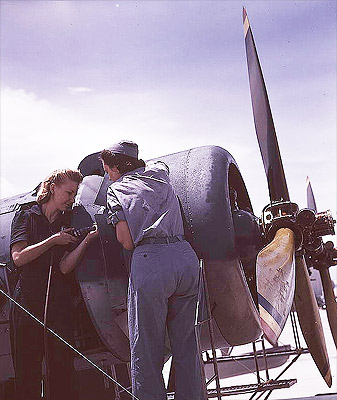 Originally called Decoration Day, the day to honor Americans who died in war became known as Memorial Day. From the time of the Revolutionary War until now, approximately 1.3 million Americans have died in war, almost half of them in the Civil War. Memorial Day does not promote war or justify war; it honors the memory of those who have served our country valiantly.
I was visiting Bette in the hospital when she learned she had pancreatic cancer so advanced that no treatment was recommended. Bette took in stride the news that would crush most of us. "I have always known I was going to die," she said, "now I know what is going to kill me and approximately when." After a few days of palliative care, Bette was moved to a hospice facility where she lived just one hour.
On February 26, 2010, Bette's funeral was conducted as she had planned it. As I looked through her well-worn Bible, the verses she had underlined were mostly about peace and joy — characteristics of Bette's life.
I have fought the good fight, I have finished the race, I have kept the faith. Now there is in store for me the crown of righteousness, which the Lord, the righteous Judge, will award to me on that day — and not only to me, but also to all who have longed for his appearing.
Encouraging Words from  2 Timothy 4:7-8.