Therefore, whenever we have the opportunity, we should do good to everyone — especially to those in the family of faith (Ephesians 6:10 NLT).What good is it, dear brothers and sisters, if you say you have faith but don't show it by your actions? Can that kind of faith save anyone? Suppose you see a brother or sister who has no food or clothing, and you say, "Good-bye and have a good day; stay warm and eat well" — but then you don't give that person any food or clothing. What good does that do?
So you see, faith by itself isn't enough. Unless it produces good deeds, it is dead and useless (James 2:14-17).We know what real love is because Jesus gave up his life for us. So we also ought to give up our lives for our brothers and sisters. If someone has enough money to live well and sees a brother or sister in need but shows no compassion — how can God's love be in that person?
Dear children, let's not merely say that we love each other; let us show the truth by our actions (1 John 3:16-18).
The devastation of the tornadoes in Oklahoma these past few days have been on my mind all afternoon — it is Monday night and I am traveling through airports in Texas and Kentucky following things on CNN and FOXNews.
I was writing an article on prayer and about to finish up our twice per year donation drive email for Heartlight.org when I was convicted to put off both in favor of dealing with the tragedy unfolding before our eyes. After the horrors of tornadoes last week, like many of you I was agonizingly transfixed watching as the tornadoes hit Moore, Oklahoma, and broadcast like a SuperBowl pre-game and postgame. Only this time, these are not games. These are real people... real lives lost and real lives tragically redefined by a series of natural phenomena bringing catastrophic results.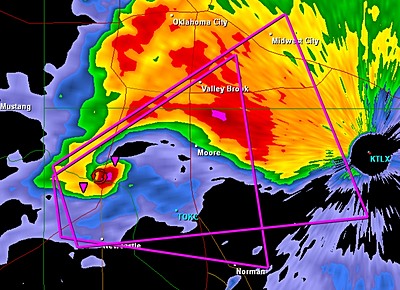 As you read this, we will still only be beginning to gauge the enormity of the devastation to property and will be left bewildered and weighed down by the human toll in lives lost, injuries received, emotions wrenched, and grief realized.
So what are we to do?
I don't mean to be callous, but I'm tired of all the sloganeering that we have fallen into lately. It sure feels like a simplistic and shallow way to appease our consciences with all the needs, plagues, and disasters. Let's wear this color ribbon or this color shirt to show our support for the folks who... or we're offering a percentage of all proceeds of our purchase to the victims of...* Yes, I know there are some very good folks who donate proceeds and wear colored ribbons to raise awareness. Yet right now, we need to do more than that. We need a strategy as individuals and as churches on what we are going to do when there are disasters and emergencies and how we are going to respond. We need experts in helping others to receive support and those who are on the margins trying to get their corporate or personal names in front of people to be shoved aside so we can be certain real people in real need are really being helped.
In addition to our tithe to God's work, let's learn to give alms again! Alms are the gift to those in need. In the Old Testament Jewish culture, these were given above the tithe. In other words, let's get proactive in our budgeting so we can have a fund set aside to help those in need — locally, nationally, and globally. Then, let's give to those groups that have proven track records. I suggest church groups and para-church ministries that have proven themselves.** This is a great teaching opportunity for your kids of any age if you include them in both the budgeting and also the decision on where to give the funds. In addition, there is always the Red Cross who have experience with these kinds of disasters.
Second, while I believe in the importance of prayer, it will come third in our list because prayer warriors have already hit their knees and the rest of us need to do more than just talk about human tragedy. James reminds us that saying we pray for someone in a tragedy but doing nothing when we have the ability to help is basically saying our faith is really dead (James 2:14-21). John, while talking largely about our brothers and sisters in Christ, says if we know of a brother and sister in need and do nothing to help we show that the love of Christ is not in us so we need to demonstrate our love with action and not just words (1 John 3:16-18). So find a group, a need, a disaster, and help. Give money as a family thoughtfully, and follow through and make that help as personal as you possibly can. Learn what you can about the situation, the people, the agencies, the emergency workers and then choose a specific thing and area to help. If volunteers are needed and reputable groups are organizing them, then go or help someone go and help personally. Contact area churches and find families that have ongoing needs and help and stay connected. You won't be able to help with every, or even most, emergencies, but if you get involved long-term with one and help people truly recover you have done something Kingdom worthy and truly life-changing!
Third, pray! Again, if you can get specific and personal in your prayers, that is better for those you pray for and for you and your own spiritual growth. Pray for people by name and those they may represent. For example, people mentioned by name in the news reports, magazines and papers — these are specific people who represent many others who are victims, their families, their neighbors. Pray especially for the ER staffers, EMT's, rescue workers, Firefighters, Law Enforcement, Public Health Officials, elected officials, government agency leaders, agencies that offer aid, and utility and infrastructure support workers who are going to be working non-stop for several weeks to do what needs to be done and will also have to deal with the trauma of what they witness. And pray for their family members who will worry about them and be apart from them dealing with their own parts of these disasters.
So we'll pray... but we'll also help.
We live in a connected world, so we are more aware than ever before of the horrific tragedies of our world. This saturation with the impact of our broken world's disasters on humankind can make us hardened to tragedy, can overwhelm us with its pervasiveness, or call us to a plan to be God's agents of grace and redemptive helpfulness. Our hope, our prayer at Heartlight, is that we commit to the third one: we are called to a plan of action.
So we'll pray... but we'll also help. If we can't now, then let's begin a plan to be able to help in the future. Let's involve our families in every stage of the process. Let's commit to help in specific ways and in specific situations because none of us can help or bear the burden of everything. But we all can help with something. So let's see this as our call to action and begin today.
---
* Come on, what percentage and what minimum and what maximum are you putting in? And don't put it into small print because there are a jillion of scammers out there saying the same thing so we are not sure if you are playing on human tragedy for a marketing tool and tax deduction or that you are genuinely helping.
** We will update this later in the week with some possible folks to use that we have seen be effective in the past.