Therefore do not worry about tomorrow, for tomorrow will worry about itself. Each day has enough trouble of its own (Matthew 6:34).
I'm writing this as we bounce along the highway headed south into Lima. The breakers of the Pacific that are ripping ashore are on my right. The cliffs of the city are on my left. The wildly chaotic dance of the evening commute traffic is everywhere around us, horns beeping with every roll of the tires. We are coming back from another day at La Comunidad de Los Niños Sagrada Familia. As we bounce along, I think about Jesus' words: "Do not worry about tomorrow!"
The Lord said these words a long time ago, but they are just as relevant today. We can't worry about tomorrow. Right now, today is enough to handle! There are enough curveballs thrown our way each day that tomorrow is barely even on the horizon. We have to stay in the minute because everything changes quickly in the today.
With every surprising and unexpected change comes both a chance for disappointment and an opportunity for something new, fresh, and unanticipated. We are given the opportunity to invite the Holy Spirit to show up and replace our insufficiency with God's grace, providence, and sufficiency. This turns every day into an adventure!
Today there were bad and sad things that crossed our path. Donna did not feel well enough to come — this was really difficult for her. Many of us have had colds or upper respiratory critters we've picked up from the kids and the mist and the dust. However, those are minor and not worth mentioning in the grand scheme of things. The bad things and sad things are much tougher.
Last year, we worked with a precious little girl who was trapped in a shell of fear toward men. The reasons for this will be left to your imagination: I cannot begin to share with you because of the deep emotions in my heart. During the week, she opened herself to us. The last day, she ooched up under my left arm and wrapped it around her, then fell asleep in the mayhem of the good bye party. It was a breakthrough that began with ninety minutes with Donna on the playground two days earlier — a moment captured in a picture I will remember forever.
To my anger and horror, her mother demanded her back and has taken her back to the same house and the same step-father that created her fear. This is an awful thing, made worse because it's not something limited to Peru. Thankfully, most of the children we work with are saved from this kind of problem because they are at The Community. That's why a place like this is so important.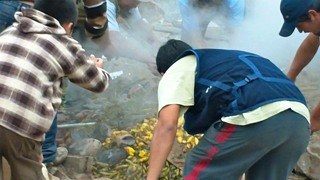 And today, one of our precious translators, Diana, had money stolen from her. She had made great effort to come back for the end of the week to work as a translator after having to care for her father in the hospital. While her problem today wasn't awful, it stung her heart because she loves these kids and to have something stolen by one of them was hurtful to her. In addition, in the last three weeks, she has been in the hospital herself and had her car stolen, in addition to the problem today and the emergency with her father. We hate the sting on her heart, but are truly thankful for her sweet willingness to serve.
Yet in the middle of all the nagging problems — technology that didn't work in the situation, a total overhaul in the afternoon schedule, and several other unanticipated snafus, there were precious moments with our 3-6 year old girls and with our Bible readers that were older. Sweet children who have so little and yet care so much — and that's why we come!
Most amazing of all, however, was the pit meal that provided the kids with a very special experience. When we arrived this morning, the men of the community were digging a big pit, lining it with bricks, lighting a fire, building grates, and heating rocks. When the rocks were hot enough to begin cracking, they pulled them off the fire, put layers of leaves down, then added pork, chicken, potatoes, and carrots. They covered all this up and let it cook — the aroma filled the whole compound. When the food was done, they uncovered the mound and began to dish out the food along with thick potato and egg omelettes.
They began filling the bowls of our little girls. But everyone, including these little girls, waited until everyone in line was served before they ate anything — a wait of about eighty minutes for our little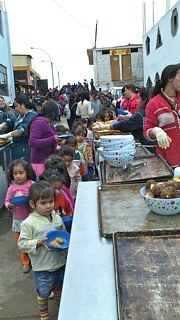 ones. Then the kids ate this incredible meal, drank a soda, and had a candy bar. There is no way to describe how special this meal was for them. They went away full, happy, and satisfied.
As the day ended with special goodbyes with kids we love of all ages, they were already anticipating our leaving tomorrow and asking us to return next year. This is a glimpse of our final day and the party and the great goodbye that is both joyous and heartbreaking, a time of happiness and also the time when the hook is set in our hearts to bring us back next year.
Life is full of plusses and minuses, but being at Sagrada Familia is a reminder that our minuses are mostly plusses and our hardships are really no problema. And tomorrow, with its goodbyes and tears ... well, we will let tomorrow take care of itself. If little girls can wait for eighty minutes with their bowls full of food, we can wait on worrying about tomorrow. Besides, we know that the Lord is already there waiting for us with his all sufficient grace and the Holy Spirit to help us with the unexpected bumps along the way.