The Lord's Day began early! Many of our group arrived at the hotel at 1:30 on Sunday morning — 23 plus hours after they had gotten out of bed! With only a short night's sleep, we needed the great breakfast we shared before we boarded the bus for our ninety minute ride out to
The Community
. The 100 or so of us are in Peru this week to be with over 900 children at The Community.
This annual visit is very much anticipated by the children, so the leaders don't tell the children ahead of time that we are coming because it is too much of a distraction. So when we arrived today, the children were not expecting us.
While the newbies got off the bus not knowing what to expect, I ran on ahead and went to our casa where our little girls live. Others began looking for the children they have known from previous visits. I found Susanna outside the casa she serves and she motioned for me to go see the girls, and then we would join the long line of welcome.
What a sweet reunion! Some of these 3-6 year old girls remembered me instantly, others were excited to see someone new. They were all dressed up in their special Sunday pink or blue fleece outfits. We hugged and kissed.
Then, I found Gladys — one of our special young ladies from last year. She smiled shyly and gave me a hug. We were caught in that moment of uncomfortable welcome when you have so much to say and can't speak each other's language well enough to say it. Finally, I suggested, "Do you want to go find Donna?" She knew instantly what that meant, and off we went to join the little girls in the long line of welcome where they hugged and kissed all of our team members. As children recognized the people they knew from previous trips, you could hear squeals of delight, see tears of joy, and witness love expressed in long hugs.
One sweet reunion for me was with Ruth. Last year, Ruth hung on to me, scooted up next to me to sit by me, or sat in my lap. This year, she is older and has moved up to a new casa with older girls. But when she saw me, she immediately ran to me and hugged me. It did not matter what my plans were later that afternoon, as soon as Ruth had lunch, she was determined to spend her afternoon with me. What a blessing and privilege to be loved and remembered in such a sweet way. It was a sweet reunion!
I can't think of a better way to celebrate the Lord's Day than in reunion. We remember what Jesus did for us, what he is doing through us, and anticipate his return and our reunion with the Lord and all who have loved him.
Today was about reunion. Gladys with Donna — they were nearly inseparable last year — and Ruth with me and the reunion of all these children with old and new friends from afar. We are here to love these kids, to let them know they are special, and to help them make memories.
We are here to "bring water" and his job is to "make wine."
Yet to leave our purpose at this level is to leave out the biggest reason for the trip. We are not here just to be nice or because we want to just do something nice for these children. We are here in Jesus' name. We are here to love them for Jesus' glory and by his power. To do these nice things and not lead them closer to Jesus would be doing less than what we came to do!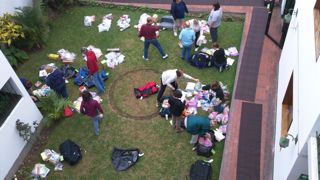 After we returned from The Community, everyone scurried around working madly to unload and organize 98 bags of luggage full of our teaching supplies. I have never seen so many bone-weary people work so hard and so quickly with such a good attitude. I met with my group who will be reading parts of the Gospel of Luke with the older "children" of The Community. Then we all ate pizza and assembled together to remember the Lord and celebrate our great Lord's Day.
Scott Warner spoke a few minutes from Jesus' first miracle, the turning of the water to wine at Cana in Galilee (John 2:1-11). His words were short and clear and powerful. He reminded us of what we are in Peru to do and what it is that Jesus has promised to do. We are here to "bring water" and his job is to "make wine." We can't do the miracle, but we can do the simple acts of kindness trusting that Jesus will make more of our efforts than we can. But for the miracle to happen, we have to "bring water" — we have to "do whatever he tells you to do" (John 2:5). And when we do, Jesus reveals his glory through us and to us and for these children!