Jesus stopped and said to the blind men, "What do you want me to do for you?"
— Matthew 20:32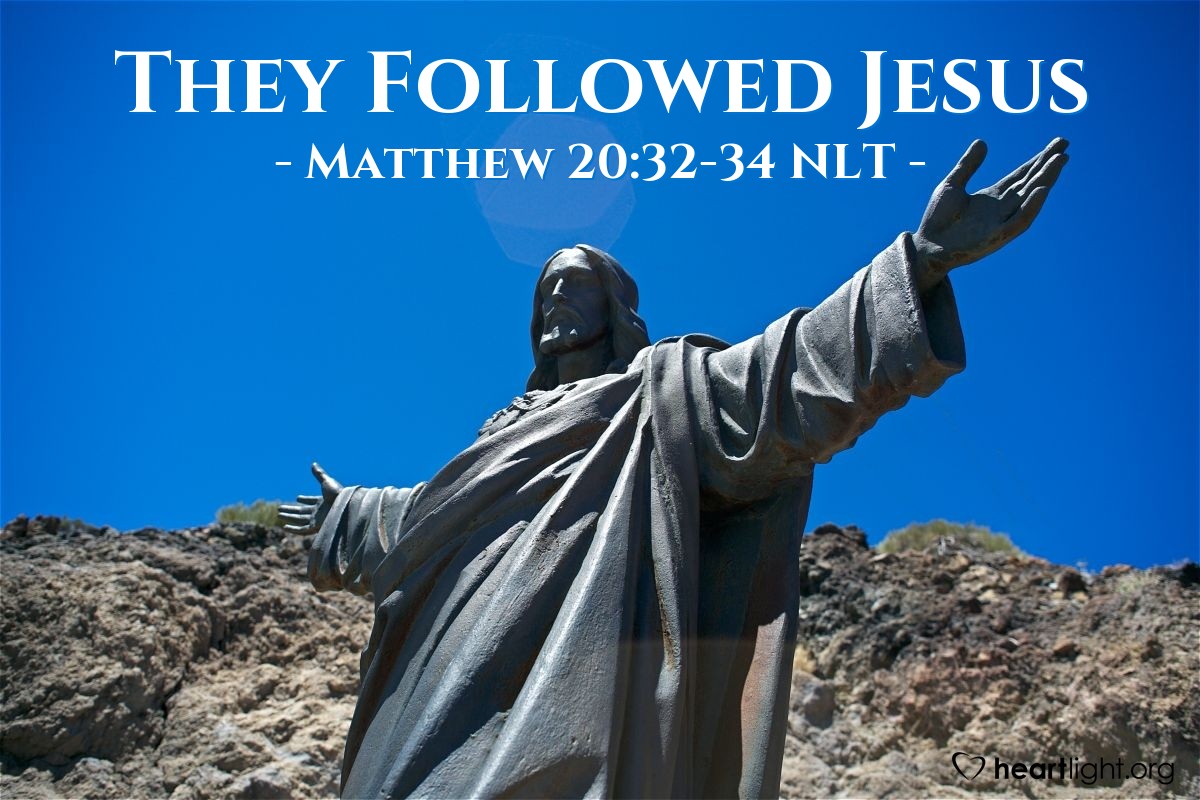 Key Thought
There are all sorts of things we leave behind to follow Jesus. We can leave our nets like Peter, Andrew, James, and John. We can leave our tax collector's booth like Levi. We can leave our high ranking position in the religious establishment like Saul of Tarsus. We can leave our profession as a physician like Luke. We can also leave behind our blindness! While the apostles had left everything to follow Jesus, they had not yet recognized their blindness. They still wanted to look at things the way men do instead of God's way. To follow Jesus, they had to leave behind their blindness and accept that the cross was the key ingredient in Jesus' Messiahship and their discipleship. Just as Jesus opened the eyes of the blind men on his way to Jerusalem and they followed, Jesus would also go to Jerusalem and face Calvary and open the eyes of his disciples. They would follow and the world would be changed!
Today's Prayer
Almighty God, please remove the blindness from my eyes and help me see what keeps me from fully seeing Jesus as my Lord and what I need to do to live fully for him. In Jesus' holy name I pray. Amen.
Today's Verses in Context
Jesus was going to Jerusalem. His twelve followers were with him. While they were walking, Jesus gathered the followers together and spoke to them privately. Jesus said to them, "We are going to Jerusalem. The Son of Man will be given to the leading priests and the teachers of the law. The priests and teachers of the law will say that the Son of Man must die. They will give the Son of Man to the non-Jewish people. Those people will laugh at him and beat him with whips, and then they will kill him on a cross. But on the third day after his death, he will be raised to life again." Then Zebedee's wife came to Jesus. Her sons were with her. The mother bowed before Jesus and asked him to do something for her. Jesus said, "What do you want?" She said, "Promise that one of my sons will sit at your right side in your kingdom. And promise that the other son will sit at your left side in your kingdom." So Jesus said to the sons, "You don't understand what you are asking. Can you accept the kind of suffering that I must have ?" The sons answered, "Yes, we can!" Jesus said to them, "Truly you will suffer the same things that I will suffer. But I cannot choose the person that will sit at my right side or my left side. My Father has decided who will have those places. He has prepared those places for those people. Those places belong to them." The other ten followers heard this. They became angry with the two brothers. Jesus called all the followers together. Jesus said, "You know that the rulers of the non-Jewish people love to show their power over the people. And their important leaders love to use all their authority over the people. But it should not be that way with you. If one of you wants to become great, then he must serve you like a servant. If one of you wants to become first, then he must serve you like a slave. It is the same with the Son of Man. The Son of Man did not come for other people to serve him. The Son of Man came to serve other people. The Son of Man cameto give his life to save many people." When Jesus and his followers were leaving Jericho, many, many people followed Jesus. There were two blind men sitting by the road. The blind men heard that Jesus was coming by. So the blind men shouted, "Lord, Son of David, please help us!" All the people criticized the blind men. They told the blind men not to speak. But the blind men shouted more and more, "Lord, Son of David, please help us!" Jesus stopped and said to the blind men, "What do you want me to do for you?" The blind men answered, "Lord, we want to be able to see." Jesus felt sorry for the blind men. Jesus touched their eyes and they were able to see. Then the men followed Jesus.
Matthew 20:17-34
About This Devotional
What Jesus Did is a one-year devotional guide through the gospels, using one short passage each day and following the Gospel in consecutive order. Each devotional consists of a passage, reflection and a prayer which opens up the day's scripture and shows how it challenges you to live for Jesus.
What Jesus Did! is written by Phil Ware.
Easy-to-Read Version copyright © 2001 by World Bible Translation Center. All rights reserved.