"Nations will fight against other nations. Kingdoms will fight against other kingdoms. There will be times when there is no food for people to eat. And there will be earthquakes in different places. These things are like the first pains when something new is born."
— Mark 13:8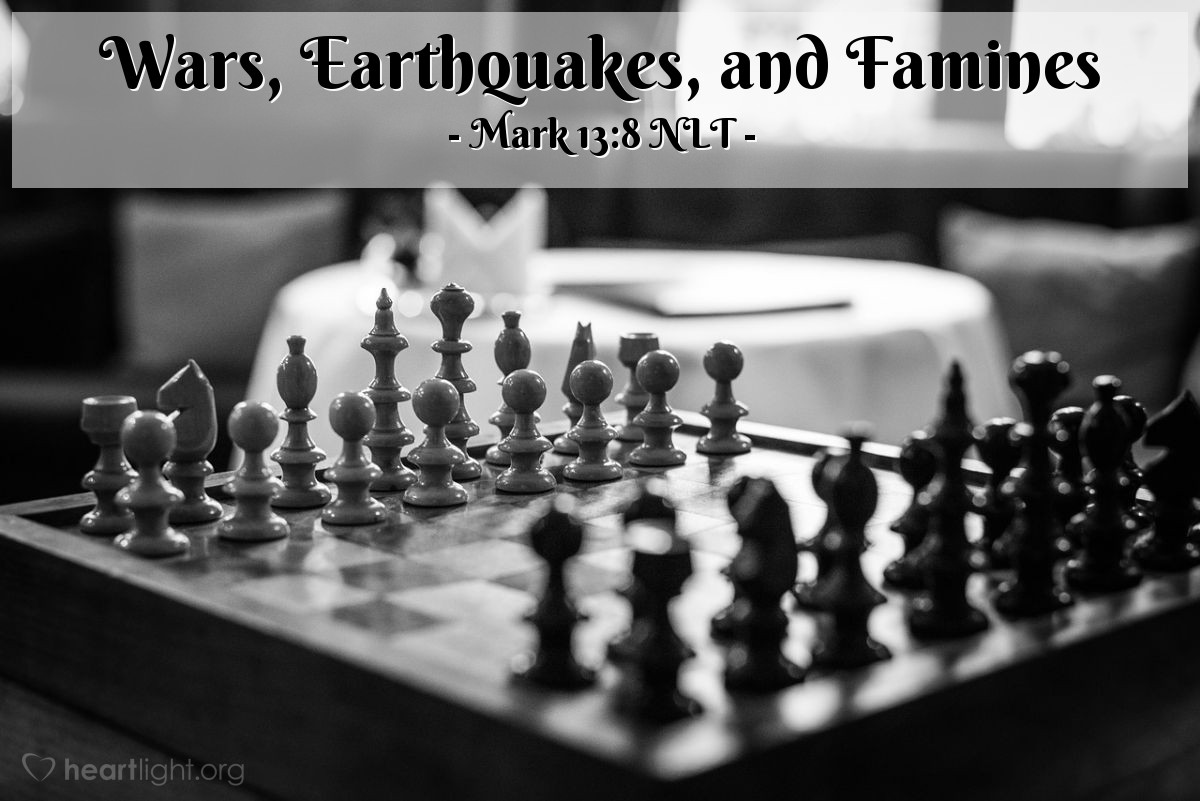 Key Thought
The sad reality of our fallen world and our sinful state is that our world will always be full of war and human strife as well as natural disasters and the human suffering that accompanies them. We must endure these difficult struggles as part of our human lives in a temporal world. However, when Jesus does return in glory, we will be blessed and our fallen world will be redeemed. Glory awaits beyond the gloom of suffering, brutality, and disaster.
Today's Prayer
O Father, please keep hope alive in those whose lives are overwhelmed with suffering and fear. Help me see beyond the gloom of my own challenges and problems to realize that these are part of a world that is passing away. Help me hold on in faith, trusting that the dawn is coming and that your glory awaits all those who love your Son and look expectantly for his coming! In Jesus' name I pray. Amen.
Today's Verses in Context
Jesus was leaving the temple area. One of his followers said to him, "Look, Teacher! This temple has very beautiful buildings with very big stones." Jesus said, "Are you looking at these great buildings? They will all be destroyed. Every stone will be thrown down to the ground. Not one stone will be left on another." Later, Jesus was sitting at a place on the Mount of Olives. He was alone with Peter, James, John, and Andrew. They could all see the temple. Those followers asked Jesus, "Tell us, when will these things happen? And what will show us it is time for these things to happen?" Jesus said to the followers: "Be careful! Don't let any person fool you. Many people will come and use my name. They will say, 'I am the One.' And they will fool many people. You will hear about wars that are being fought. And you will hear stories about other wars beginning. But don't be afraid. These things must happen before the end comes. Nations will fight against other nations. Kingdoms will fight against other kingdoms. There will be times when there is no food for people to eat. And there will be earthquakes in different places. These things are like the first pains when something new is born. "You must be careful. People will arrest you and take you to be judged. They will beat you in their synagogues. You will be forced to stand before kings and governors. You will tell them about me. This will happen to you because you follow me. Before these things happen, the Good News must be told to all people. You will be arrested and judged. But don't worry about what you should say. Say the things God gives you to say at that time. It will not really be you speaking. It will be the Holy Spirit speaking. "Brothers will turn against their own brothers and give them to be killed. Fathers will turn against their own children and give them to be killed. Children will fight against their own parents and find ways for their parents to be killed. All people will hate you because you follow me.But the person that continues strong until the end will be saved.
Mark 13:1-13
Related Scripture Readings
The Spirit that we received is not a spirit that makes us slaves again and causes us to fear. The Spirit that we have makes us God's chosen children. And with that Spirit we say, "Abba, Father." And the Spirit himself joins with our spirits to say we are God's children. If we are God's children, then we will get the blessings God has for his people. We will get these things from God. God will give us all that he has given Christ. But we must suffer like Christ suffered. Then we will be able to share his glory. We have sufferings now. But the sufferings we have now are nothing compared to the great glory that will be given to us. Everything that God made is waiting with excitement for the time when God will show the world who his children are. The whole world wants very much for that to happen. Everything God made was changed to be like it was worth nothing. It did not want to change, but God decided to change it. But there was this hope: That everything God made would be made free from ruin (decay). There was hope that everything God made would have the freedom and glory that belong to God's children. We know that everything God made has been waiting until now in pain like a woman ready to give birth to a child. Not only the world, but we also have been waiting with pain inside us. We have the Spirit as the first part of God's promise. So we are waiting for God to finish making us his own children. I mean we are waiting for our bodies to be made free. We were saved, and we have this hope. If we can see what we are waiting for, then that is not really hope. People don't hope for something they already have. But we are hoping for something that we don't have yet. We are waiting for it patiently.
Romans 8:15-25
Then I saw a new heaven and a new earth. The first heaven and the first earth had disappeared. Now there was no sea.
Revelation 21:1
Don't be like a ruler over those people you are responsible for. But be good examples to those people. Then when the Ruling Shepherd (Christ) comes, you will get a crown. That crown will be very glorious, and it will never lose its beauty. Young men, I have something to say to you, too. You should accept the authority of the elders. All of you should be very humble with each other. "God is against the proud people. But he gives grace (kindness) to the humble people." So be humble under God's powerful hand. Then he will lift you up when the right time comes. Give all your worries to him, because he cares for you. Control yourselves and be careful! The devil is your enemy. And he goes around like a roaring lion looking for some person to eat. Refuse to follow the devil. Stand strong in your faith. You know that your brothers and sisters all over the world are having the same sufferings that you have. Yes, you will suffer for a short time. But after that, God will make everything right. He will make you strong. He will support you and keep you from falling. He is the God that gives all grace (kindness). He called you to share in his glory in Christ. That glory will continue forever.
1 Peter 5:3-10