Jesus said to the followers: "Be careful! Don't let any person fool you. Many people will come and use my name. They will say, 'I am the One.' And they will fool many people."
— Mark 13:5-6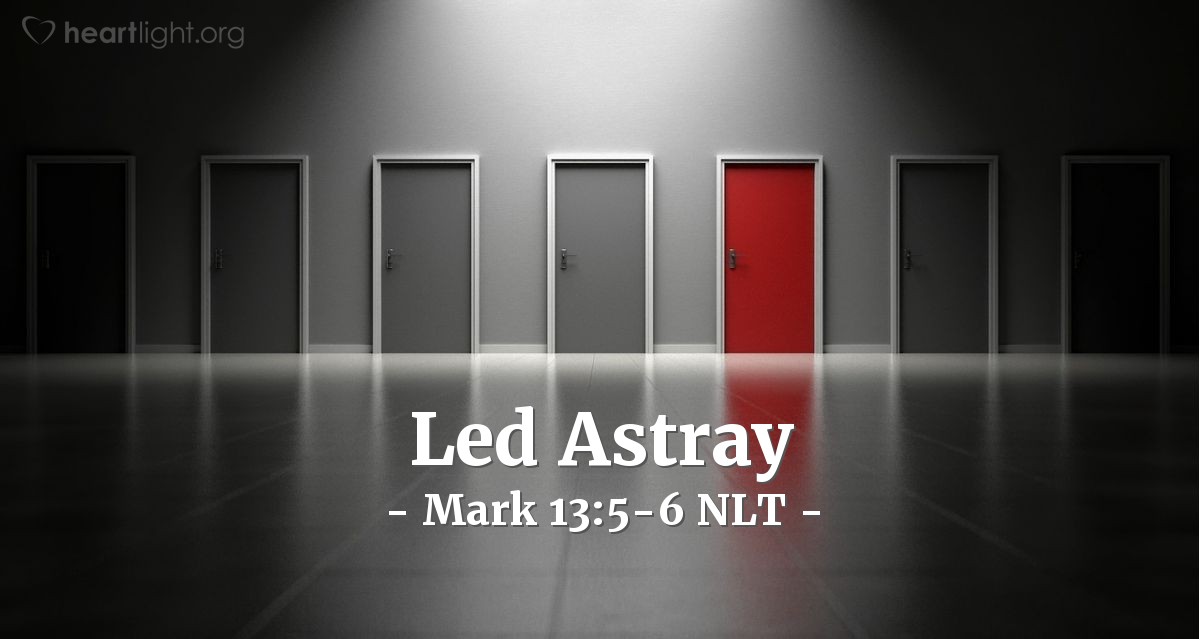 Key Thought
Jesus was concerned that his precious followers could be led astray. He still is today. As Jesus' followers, it is not enough for us to defend the truth; we must go in search of those that have been led astray by false teachers and false messiahs as well as those who become entangled in sin. Let's make a conscious effort to reach out to those who have been led astray and bring them to the joy of our Father's house.
Today's Prayer
Gracious and loving Father, please give me a heart like yours for lost people. Especially make me aware of those who have drifted away or who have been led astray. In Jesus' name. Amen.
Today's Verses in Context
Jesus was leaving the temple area. One of his followers said to him, "Look, Teacher! This temple has very beautiful buildings with very big stones." Jesus said, "Are you looking at these great buildings? They will all be destroyed. Every stone will be thrown down to the ground. Not one stone will be left on another." Later, Jesus was sitting at a place on the Mount of Olives. He was alone with Peter, James, John, and Andrew. They could all see the temple. Those followers asked Jesus, "Tell us, when will these things happen? And what will show us it is time for these things to happen?" Jesus said to the followers: "Be careful! Don't let any person fool you. Many people will come and use my name. They will say, 'I am the One.' And they will fool many people. You will hear about wars that are being fought. And you will hear stories about other wars beginning. But don't be afraid. These things must happen before the end comes. Nations will fight against other nations. Kingdoms will fight against other kingdoms. There will be times when there is no food for people to eat. And there will be earthquakes in different places. These things are like the first pains when something new is born. "You must be careful. People will arrest you and take you to be judged. They will beat you in their synagogues. You will be forced to stand before kings and governors. You will tell them about me. This will happen to you because you follow me. Before these things happen, the Good News must be told to all people. You will be arrested and judged. But don't worry about what you should say. Say the things God gives you to say at that time. It will not really be you speaking. It will be the Holy Spirit speaking. "Brothers will turn against their own brothers and give them to be killed. Fathers will turn against their own children and give them to be killed. Children will fight against their own parents and find ways for their parents to be killed. All people will hate you because you follow me.But the person that continues strong until the end will be saved.
Mark 13:1-13
Related Scripture Readings
Then Jesus told them this story: "Suppose one of you has 100 sheep, but he loses one of them. Then he will leave the other 99 sheep alone and go out and look for the lost sheep. The man will continue to search for the lost sheep until he finds it. And when he finds the sheep, the man is very happy. The man carries the sheep to his home. He goes to his friends and neighbors and says to them, 'Be happy with me because I found my lost sheep!' In the same way, I tell you, heaven is a happy place when one sinner changes his heart. There is more joy for that one sinner than there is for 99 good people that don't need to change their hearts.
Luke 15:3-7
My brothers and sisters, one of you may wander away from the truth. And another person may help him come back to the truth. Remember this: Any person who brings a sinner back from the wrong way will save that sinner from death (hell). By doing this, that person will cause many sins to be forgiven.
James 5:19-20
Brothers and sisters, a person in your group might do something wrong. You people who are spiritual should go to the person who is sinning. You should help to make him right again. You should do this in a gentle way. But be careful! You might be tempted to sin, too.
Galatians 6:1