So John the Baptizer came and was baptizing people in the desert area. He told the people to be baptized to show they wanted to change their lives. Then their sins would be forgiven.
— Mark 1:4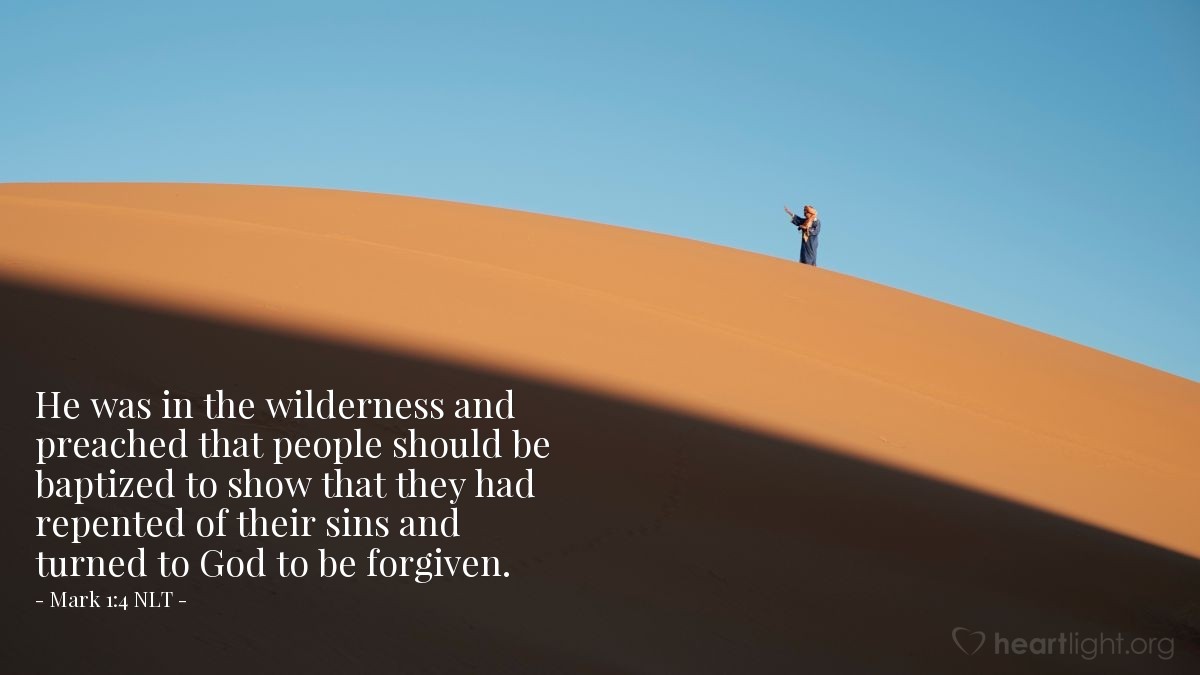 Key Thought
God's messenger was John. He was called The Baptist, or The Baptizer, because he baptized folks who came to him wanting to change their lives to align with the will of God. John's mission was to prepare people for the coming of the promised Christ. The purposes of this baptism were to demonstrate people's turning from sin to God and to receive the forgiveness of God. What can we learn from John's mission for our lives today? First, God uses human messengers to reach the hearts of those seeking to find him. Someone is out there seeking for God and God can use you or me to be that messenger! Second, seeking God involves two things: we turn to God and turn away from our sins. Third, everyone needs the forgiveness of God; none of us is righteous and holy on our efforts. In other words, we need God's gracious forgiveness. So I guess that each of us can choose the message that he or she needs to hear most clearly today. Have I come to God to receive his forgiveness and grace? Have I truly turned to God and away from sin? To whom will I be God's messenger?
Today's Prayer
Father in heaven, you are holy and awesome. Your power is beyond my comprehension. As I think about praying to you, I am humbled that you would hear me. Thank you for your gracious forgiveness that you have shared with me through the gift of your Son. I commit my life to you and I turn my back on sin in an effort to flee its grip on me. As a recipient of your grace, please help me see the person, or people, for whom I can be your messenger. In Jesus' name. Amen.
Today's Verses in Context
The Good News about Jesus Christ, the Son of God, begins with what the prophet Isaiah said would happen. Isaiah wrote: "Listen! I (God) will send my helper ahead of you. He will prepare the way for you." "There is a person shouting in the desert: 'Prepare the way for the Lord. Make his paths straight.'" So John the Baptizer came and was baptizing people in the desert area. He told the people to be baptized to show they wanted to change their lives. Then their sins would be forgiven. All the people from Judea and Jerusalem went out to John. These people told the sins they had done, and then they were baptized by John in the Jordan River. John wore clothes made from camel's hair. John had a leather belt around his waist. He ate locusts and wild honey. This is what John told the people: "There is a person coming later who is greater than I am. I am not good enough to kneel down and untie his shoes. I baptize you with water. But that person who is coming will baptize you with the Holy Spirit. "
Mark 1:1-8
Related Scripture Readings
Some Jews also were traveling around and making evil spirits go out of people. The seven sons of Sceva were doing this. (Sceva was a high priest. ) These Jews tried to use the name of the Lord Jesus to make the evil spirits go out of people. They all said, "By the same Jesus that Paul talks about, I order you to come out!"
Acts 19:14
"My brothers, I know you did those things to Jesus because you did not understand what you were doing. Your leaders also did not understand. God said that these things would happen. God said through the prophets that his Christ would suffer and die. I have told you how God made this happen. So you must change your hearts and lives! Come back to God and he will forgive your sins. Then the Lord (God) will give you times of spiritual rest. He will give you Jesus, the One he chose to be the Christ. But Jesus must stay in heaven until the time when all things will be made right again. God told about this time when he spoke long ago through his holy prophets.
Acts 3:17-21
"So, all the Jewish people should know this truly: God has made Jesus to be Lord and Christ. He is the man you nailed to the cross!" When the people heard this, they felt very, very sorry. They asked Peter and the other apostles, "Brothers, what should we do?" Peter said to them, "Change your hearts and lives and be baptized, each one of you, in the name of Jesus Christ. Then God will forgive your sins, and you will receive the gift of the Holy Spirit. This promise is for you. It is also for your children and for the people that are far away. It is for every person that the Lord our God calls to himself."
Acts 2:36-39