The army officer there saw what happened. He praised God, saying, "I know this man was a good man!" Many people had come out of the city to see this thing. When the people saw it, they felt very sorry and left. The people who were close friends of Jesus were there. Also, there were some women that had followed Jesus from Galilee. They all stood far away from the cross and watched these things.
— Luke 23:47-49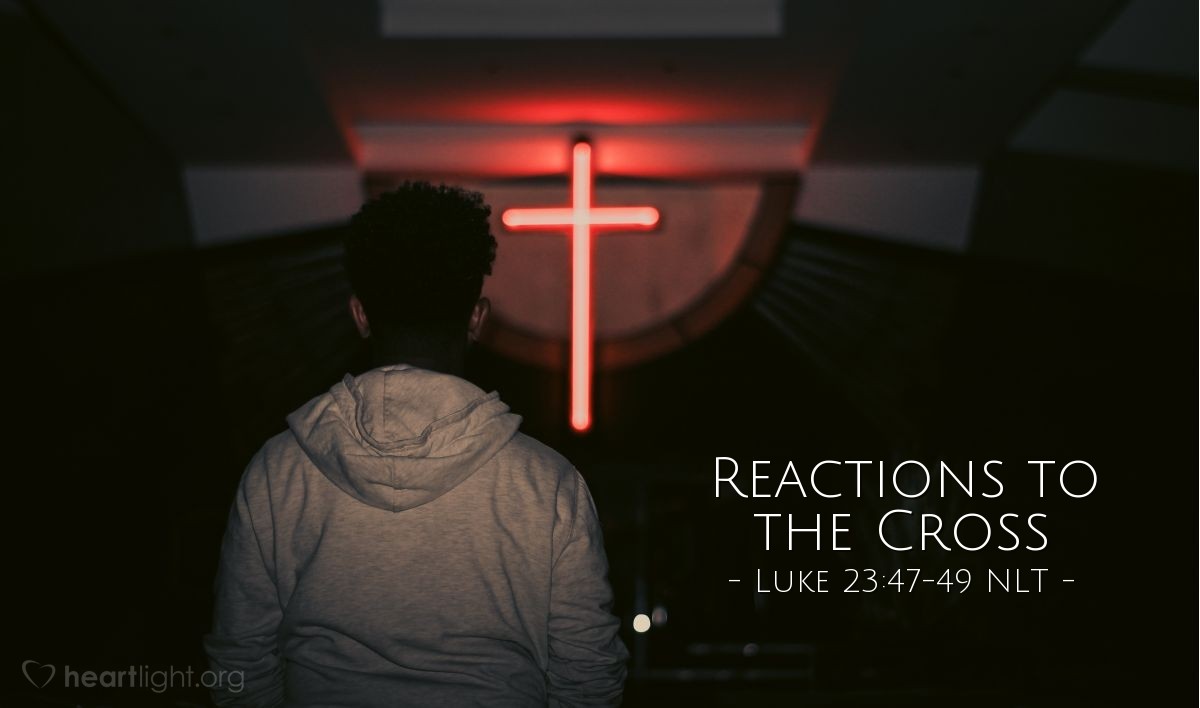 Key Thought
What happens in your heart when you think of Jesus on the Cross? The seasoned Roman officer handling the execution praised God and knew Jesus was not guilty of any crime. The crowd went home with deep sorrow. Jesus' friends watched from a distance. Which one best describes your reaction? Why? Don't you find it amazing that probably the least preferable reaction, the least exemplary, was the reaction of Jesus' friends. Let's not just be observers of the Cross, but people who are deeply sorrowed by ours sins that took Jesus to the Cross. However, in our sorrow, let's make sure we don't let grief consume us. Instead, let's praise God for his grace and the salvation he has provided for us. Then, rather than going into hiding like the fearful friends of Jesus, let's go share the grace with others.
Today's Prayer
Holy and Almighty God, it breaks my heart that Jesus had to die as a sacrifice for sin ... especially my sin. However, I praise you for your plan of grace, for your desire to provide mercy at the expense of your own heartbreak, and for your overwhelming love for people like me. In Jesus' name. Amen.
Related Scripture Readings
Those words were also written for us. God will also accept us because we believe. We believe in the One (God) that raised Jesus our Lord from death. Jesus was given to die for our sins. And he was raised from death to make us right with God.
Romans 4:24-25
Christ died for us while we were still weak people. We were living against God, but at the right time, Christ died for us. Very few people will die to save the life of another person, even if that other person is a good person. If the person is a very good person, then someone might be willing to die for that person. But Christ died for us while we were still sinners. In that way God showed us that he loves us very much. We have been made right with God by Christ's blood (death). So through Christ we will surely be saved from God's anger. I mean that while we were God's enemies, God made friends with us through the death of his Son. So surely, now that we are God's friends, God will save us through his Son's life. And not only will we be saved, but we are also very happy now. We are happy in God through our Lord Jesus Christ. It is because of Jesus that we are now God's friends.
Romans 5:6-11
Where is the wise person? Where is the educated person? Where is the philosopher of this time? God has made the wisdom of the world foolish. This is what God with his wisdom wanted: The world did not know God through the world's own wisdom. So God used the message that sounds foolish to save the people that believe it. The Jews ask for miracles as proofs. The Greeks want wisdom. But this is the message we tell everyone: Christ was killed on a cross. This message is a big problem to the Jews. And the non-Jews think it is foolish. But Christ is the power of God and the wisdom of God to those people that God has called (chosen)—Jews and Greeks (non-Jews). Even the foolishness of God is wiser than human wisdom. Even the weakness of God is stronger than human strength.
1 Corinthians 1:20-25