Then Jesus said to his followers, "And who do you say I am?" Peter answered, "You are the Christ from God."
— Luke 9:20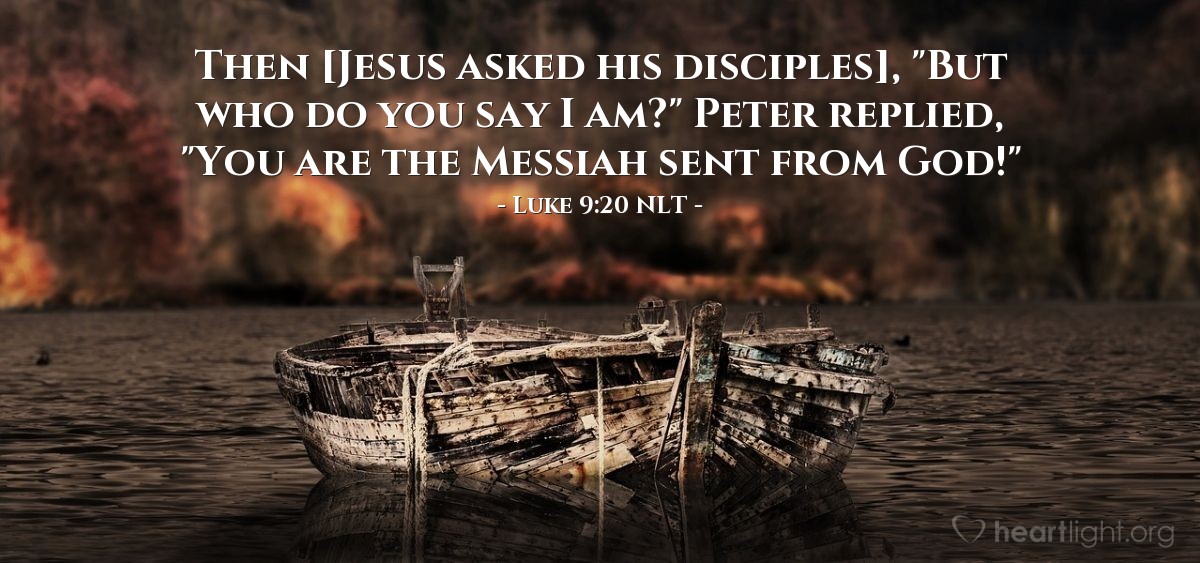 Key Thought
No matter what the world might think of him—whether it is Herod or the crowd or the enemies of Jesus—Jesus' real concern was that his disciples know. He would leave his mission in their hands. They would be called upon to put their lives on the line. They would be called to move from being merely followers to becoming followers who were leaders, mentors, and guides for thousands of others. Peter answers for them: "You are the Messiah sent from God!" Who is Jesus to you? Is he your Messiah, the gift sent from God to save you? If not, what stands in your way?
Today's Prayer
Loving Father, full of mercy and compassion but altogether holy and righteous, thank you for sending Jesus. I truly believe that Jesus is your promised Messiah, sent by you to save me from my sins and to give me the assurance of an eternal home with you. So I praise and thank you in Jesus' name. Amen.
Today's Verses in Context
One time Jesus was praying alone. His followers came together there. Jesus asked them, "Who do the people say I am?" The followers answered, "Some people say you are John the Baptizer. Other people say you are Elijah. And some people say you are one of the prophets from long ago that has come back to life." Then Jesus said to his followers, "And who do you say I am?" Peter answered, "You are the Christ from God." Jesus warned them not to tell anyone. Then Jesus said, "The Son of Man must suffer many things. He will be rejected by the older Jewish leaders, the leading priests, and teachers of the law. The Son of Man will be killed. But after three days he will be raised from death." Jesus continued to say to all of them, "If any person wants to follow me, he must say 'No' to the things he wants. That person must accept the cross (suffering) that is given to him every day, and he must follow me. The person that wants to save his life will lose it. And every person that gives his life for me will save it. It is worth nothing for a person to have the whole world, if he himself is destroyed or lost. If any person is ashamed of me and my teaching, then I will be ashamed of that person. I will be ashamed of that person at the time I come with my glory and with the glory of the Father and the holy angels. I tell you the truth. Some of you people standing here will see the kingdom of God before you die."
Luke 9:18-27
God promised long ago to give this Good News to his people. God used his prophets to promise this. That promise is written in the Holy Scriptures. The Good News is about God's Son, Jesus Christ our Lord. As a person, he was born from the family of David. But through the Spirit of holiness Jesus was shown to be God's Son. He was shown to be God's Son with great power by rising from death. Through Christ, God gave me the special work of an apostle. God gave me this work to lead people of all nations to believe and obey God. And I do this work for Christ. And you people in Rome were also called to belong to Jesus Christ.
Romans 1:2-6
Then the high priest stood and said to Jesus, "These people have said things against you. Do you have something to say about these charges against you? Are these people telling the truth?" But Jesus said nothing. Again the high priest said to Jesus, "You are now under oath. I command you by the power of the living God to tell us the truth. Tell us, are you the Christ, the Son of God?" Jesus answered, "Yes, I am. But I tell you, in the future you will see the Son of Man sitting at the right side of God. And you will see the Son of Man coming on the clouds of heaven."
Matthew 26:62-64