When the apostles came back, they told Jesus the things they had done on their trip. Then Jesus took them away to a town called Bethsaida. There, Jesus and his apostles could be alone together.
— Luke 9:10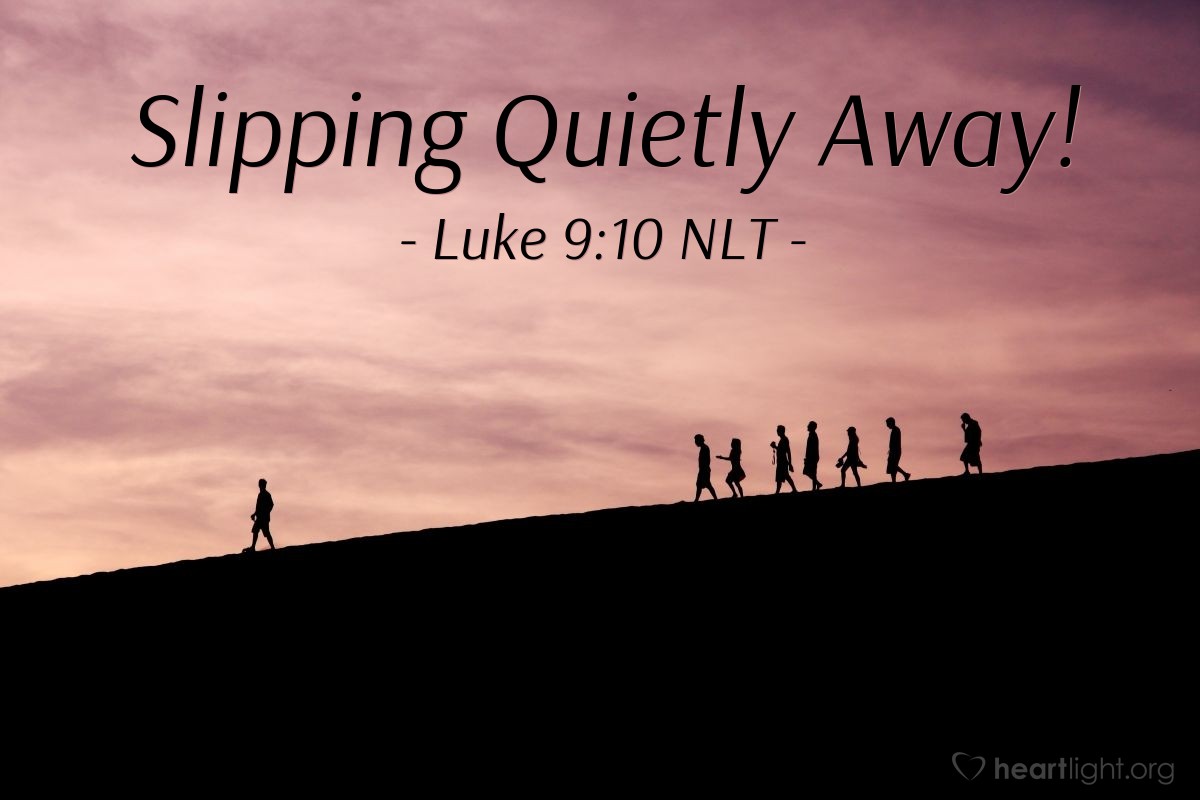 Key Thought
Jesus often worked to give his disciples some quiet, down time. With the pressures of the crowd, their own experience with ministry, the teaching Jesus was giving them, and the pressures of everyday living, they needed rest. So do we! As the remainder of the chapter reveals, sometimes that rest has to wait till more pressing people-concerns pass, but Jesus makes clear that he does want us to rest and recuperate—both to return us to useful service and also to give us time alone in his presence.
Today's Prayer
Father, please help me balance my responsibilities, opportunities, and rest in a more responsible way. Please use me mightily, but also convict me when I'm focused too much on being busy and not enough on being with you. In Jesus' name. Amen.
Today's Verses in Context
Jesus called the twelve apostles together. He gave the apostles power to heal sicknesses and power to force demons out of people. Jesus sent the apostles to tell about God's kingdom and to heal the sick. He said to the apostles, "When you travel, don't take a walking stick. Also, don't carry a bag, food, or money. Take for your trip only the clothes you are wearing. When you go into a house, stay there until it is time to leave. If the people in the town will not welcome you, go outside the town and shake their dust off of your feet. This will be a warning to them." So the apostles went out. They traveled through all the towns. They told the Good News and healed people everywhere. Governor Herod heard about all these things that were happening. He was confused because some people said, "John the Baptizer is risen from death." Other people said, "Elijah has come to us." And some other people said, "One of the prophets from long ago has risen from death." Herod said, "I cut off John's head. So who is this man I hear these things about?" Herod continued trying to see Jesus.
Luke 9:1-9
Related Scripture Readings
But the news about Jesus spread more and more. Many people came to hear Jesus and to be healed of their sicknesses. Jesus often went away to other places to be alone so that he could pray.
Luke 5:15-16
The people saw this miracle that Jesus did. The people said, "He must truly be the Prophet that is coming into the world." Jesus knew that the people wanted him to become king. The people planned to come get Jesus and make him their king. So Jesus left and went into the hills alone.
John 6:14-15
Jesus and his followers were in a very busy place. There were many, many people. Jesus and his followers did not even have time to eat. Jesus said to his followers, "Come with me. We will go to a quiet place to be alone. There we will get some rest." So Jesus and his followers went away alone. They went in a boat to a place where there were no people.
Mark 6:31-32