Joseph and Mary finished doing all the things that the law of the Lord commanded. Then they went home to Nazareth, their own town in Galilee. The little boy (Jesus) was growing. He became stronger and wiser. God's blessings were with him.
— Luke 2:39-40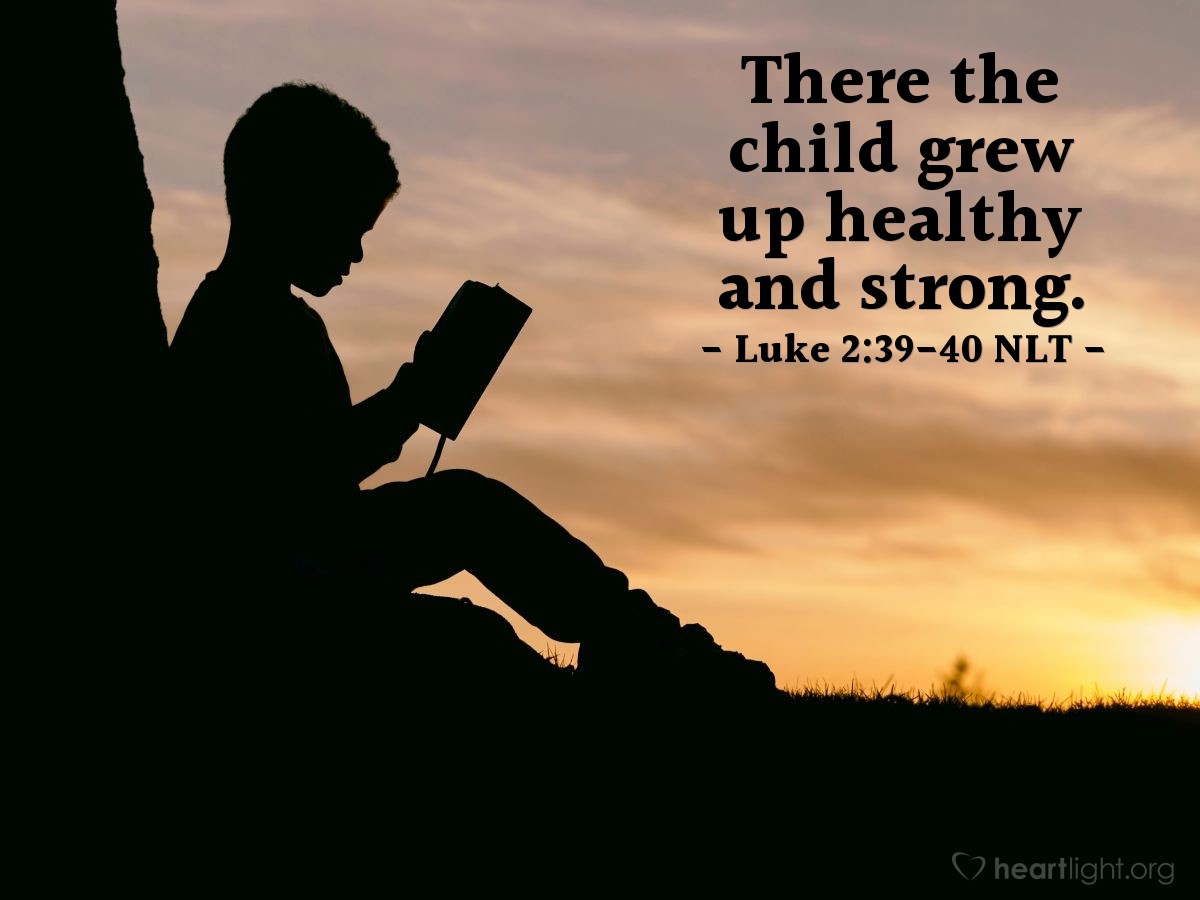 Key Thought
Think how amazing these statement are. God came to visit our world in Jesus, but first, Jesus had to be born and grow up. It boggles the mind. The amazing part of this passage is not that God placed his favor on Jesus, but that he favored us by choosing to share our human experiences. Amazing! And why did he do it? So we could know that he has been where we are and that we would call out to him to help us in our times of struggle, weakness, vulnerability, and temptation.
Today's Prayer
I praise you, LORD God Almighty, for choosing to come live among us as one of us. Thank you for being so gracious and glorious to us, your human children. In Jesus' name. Amen.
Today's Verses in Context
When the baby was eight days old, he was circumcised, and he was named Jesus. This name was given by the angel before the baby began to grow inside Mary. The time came for Mary and Joseph to do the things the law of Moses taught about being made pure. Joseph and Mary brought Jesus to Jerusalem so they could present him to the Lord (God). It is written in the law of the Lord (God): "When a mother's first baby is a boy, he shall be called 'special for the Lord.'" The law of the Lord also says that the people must give a sacrifice : "You must sacrifice two doves or two young pigeons." So Joseph and Mary went to Jerusalem to do this. A man named Simeon lived in Jerusalem. He was a good man that truly worshiped God. Simeon was waiting for the time when God would come to help Israel (the Jews). The Holy Spirit was in him. The Holy Spirit told Simeon that he would not die before he saw the Christ from the Lord (God). The Spirit led Simeon to the temple. Mary and Joseph went to the temple to do what the Jewish law said they must do. They brought the baby Jesus to the temple. Simeon held the baby in his arms and thanked God: "Now, Lord (God), you can let me, your servant, die in peace like you said. I have seen with my own eyes how you will save your people. Now all people can see your plan. He (Jesus) is a light to show your way to the non-Jewish people. He will bring honor to your people, Israel (the Jews)." Jesus' father and mother were amazed at what Simeon said about him. Then Simeon blessed them and said to Mary, "Many Jews will fall and many will rise because of this boy. He will be a sign (proof) from God that some people will not accept. The things that people think in secret will be made known. And the things that will happen will make your heart very sad." Anna, a prophetess, was there at the temple. She was from the family of Phanuel in the Asher family group. Anna was very old. She had been married for seven years. Then her husband died and she lived alone. Shewas now 84 years old. Anna was always at the temple; she never left. She worshiped God by fasting and praying day and night. Anna was there when Joseph and Mary came to the temple. She praised God and talked about Jesus to all the people who were waiting for God to free Jerusalem. Joseph and Mary finished doing all the things that the law of the Lord commanded. Then they went home to Nazareth, their own town in Galilee. The little boy (Jesus) was growing. He became stronger and wiser. God's blessings were with him.
Luke 2:21-40
Related Scripture Readings
Those children are people with physical bodies. So Jesus himself became like those people and had the same experiences people have. Jesus did this so that, by dying, he could destroy the one who has the power of death. That one is the devil. Jesus became like those people and died so that he could free them. They were like slaves all their lives because of their fear of death. Clearly, it is not angels that Jesus helps. Jesus helps the people who are from Abraham.
Hebrews 2:14-16
We have a great high priest who has gone to live with God in heaven. He is Jesus the Son of God. So let us continue strongly in the faith we have. Jesus, the high priest that we have, is able to understand our weaknesses. When Jesus lived on earth, he was tempted in every way. He was tempted in the same ways that we are tempted, but he never sinned. With Jesus as our high priest we can feel free to come before God's throne where there is grace (forgiveness). There we receive mercy and kindness to help us when we need it.
Hebrews 4:14-16
Some people brought their small children to Jesus so that Jesus could touch them. But when the followers saw this, they told the people not to do this. But Jesus called the little children to him and said to his followers, "Let the little children come to me. Don't stop them, because the kingdom of God belongs to people that are like these little children. I tell you the truth. You must accept God's kingdom like a little child accepts things, or you will never enter it!"
Luke 18:15-17