When it was time for Elizabeth to give birth, she had a boy. Her neighbors and relatives heard that the Lord (God) was very good to her. They were happy for her.
— Luke 1:57-58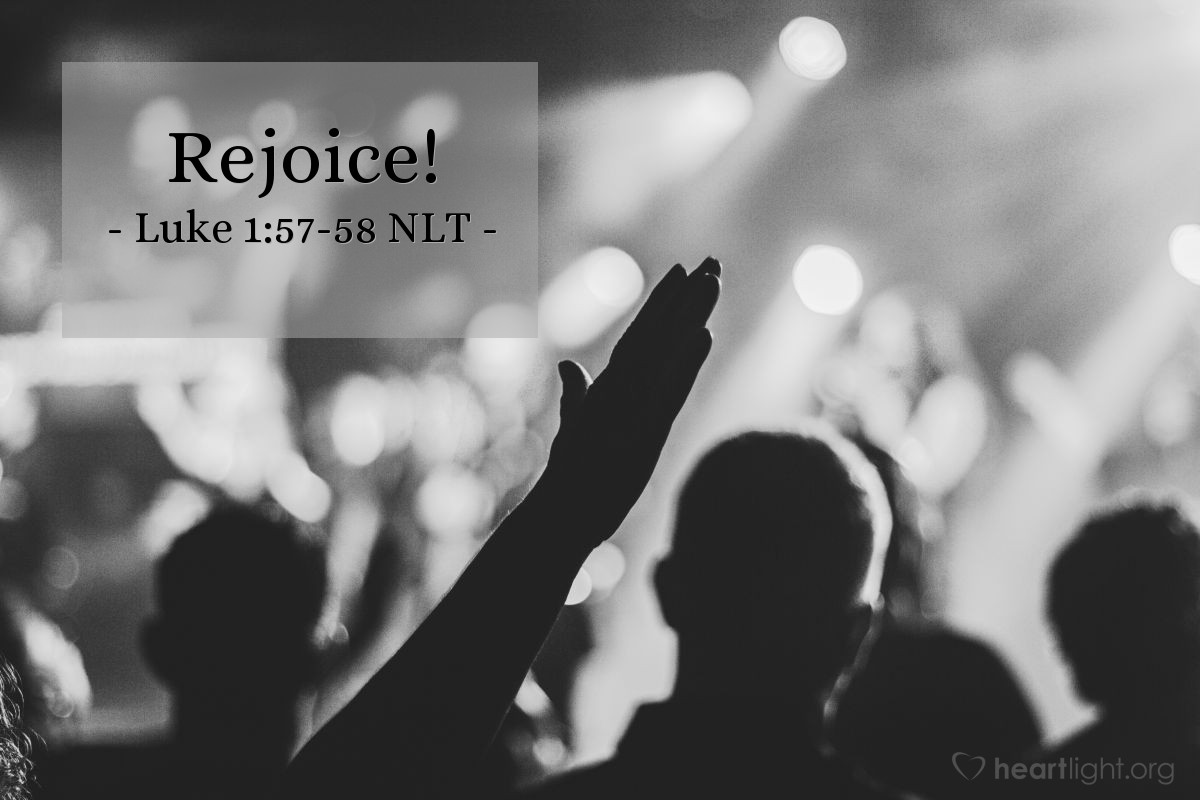 Key Thought
So often today, it seems that those who are not blessed with unexpected joys are jealous, even critical, of those who do receive them. Isn't it wonderful that Elizabeth's neighbors weren't that way? We can follow their lead and rejoice with those who rejoice! Find things in your friends' lives for which you can honestly rejoice. That makes their blessings a source of blessing for you, too!
Today's Prayer
Seems like, dear God and Almighty LORD, that there is so much bad news these days. I don't seem to find the good in the things around me. Give me a heart that rejoices with the blessings of others. Make that joy contagious. I ask for this grace in Jesus' name. Amen.
Today's Verses in Context
When it was time for Elizabeth to give birth, she had a boy. Her neighbors and relatives heard that the Lord (God) was very good to her. They were happy for her. When the baby was eight days old, they came to circumcise him. They wanted to name him Zechariah because this was his father's name. But his mother said, "No! He will be named John." The people said to Elizabeth, "But no one in your family has this name (John)!" Then they made signs to his father, "What would you like to name him?" Zechariah asked for something to write on. Then Zechariah wrote, "His name is John." All the people were surprised. Then Zechariah could talk again. He began to praise God. And all their neighbors became afraid. In all the hill country of Judea people continued talking about all these things. All the people that heard about these things wondered about them. They thought, "What will this child (John) be?" They said this because the Lord (God) was with this child.
Luke 1:57-66
Related Scripture Readings
When other people are happy, you should be happy with them. And when other people are sad, you should be sad with them.
Romans 12:15
Always be happy in the Lord. I will say it again. Be happy. Let all people see that you are gentle and kind. The Lord is coming soon. Don't worry about anything. But pray and ask God for everything you need. And when you pray, always give thanks. And God's peace will keep your hearts and minds in Christ Jesus. That peace which God gives is so great that we cannot understand it. Brothers and sisters, continue to think about the things that are good and worthy of praise. Think about the things that are true and honorable and right and pure and beautiful and respected.
Philippians 4:4-8
Poor people, come eat and be satisfied. You people who came looking for the Lord, praise him! May your hearts be happy forever!
Psalm 22:26
About This Devotional
What Jesus Did is a one-year devotional guide through the gospels, using one short passage each day and following the Gospel in consecutive order. Each devotional consists of a passage, reflection and a prayer which opens up the day's scripture and shows how it challenges you to live for Jesus.
What Jesus Did! is written by Phil Ware.
Easy-to-Read Version copyright © 2001 by World Bible Translation Center. All rights reserved.