These two men followed Jesus after they heard about Jesus from John. One of these two men was named Andrew. Andrew was Simon Peter's brother. The first thing Andrew did was to go find his brother, Simon. Andrew said to Simon, "We have found the Messiah." ("Messiah" means "Christ.")
— John 1:40-41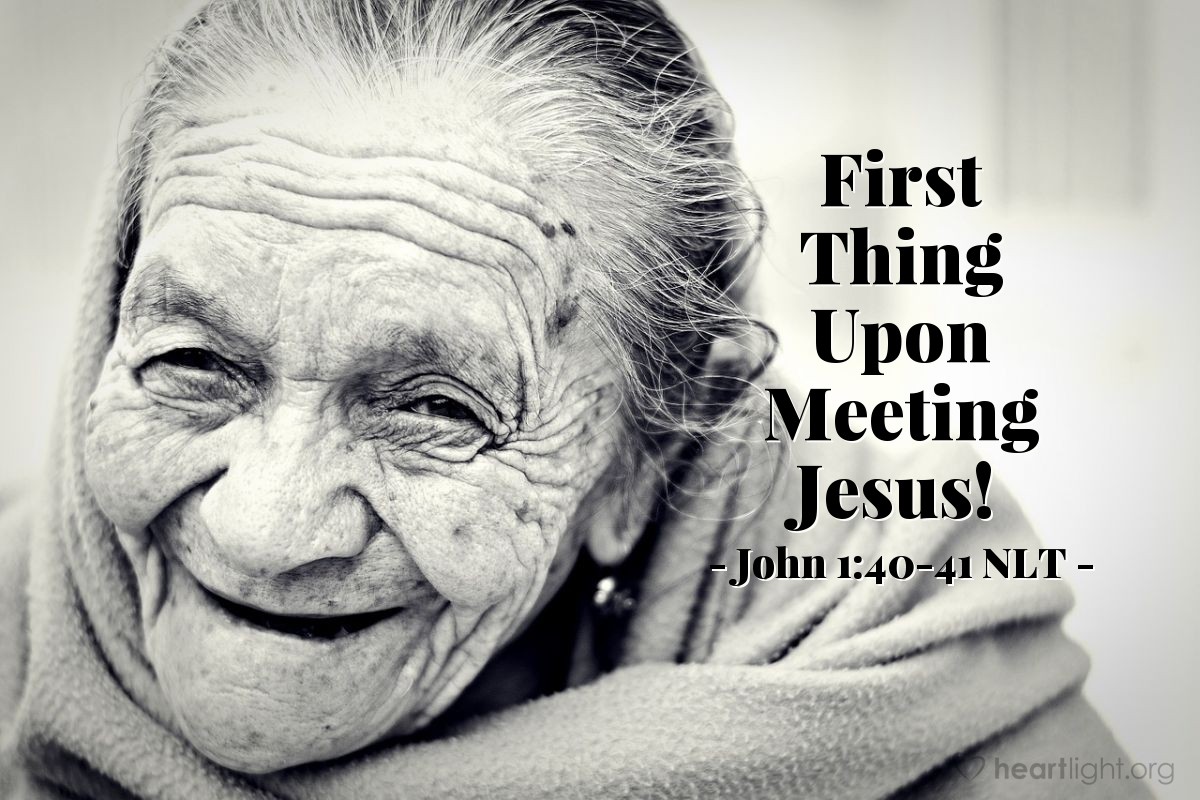 Key Thought
Did you notice the first thing Andrew did? He searched and found his brother and told him about Jesus! When we see Andrew in the Gospel of John, he is always bringing others to Jesus. Shouldn't you be an Andrew, too? Who is someone with whom you would like to share Jesus? Why not begin to pray daily that the Lord will open their heart and help you see the opportunity to share your faith and Jesus' grace!
Today's Prayer
Loving and righteous Father, please bless me as I seek to share Jesus with ... Give me wisdom to see your work in their lives, to know the right time for them to hear about Christ, and to have courage to share my faith and your salvation with them. In Jesus' name I pray. Amen.
Today's Verses in Context
The next day John was there again. John had two of his followers with him. John saw Jesus walking by. John said, "Look, the Lamb of God!" The two followers heard John say this, so they followed Jesus. Jesus turned and saw the two men following him. Jesus asked, "What do you want?" The two men said, "Rabbi, where are you staying?" ("Rabbi" means "Teacher.") Jesus answered, "Come with me and you will see." So the two men went with Jesus. They saw the place where Jesus stayed. They stayed there with Jesus that day. It was about four o'clock. These two men followed Jesus after they heard about Jesus from John. One of these two men was named Andrew. Andrew was Simon Peter's brother. The first thing Andrew did was to go find his brother, Simon. Andrew said to Simon, "We have found the Messiah." ("Messiah" means "Christ.") Then Andrew brought Simon to Jesus. Jesus looked at Simon and said, "You are Simon, the son of John. You will be called Cephas." ("Cephas" means "Peter.") The next day Jesus decided to go to Galilee. Jesus found Philip and said to him, "Follow me." Philip was from the town of Bethsaida, the same as Andrew and Peter. Philip found Nathanael and told him, "Remember what Moses wrote in the law. Moses wrote about a man that was coming. The prophets wrote about him too. We have found him. His name is Jesus, the son of Joseph. He is from Nazareth." But Nathanael said to Philip, "Nazareth! Can anything good come from Nazareth?" Philip answered, "Come and see." Jesus saw Nathanael coming toward him. Jesus said, "This man coming is truly one of God's people. There is nothing false in him." Nathanael asked, "How do you know me?" Jesus answered, "I saw you when you were under the fig tree. That was before Philip told you about me." Then Nathanael said to Jesus, "Teacher, you are the Son of God. You are the King of Israel (God's people)." Jesus said to Nathanael, "I told you that I saw you under the fig tree. That is why you believe in me. But you will see much greater things than that!" Jesus also said, "I tell you the truth. You will all see heaven open. You will see 'angels of God going up and coming down' on the Son of Man."
John 1:35-51
Related Scripture Readings
So Jesus came to them and said, "All authority (power) in heaven and on earth is given to me. So go and make followers of all people in the world. Baptize them in the name of the Father and the Son and the Holy Spirit. Teach those people to obey everything that I have told you. You can be sure that I will be with you always. I will continue with you until the end of the world."
Matthew 28:18-20
Jesus looked up and saw many people coming toward him. Jesus said to Philip, "Where can we buy enough bread for all these people to eat?" (Jesus asked Philip this question to test him. Jesus already knew what he planned to do.) Philip answered, "We would all have to work a month to buy enough bread for each person here to have only a little piece!" Another follower there was Andrew. Andrew was Simon Peter's brother. Andrew said, "Here is a boy with five loaves of barley bread and two little fish. But that is not enough for so many people."
John 6:5-9
There were some Greek people there too. These were some of the people that went to Jerusalem to worship at the Passover festival. These Greek people went to Philip. (Philip was from Bethsaida, in Galilee.) The Greek people said, "Sir, we want to meet Jesus." Philip went and told Andrew. Then Andrew and Philip went and told Jesus. Jesus said to them, "Now is the time for the Son of Man to receive his glory.
John 12:20-23