Special Note
:
Please see Hope, Healing, and Help for the latest updates on helping with both Harvey and Irma diaster relief!
---
God is our refuge and strength,
an ever-present help in trouble.
Therefore we will not fear, though the earth give way
and the mountains fall into the heart of the sea,
though its waters roar and foam
and the mountains quake with their surging.

...

The Lord Almighty is with us;
the God of Jacob is our fortress.

(Psalm 46:1-2, 7).
The words of this Psalm have helped me personally in life's tsunamis — both physical floods and emotional ones. These words resonated in my heart as I followed the events several hundred miles away on the Texas coast these past two weeks. They became my "go to" prayer as my youngest brother and his wife put their household goods on the second floor of their apartment and wound their way through the back roads and across the only open bridge to them to get to higher ground to stay with their daughter.
I am thankful that our President, Vice-President, and Texas governor have dedicated today as a day of prayer for the families of Southeast Texas and Southwest Louisiana. Lives have been lost. Families have been separated. Thousands upon thousands have lost what they had worked all their lives to build. Bodies — the precious loved ones of others left to grieve — are still to be located and identified. Houses must be mucked out and rebuilt. Families need to be reunited. Water services need to be repaired, re-certified, and turned back on. And, the biggest fear of all: water borne diseases must be contained. Fears of Zika and West Nile epidemics, concerns about intestinal diseases, and worries about things we have yet to anticipate because of the flood waters with their bio and chemical hazards have to be addressed. People in distress are going to need compassion in action from people who care in the name of Jesus.
So, "we will not fear... The LORD Almighty is with us..." and we will be the heart, hands, and hugs of the Almighty!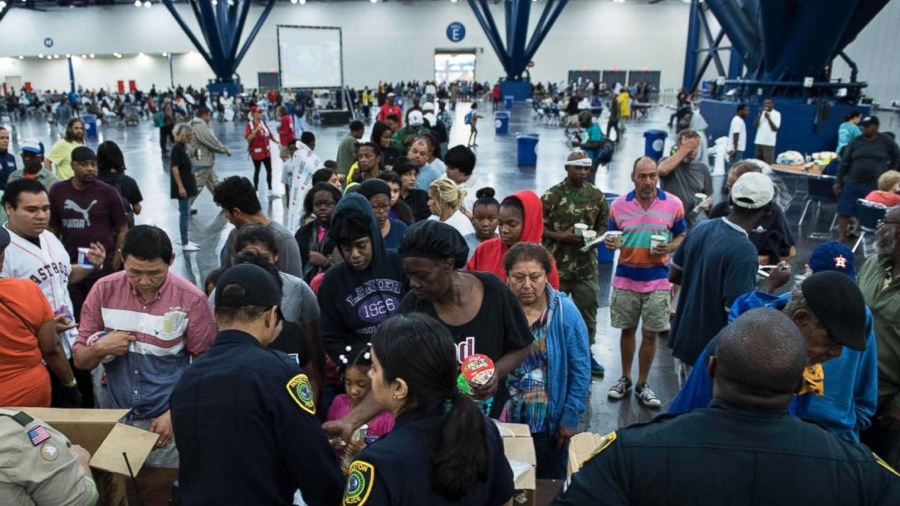 Today and all this week, please, PRAY! Pray for the ongoing rescue efforts. Pray for the identification efforts and the grief that hangs thick in the air along with the humidity. Pray for the families who have lost everything, including some of who have lost precious loved ones. Pray for those aiding in the clean-up efforts. Pray for government officials, relief agencies, and volunteers to be kept well and safe as they care for those in need. Pray for those coming to help. Pray for families to remain strong. Pray for schools and all their teachers and staff as they try to overcome the devastation of their resources and the wounds in their students' lives. PRAY! Please PRAY!
But, please, do more than pray!
I know it's easy to pass along a prayer chain on Facebook® or Twitter®. I know it's easy to get worked up by images on Instagram® or video on TV or Youtube®.
But, please, do more than sit, think, and pray!
I know for some those words sound almost blasphemous. I am not downgrading the importance of prayer. Those of us who have watched the weather closely know that the hurricane moved two days sooner than originally predicted. We know that a cold front hitting at the beginning of September to move one hurricane and block another oncoming storm is most unusual for Texas and the coast. People of faith believe we know why this incredible disaster didn't become insurmountable: PRAYER!
But, please, do more than pray!
I remember the words of Nehemiah when he and the people of God were threatened as they rebuilt the walls around Jerusalem. And, I can think of few people who lived a life of prayer more devotedly than Nehemiah. But, notice what he said:
They [the enemies of Nehemiah and God's people] all plotted together to come and fight against Jerusalem and stir up trouble against it. But we prayed to our God and posted a guard day and night to meet this threat (Nehemiah 4:8-9 — Emphasis in bold added.).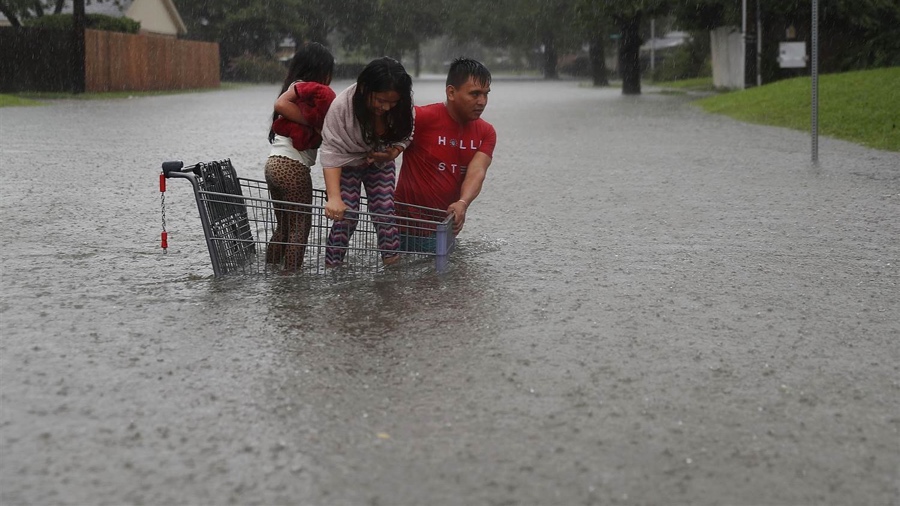 I also remember the words of Jesus' half-brother, James:
What good is it, my brothers and sisters, if someone claims to have faith but has no deeds? Can such faith save them? Suppose a brother or a sister is without clothes and daily food. If one of you says to them, "Go in peace; keep warm and well fed," but does nothing about their physical needs, what good is it? In the same way, faith by itself, if it is not accompanied by action, is dead (James 2:14-17).
Let's both PRAY and HELP! If we ask God to intervene, let's also understand that we are also committing to join God in his work to help! Yes, it is not easy to help. I visited with a friend who used his own van and drove in foot deep water with much higher water being held back by road barriers. They rescued people from homes and bedfast people from convalescent homes. It was dirty, awful, sometimes back injuring work. But, he wanted to both PRAY and HELP!

Here is a way for you to help. I have a friend who lives north of Houston. He, people in his church, and relief organizations outside his church are using their church building and parking lot as a staging center to help people all over the impacted areas. They have already delivered tons and tons of bottled water. Now, with the input of experienced survivors and rescuers from Katrina, they are putting together bucket kits of cleaning supplies to help this round of those in need. Yes, they have fed people in the building. Yes, they are housing people displaced and also those coming to help. Yes, they are praying like crazy. They are committed to both...
PRAY and HELP.
Here's his plan. After his video, I will give you more details. If you can't help or get a bucket together, send them money. They will make sure it is used responsibly to help people in need:
This is just one way to help. You may have other people that need immediate help from you. You may have other avenues to help people impacted by Hurricane Harvey. But please, don't have a dead faith that does nothing. Compassion is not compassion till our hearts and heads move our hands into action!
PRAY and HELP!
But please, do more than pray!
This is how we know what love is: Jesus Christ laid down his life for us. And we ought to lay down our lives for our brothers and sisters. If anyone has material possessions and sees a brother or sister in need but has no pity on them, how can the love of God be in that person? Dear children, let us not love with words or speech but with actions and in truth (1 John 3:16-18).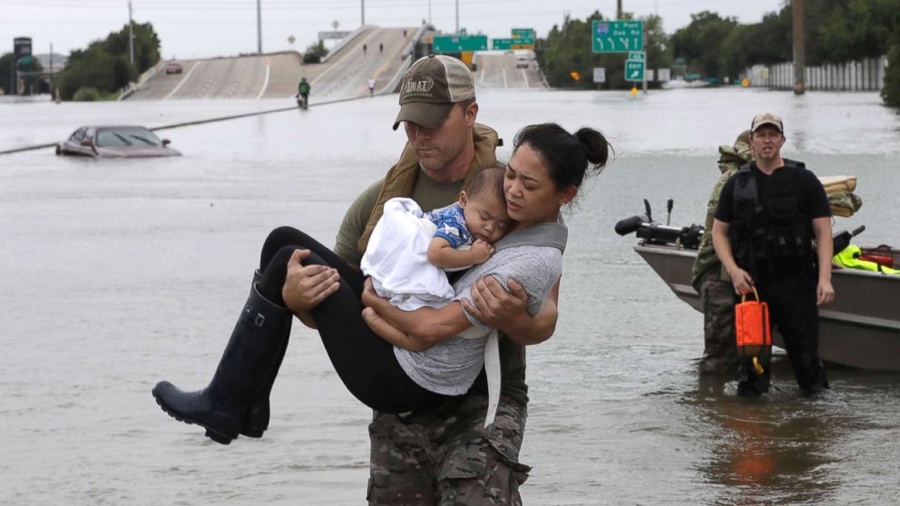 If you can't go, please continue to pray and help. Press the donate below!

You will be taken to the GraceCrossing website and choose the "Hurricane Harvey Disaster Relief" fund. Or, you can mail a check to GraceCrossing Church with "Harvey Relief" in the memo line. Here is their address:
GraceCrossing Church
105 FM 1488 Road
Conroe TX 77384
---
---
Here is some important information you can pass on to your friends, groups, and churches:
We will be sharing more information during the week on Heartlight.org and VerseoftheDay.com and Heartlight® Facebook pages.
Thanks for your work in helping with the horrific situation in southeast Texas and southwestern Louisiana.