The language is as beautiful as it is mysterious:
Enoch walked faithfully with God; then he was no more, because God took him away (Genesis 5:24).
What does that mean?
It means that our journey to God begins with our adventures with God! We start out walking with God, following his lead and learning to know him — not just know about him. Then, one day we look up and realize that we are now closer to God's home than we are to anywhere else. The Father then says to us, "My friend, we're closer to my place than we are to yours. Why don't you just come home and stay with me... forever?"
Life is a journey. We are not sure of our immediate destination or the path we will travel to get there. When we share the adventures of our life with God — "walk with God" — because we believe that at the end of our journey we will end up being with God. To truly know God, to journey to God, we have to journey with God. That's what James' video is about today — Abraham's journey to God:
When Abraham set out to journey to God's unnamed destination, Abraham had no idea where that journey would take him. Still, no matter where Abraham went, he built altars to God, he trusted that God was with him, and believed that God would bring him safely to his new home. The few exceptions were nearly disastrous. Even then, even in Abraham's failures, God was faithful. As long as Abraham was journeying with God, he was assured that he would arrive at his destination in God!
When we journey with God, we pursue a relationship with God and life consistent with God. That's why we earnestly pray:
Our Father in heaven,
hallowed be your name,
your kingdom come,
your will be done,
on earth as it is in heaven (Matthew 6:9-10).
We want our lives to reflect the reality God wants to bring to life in our world in his kingdom. As friends of God (John 15:15), we want to be open to God's leading and committed to God's way of life. We want our heart to be a hospitable home to God. We want our values to reflect the character and compassion of God. Then we can live each day knowing that God will go with us and will never forsake us (Hebrews 13:5).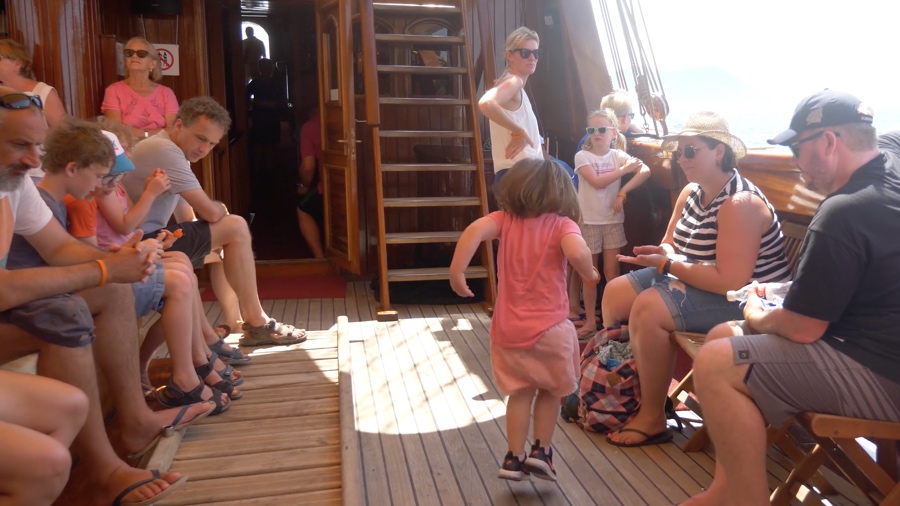 But, how can we know that God is with us on our journey?
Abraham had several stunning encounters with the living God. Can we — should we — expect that?
Is there a way that we can experience God's presence on our journey to God?
Can we know for sure that our journey to God means God accompanies us on our journey?
James challenges us in his video to be AVAILABLE to God — to offer ourselves to God to be used in the ways he wants to use us and to go in the direction he wants to send us. We have to be OPEN for our life to be an adventure with God — to look for God in the every day occurrences and in the surprises along the way. In addition, we need to be hospitable to God — to look for God in the people whom we meet each day and to welcome them into our hearts, our homes, and our fellowship.
Matthew wrote his good news story of Jesus to help us know that we can experience God being with us on our journey of faith. Matthew wanted us to know that God can be real to us, he will be "God with us," in Jesus. Matthew specifically emphasizes four ways that we can experience God as Immanuel and welcome God into our journey through life:
In the story of Jesus — Jesus is Immanuel, God with us (Matthew 1:23).

Our journey to God begins with our adventures with God!

In authentic relationship with other believers — Jesus, as Immanuel, joins us in our gathering together (Matthew 18:20).
In compassionate care of those in need — Jesus is Immanuel that we see in those to whom we give loving care (Matthew 25:40).
In leaving the comfort of our culture to walk along beside others to help them learn to journey with God, and to live the way of Jesus — Jesus, as Immanuel, goes with us always (Matthew 28:18-20).
By expectantly living these four commitments, we invite God to lead our journey of faith. We experience his presence and know his abiding grace.
Like we see in Abraham's life, God is not just a destination to reach, but he is also our guiding companion and our friend on the journey. Like we learn from Abraham's example, God goes with us and keeps his promises to us. So, let's commit to journey through life with God. Let's expect to meet him in special ways as we share the adventures of life together on our journey home.
---
For questions for reflection and discussion, along with the James' video, please check out the SOR 3.4 Study Guide: A Journey and an Adventure.
What follows are a few thoughts on how Jesus can be real in our journey of life as he journeys home from a busy weekend: