One of the most meaningful places I have ever stood was on the shore of the Sea of Galilee. The stories I had read since childhood of Jesus and his fishermen-turned-disciples took on new meaning as I stood at the edge of the water—the very place where Jesus stood. I have a small stone on my desk that I keep as a reminder of that very special place.
Yet to the disciples, the shore was likely an unremarkable backdrop for their daily lives. As fishermen, they had shoved off from that shore thousands of times, and it was probably no more spectacular than the end of your driveway on a morning commute. The risen Jesus stood on that very shore and appeared to the disciples after his resurrection:
Early in the morning, Jesus stood on the shore, but the disciples did not realize that it was Jesus. He called out to them, "Friends, haven't you any fish?" "No," they answered.

He said, "Throw your net on the right side of the boat and you will find some." When they did, they were unable to haul the net in because of the large number of fish.

Then the disciple whom Jesus loved said to Peter, "It is the Lord!" (John 21:4-7)).
Their dear friend and teacher, the man they had spent years with in close proximity, went undetected on the shore as they worked. He called out to them, yet they didn't recognize him until something unexpected happened—casting their nets on the other side of the boat. The results caught their attention and something powerful, yet subtle, lifted the fog from their eyes and they saw Jesus who had been standing there the entire time.
Like the disciples, we often look directly at Jesus yet fail to recognize him. On our recent trip with Compassion International, we walked a couple blocks away from the church building en route for a home visit. These visits help us to see what the daily life and environment is like for a child in that neighborhood. But when we arrived, the family that we were to visit wasn't there.
The tutor who led us on the walk was a little panicked, but our group was none the wiser. A small boy across the street came out to look at the strangers, and the tutor briefly spoke with him. The news was conveyed to us: we're going to visit his home on the other side of the street.
Inside was a little boy just shy of four years old named Tiago. He was in the Compassion program but did not have a sponsor yet (this is quite common and gives kids the chance to participate while Compassion tries to find a sponsor for them). Tiago was cute as could be yet a bit of a firecracker. He moved about the room like a tornado comprised of stickers, kittens, lollipops and pure joy. Our group loved him.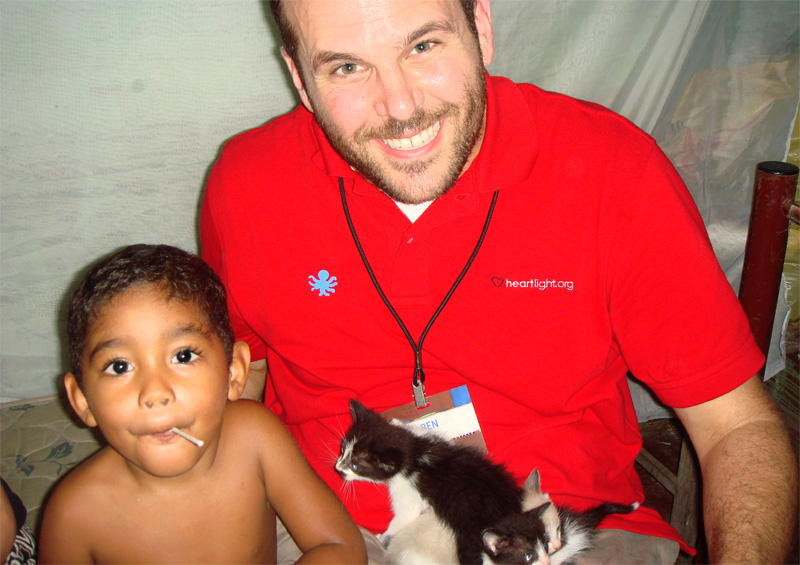 "Tiago" was short for Santiago. Saint James. A Son of Thunder. What a name for a moment like this!
This boy, named after one of the fisherman who cast his net on the other side, was waiting for us on the other side of his street to unknowingly teach us what Jesus was also trying to teach his disciples the day he appeared to them. Remember that after the disciples had hauled in the big catch, they sat with Jesus on the shore and talked:
When they had finished eating, Jesus said to Simon Peter, "Simon son of John, do you love me more than these?"

"Yes, Lord," he said, "you know that I love you."

Jesus said, "Feed my lambs."

Again Jesus said, "Simon son of John, do you love me?"

He answered, "Yes, Lord, you know that I love you."

Jesus said, "Take care of my sheep."

The third time he said to him, "Simon son of John, do you love me?"

Peter was hurt because Jesus asked him the third time, "Do you love me?" He said, "Lord, you know all things; you know that I love you."

Jesus said, "Feed my sheep" (John 21:15-17).
He moved about the room like a tornado comprised of stickers, kittens, lollipops and pure joy.
The distinction between these three commands of Jesus can be
explained better by others
, but it can be summed up in this way: Jesus was asking Peter to love not simply with words, but with action. The current and future followers of Jesus were going to need more than just lip service; they needed provision and pastoral care. They needed people to care for them and help nurture their spiritual development from birth to maturity.
And that is how one member of our group responded. Love through action. During the home visit Tracy decided to sponsor Tiago. She had contemplated sponsoring a child through Compassion but the home visit was the pivotal moment.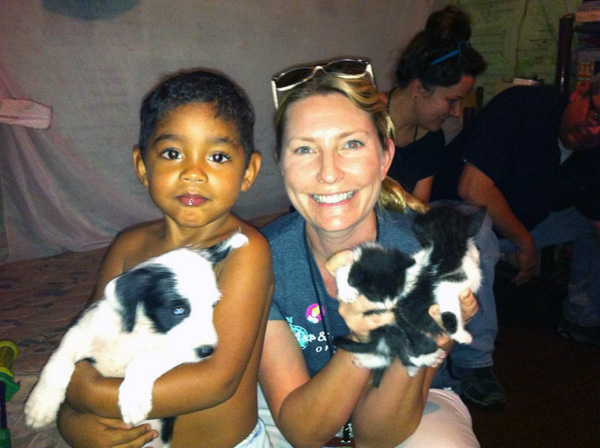 Unfortunately, it's not typically possible to sponsor a child we meet on such visits because of the logistics of how children are made available for sponsorship. But after some communication back and forth with Compassion's main office, Tracy discovered that just a few hours earlier Tiago had been consigned to our group as a child eligible for sponsorship!
We had not even planned to visit his house. Our plans were laid for the other side of the street. But only after crossing over to the opposite side of the road and meeting Tiago were we able to see Jesus, who has been there the entire time. We just didn't notice it until something out of the ordinary happened. Looking back, it is clear that the Holy Spirit was at work knowing that Tracy would commit to feeding one of Jesus' sheep.
Tracy and Tiago were able to spend some time together again later that day.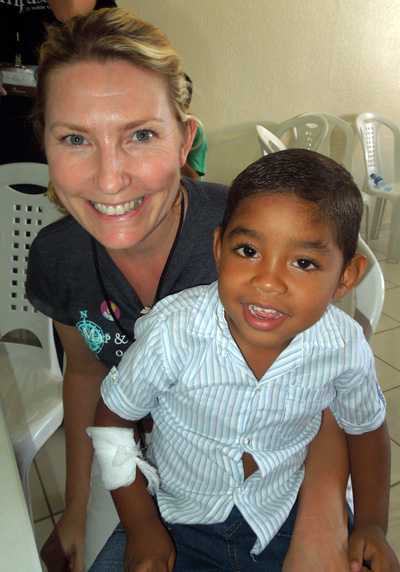 Tiago responded to the news of his new sponsorship with a hug and kiss with his new sponsor. But her love for Tiago means more than the loving embrace they shared that afternoon. Her letters will encourage him and remind him that he is loved. Her sponsorship will empower the local church and Christians where Tiago lives to improve his physical and spiritual development in a real and tangible way. Through her sponsorship, she will be taking care of Jesus' sheep alongside thousands of other Christians through the work of Compassion International.