Special Note:
The following article was written last week. It was deeply moving to me for many reasons, but it was also deeply personal. Dr. Kent Brantly's wife, Amber, is the daughter of two precious people who have been friends since college. We had watched with excitement as Kent and Amber were brought together by the Lord and called for a specific and seemingly unseen and unknown task of ministering to the very destitute people of Liberia.
The American press basically ignored the awful civil war and loss of life there. The poverty of this civil war ravaged country made their health needs incredibly hard to treat for those wanting to make a difference in the lives of these precious people trapped in deep poverty with few health resources. So when Dr. Kent and nurse Amber took their family there to minister, most of us who knew assumed they would serve heroically in difficult circumstances, largely unknown and unappreciated by anyone except Jesus. Then, the Ebola epidemic hit... and the rest has been an incredible testimony of grace by a family who never asked for notoriety and had wanted to quietly serve and bless those in incalculably difficult circumstances.
Kent and Amber are now back together as family. Time is needed for Kent to fully recover. Everything they owned is lost — destroyed because of the exposure of these items to Ebola. They walked away from all their earthly possessions when they came home. People have asked for ways to help. During this time, Kent and Amber were reluctant to ask for anything or even receive help — their deep concern for the people of western Africa, people who are dealing with this still growing epidemic in a country with little infrastructure and no food, is a genuine concern based on their love for these people. Now, however, they are rebuilding their lives and regaining their health. Because Amber's folks go to the church where I preached for 10 years, a way to help with their needs has been set up and will be managed by someone I know and trust. All money donated to help them will go to them.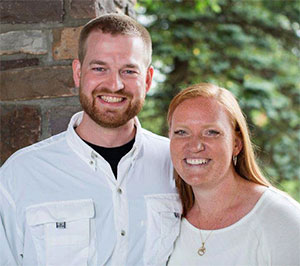 They have approved this way to help, but they have never asked or expected help. So if you would like to help, here are two simple ways to help that have been approved by Kent, Amber, and their families:
Send a check to:Southern Hills Church of Christ
Attn: Cindy Varner
3364 Buffalo Gap Road
Abilene, TX 79605
On the Memo Line: Brantly Benevolence FundOr Make an Online Donation
In the Memo Box: Brantly Benevolence Fund(You can also get more information from the article linked at the bottom of this page — Brantly's in-laws.... If you have questions, you can call 325-692-2670 and ask for Cindy.)
Thank you!
Phil Ware, Heartlight.org Editor
---
Some news stories make me wonder who decides they are newsworthy. Another public figure caught in scandal is the same old same old. The celebrity magazines at the check-out counter are filled with people famous for being famous. I refuse to be snookered by a reality TV show that was decided and recorded six months ago.
But there are other stories that grab my heart and refuse to let go. Such was the story of Dr. Kent Brantly and Nancy Writebol and the thousands stricken with the Ebola virus. Their story would not have made headlines were it not for the drama of the disease. But their real story is one of sacrificial service, living out the example of Jesus who "did not come to be served, but to serve, and to give his life as a ransom for many" (Mark 10:45).
God placed a call on the life of his only begotten son, and on the lives of Kent and Nancy, and on my life and yours. May he help us to hear his call and respond to it with our whole being.
The news that Dr. Kent Brantly and his co-worker, Nancy Writebol, had become ill with the Ebola virus hit me harder than I expected, never having met either of them. But Kent Brantly's maternal grandfather was a friend. And Kent graduated from Abilene Christian University as did three of our kids and a granddaughter. And Kent was in a group of pre-med students our son Jim led on a medical mission to Guatemala. I suppose it was those connections that made me follow the story closely and pray fervently for Kent and Nancy.
"God has placed a call on every one of us."
Last year, before moving to Monrovia, Liberia to work in ELWA hospital under the auspices of the Samaritan's Purse ministry, Dr. Brantly took Amber (his wife, who was a nursing student when they met on a mission trip to Honduras) and their two children to visit the church where he grew up in Indianapolis. Go to the Southeastern Church of Christ website (www.southeastern.org) and click on the link that will let you hear the sermon Kent preached to his home church. I guarantee it will be the most inspiring eighteen minutes you'll spend today.
Kent began by pointing out people in the audience who had influenced his life, and then said that, as a group, they constituted his spiritual family, and his family needed to know why he would take his wife and children to such a faraway place.
I heard your words of encouragement when you said, "I'm proud of you." I heard your words of affirmation when I made wise life decisions. I heard your words of love and forgiveness when I made poor decisions... When you connect the dots you see a grand picture that God has used to draw my life in a certain direction.
There was apprehensive and total silence in the congregation as Kent, voice breaking with emotion, summarized: "You see, quite simply, God has placed a call on my life."
As part of the application process with Samaritan's Purse, Kent and Amber had to write an explanation for why they felt called to enter a two-year program leading to full-time work as medical missionaries. Kent wrote about his life-long appreciation for missionaries, about relatives who were missionaries, and about his under graduate studies as a Bible major:
I was required to do a summer internship between my junior and senior years... I chose to do a mission internship in East Africa... It was a life-changing experience... [Living among people who had so little, I learned that] God provides everything we need to be faithful to him...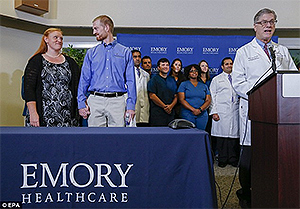 Having decided to become a medical missionary, Kent went to college for a fifth year to take the courses required for medical school. "God took the reins, and nothing has gone as I expected... My heart leaps with excitement and joy to know he has called me... God has placed a call on every one of us."
After medical school in Indiana, residency in Ft. Worth, moving to Liberia, and being ravaged by the Ebola virus, Kent was air lifted to Atlanta where he remains in isolation at Emory University Hospital "growing stronger every day." On August 8, he was able to continue telling his story by email:
One thing I have learned is that following God often leads us to unexpected places. When Ebola spread into Liberia, my usual hospital work turned more and more toward treating the increasing number of Ebola patients. I held the hands of countless individuals as this terrible disease took their lives away from them. I witnessed the horror first hand, and I can still remember every face and name.

When I started feeling ill on that Wednesday morning, I immediately isolated myself until the test confirmed my diagnosis three days later. When the result was positive, I remember a deep sense of peace that was beyond all understanding. God was reminding me of what he had taught me years ago, that he will give me everything I need to be faithful to him….

As you continue to pray for Nancy and me, yes, please pray for our recovery. More importantly, pray that we would be faithful to God's call on our lives in these new circumstances.

God has placed a call on every one of us.