"If it aint broke, don't fix it!"
Though highly ungrammatical, this statement is held as a truism of life in my West Texas neck of the woods and many places far distant. Unfortunately, such truth fails to live up to the realities of life. Far too often, if we don't see the changes coming, we are left behind in the dust with our suddenly antiquated "aint broke" solution, system, or strategy.
Change. Ah, it's the in-escapable reality of life. Some embrace it readily. Others hang on to normalcy tenaciously. We all are held in its ephemeral grasp — about the time we think we can wriggle free of its clutches, the hold it had on us morphs and grabs us in a different way. My life these last two years has been all about change — some welcomed, some resisted, and some greeted with resignation and acceptance.
I've been living out one of those changes this past week in Lima, Peru. For the past 5 years, I've worked with the 3-6 year old girls at La Comunidad de Los Niños — Sagrada Familia. Even that role has changed this year. A new group is now working with "my little niñas" — the little girls I have come to know and love. A whole new crew is working with these girls. To be honest, I was worried about them — both "my little niñas" and the new crew.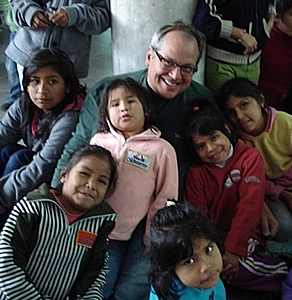 Last year's trip to The Community was hard. A few months before our arrival, someone from outside The Community intentionally set a fire. This fire deeply traumatized many of the children and burned several buildings that resulted in the loss of much of their food. Their security was threatened. News crews invaded their "home" to cover the fire. The fire stole their sense of security from the storms of life outside The Community. On top of all of this, the little girls had to change casas where they lived. Then they lost their casa mom to illness. Food was much less plentiful. So the little girls were very troubled last year. I didn't want this new change to trouble them, too.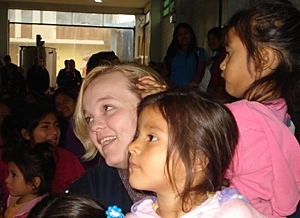 Thankfully the new crew has been great. After the first day of adjustments, they have done a great job. "my little niñas" are now their little niñas. I get to spend the morning during the chapel time with some them draped all over me, singing, clapping, laughing, and having fun praising Jesus. Then they get to their casa and have Bible lessons and activities with this new team whom they now love and trust.
The rest of the day I get to study with teenagers. A morning group reads the Bible in English to work on language skills, but we also spend time in serious Bible study. The afternoon group is specifically a time to study Scripture and ask questions. There are few things in the world that I love to do more and this has been a new and joyful experience. (Hopefully Monday I get to share some of the results of this journey with you!) I get the best of both worlds. I spend time loving little ones in the name of Jesus and I get to spend time teaching older and eager hearts about Jesus' love for them.
One thing is constant in Luke's story of the early church: the consistent advancement of the message and mission of Jesus to a lost and broken world. However, Luke presents us a near constant change in strategies, methodologies, workers, and targets for that message and mission.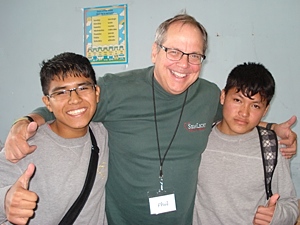 We do not live in a static world. We cannot survive personally if we are not dynamic and willing to transition with the changes all around us. Many of these changes give birth to new opportunities. Old forms and old strategies are no longer relevant and are no longer effective. This is true personally. This is equally true for us as churches, groups, para-church organizations, and missional communities. Yet amidst all the changes, one thing remains constant: the love of Jesus and our commitment to share it with everyone.
Let's be willing to go with the flow on strategic and structural changes. Let's consistently continue with our Jesus-focused passion for those who need him. Let's trust the outcome of both sides of our efforts — the changing and the continuing — to the Lord's grace and power while living the next chapter of Acts in our day!
We cannot survive personally if we are not dynamic and willing to transition with the changes all around us.
---
* The Community, or La Comunidad de Los Niños Sagrada Familia as it is officially called, is technically a children's home for orphans, abused kids, and children whose families cannot provide or properly care for them. There are well over 800 of these children. We come each year for a week with the children, with follow-up trips during the year coordinated by Olive Branch Ministries with other groups.
How you can help:
Support a child for a year with food by sending $400 in total or in part to:

Sagrada Familia Fund
Westover Hills Church
8832 Mesa Dr.
Austin, TX 78759Make the check payable to Westover Hills Church
Memo: Sagrada Familia

Come and go with us. Email phil@heartlight.org for details on the 2015 mid-July trip.