The other ten followers heard this. They became angry with the two brothers.
— Matthew 20:24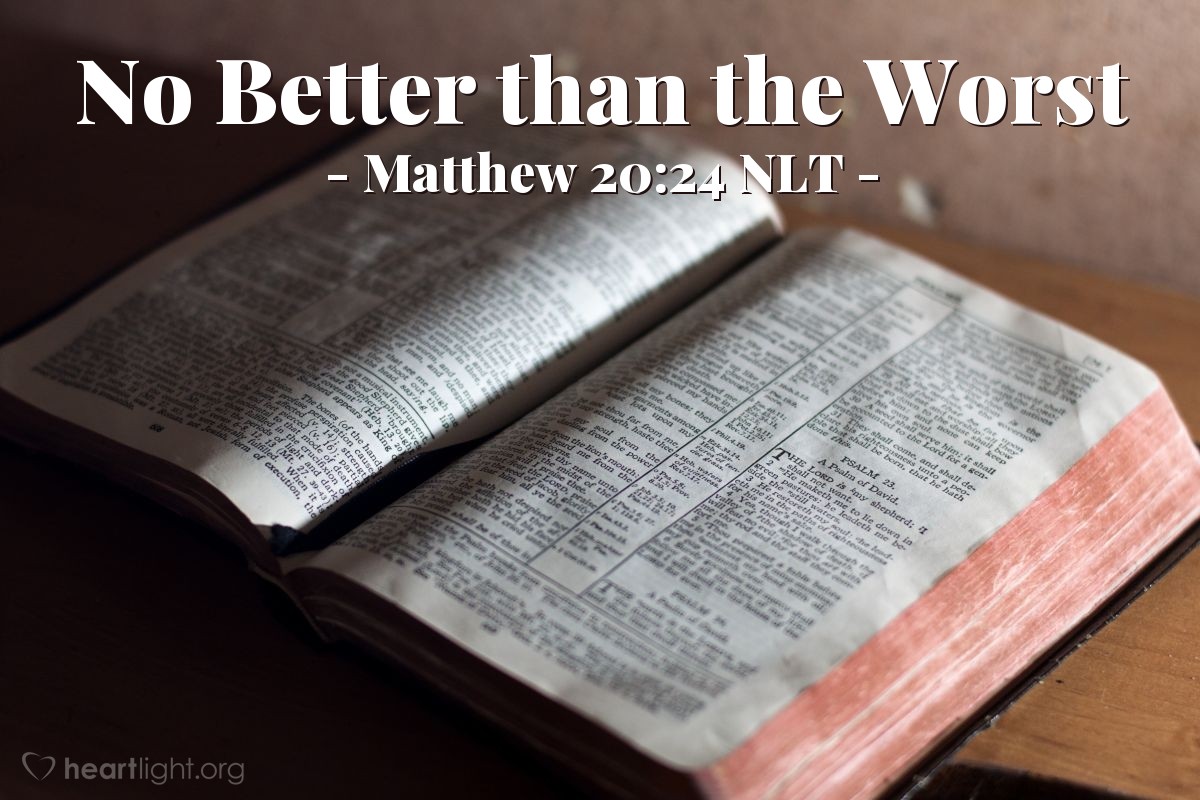 Key Thought
Isn't it amazing that we can get so angry at others for the same sin that is tripping us up! James and John and their mother are asking for what all the apostles wanted. The other disciples are angry and jealous of the position that the two brothers were aspiring to fill.
Jesus' example is so different. He is serving and will ultimately give up his life to build his Kingdom. Here his disciples are fighting to see who can have a position of "power." Jesus' point is that there is no one with power but God alone and those to whom he gives it. Our job as his followers is to be ready for him when he returns by living as a servant for others while he is gone.
Today's Prayer
Father, please forgive me when I am arrogant or detached from those you have sent me to serve. Please help me to be more aware of those around me who need your grace instead of looking over my shoulder to see if anyone is watching. Please use the works of my hands and heart and life to your glory. In Jesus' name I pray. Amen.
Today's Verses in Context
Jesus was going to Jerusalem. His twelve followers were with him. While they were walking, Jesus gathered the followers together and spoke to them privately. Jesus said to them, "We are going to Jerusalem. The Son of Man will be given to the leading priests and the teachers of the law. The priests and teachers of the law will say that the Son of Man must die. They will give the Son of Man to the non-Jewish people. Those people will laugh at him and beat him with whips, and then they will kill him on a cross. But on the third day after his death, he will be raised to life again." Then Zebedee's wife came to Jesus. Her sons were with her. The mother bowed before Jesus and asked him to do something for her. Jesus said, "What do you want?" She said, "Promise that one of my sons will sit at your right side in your kingdom. And promise that the other son will sit at your left side in your kingdom." So Jesus said to the sons, "You don't understand what you are asking. Can you accept the kind of suffering that I must have ?" The sons answered, "Yes, we can!" Jesus said to them, "Truly you will suffer the same things that I will suffer. But I cannot choose the person that will sit at my right side or my left side. My Father has decided who will have those places. He has prepared those places for those people. Those places belong to them." The other ten followers heard this. They became angry with the two brothers. Jesus called all the followers together. Jesus said, "You know that the rulers of the non-Jewish people love to show their power over the people. And their important leaders love to use all their authority over the people. But it should not be that way with you. If one of you wants to become great, then he must serve you like a servant. If one of you wants to become first, then he must serve you like a slave. It is the same with the Son of Man. The Son of Man did not come for other people to serve him. The Son of Man came to serve other people. The Son of Man cameto give his life to save many people." When Jesus and his followers were leaving Jericho, many, many people followed Jesus. There were two blind men sitting by the road. The blind men heard that Jesus was coming by. So the blind men shouted, "Lord, Son of David, please help us!" All the people criticized the blind men. They told the blind men not to speak. But the blind men shouted more and more, "Lord, Son of David, please help us!" Jesus stopped and said to the blind men, "What do you want me to do for you?" The blind men answered, "Lord, we want to be able to see." Jesus felt sorry for the blind men. Jesus touched their eyes and they were able to see. Then the men followed Jesus.
Matthew 20:17-34
Related Scripture Readings
Is there any person among you who is truly wise and understanding? Then he should show his wisdom by living right. He should do good things with humility. A wise person does not boast. If you are selfish and have bitter jealousy in your hearts, then you have no reason to boast. Your boasting is a lie that hides the truth. That kind of "wisdom" does not come from God. That "wisdom" comes from the world. It is not spiritual. It is from the devil. Where there is jealousy and selfishness, there will be confusion and every kind of evil. But the wisdom that comes from God is like this: First, it is pure. It is also peaceful, gentle, and easy to please. This wisdom is always ready to help people who have trouble and to do good things for other people. This wisdom is always fair and honest. People who work for peace in a peaceful way get the good things that come from right living.
James 3:13-18
Brothers and sisters, in the past I could not talk to you like I talk to spiritual people. I had to talk to you like worldly people—like babies in Christ. The teaching I gave you was like milk, not solid food. I did this because you were not ready for solid food. And even now you are not ready for solid food. You are still not spiritual people. You have jealousy and arguing among you. This shows that you are not spiritual. You are acting the same as people of the world.
1 Corinthians 3:1-3
"Why do you notice the small piece of dust that is in your brother's eye, but you don't notice the big piece of wood that is in your own eye? Why do you say to your brother, 'Let me take that little piece of dust out of your eye'? Look at yourself first! You still have that big piece of wood in your own eye. You are a hypocrite. First, take the wood out of your own eye. Then you will see clearly to take the dust out of your brother's eye.
Matthew 7:3-5