Jesus answered, "What did Moses command you to do?" The Pharisees said, "Moses allowed a man to divorce his wife by writing a certificate of divorce."
— Mark 10:3-4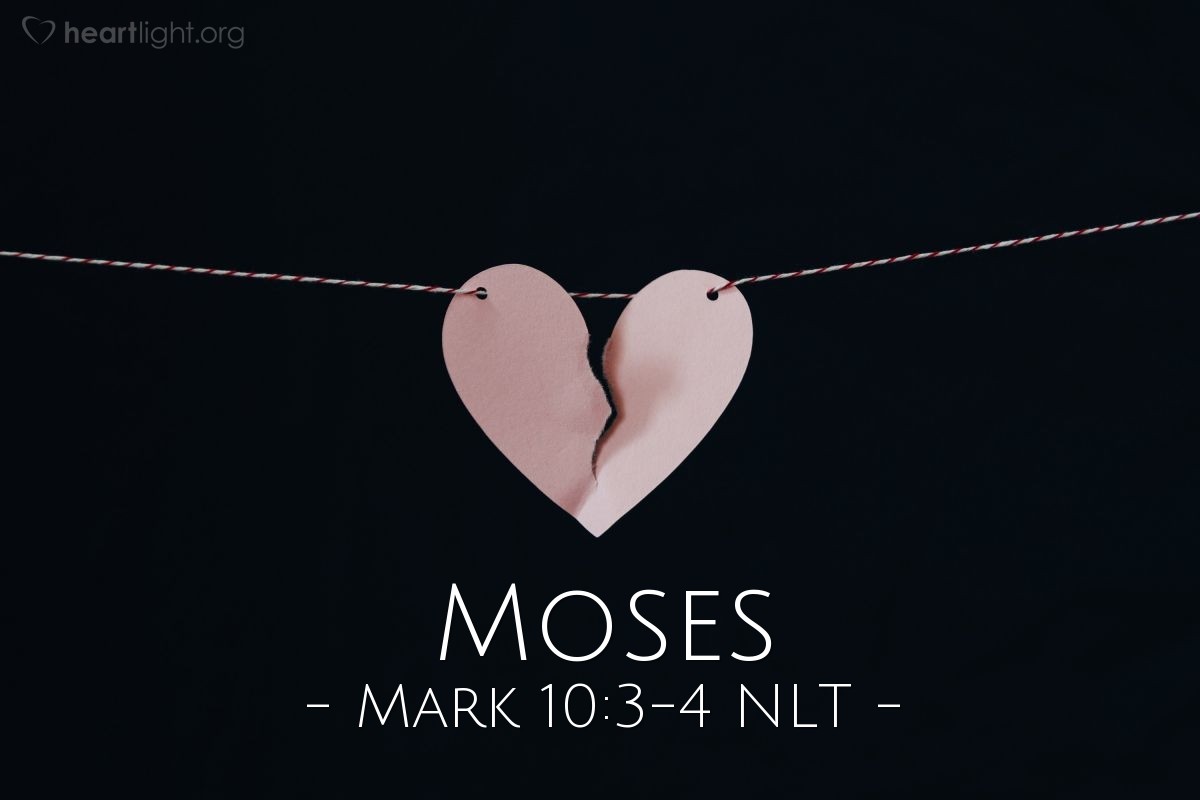 Key Thought
In this Scripture, the Pharisees are able to correctly tell Jesus what Moses said about divorce. In the subsequent verses, Jesus confronts the Pharisees with the truth revealed in their question; they were missing God's central principle about marriage. It is easy to quote Scripture: living God's truth revealed in that Scripture is much more challenging! Let's not just seek to know the Scriptures, but let's also commit to know the heart and will of God who lies behind the Scriptures.
Today's Prayer
O God, teach me your way, instruct me in your will, and lead me so that I can walk with you each day. In Jesus' name. Amen.
Today's Verses in Context
Then Jesus left that place. He went into the area of Judea and across the Jordan River. Again, many people came to him. And Jesus taught the people like he always did. Some Pharisees came to Jesus. They tried to make Jesus say something wrong. They asked Jesus, "Is it right for a man to divorce his wife?" Jesus answered, "What did Moses command you to do?" The Pharisees said, "Moses allowed a man to divorce his wife by writing a certificate of divorce. " Jesus said, "Moses wrote that command for you because you refused to accept God's teaching. But when God made the world, 'he made people male and female.' 'That is why a man will leave his father and mother and be joined to his wife. And the two people will become one.' So the people are not two, but one. God has joined those two people together. So no person should separate them." Later, the followers and Jesus were in the house. The followers asked Jesus again about the question of divorce. Jesus answered, "Any person that divorces his wife and marries another woman is guilty of sin against his wife. He is guilty of the sin of adultery. And the woman that divorces her husband and marries another man is also guilty of adultery."
Mark 10:1-12
Related Scripture Readings
Jesus was very surprised because those people did not have faith. Then Jesus went to other villages in that area and taught. Jesus called the twelve followers together. Jesus sent them out in groups of two. Jesus gave them power over evil spirits.
Mark 6:6-7
The Father's teaching does not live in you. Why? Because you don't believe in the One the Father sent. You carefully study the Scriptures. You think that those Scriptures give you life forever. Those same Scriptures tell about me!
John 5:38-39
But you should continue following the teachings you learned. You know that those teachings are true. You know you can trust the people who taught you those things. You have known the Holy Scriptures since you were a child. Those Scriptures are able to make you wise. And that wisdom leads to salvation through faith in Christ Jesus. All Scripture is given by God. And all Scripture is useful for teaching and for showing people the things that are wrong in their lives. It is useful for correcting faults and teaching how to live right. Using the Scriptures, the person who serves God will be ready and will have everything he needs to do every good work.
2 Timothy 3:14-17
About This Devotional
What Jesus Did is a one-year devotional guide through the gospels, using one short passage each day and following the Gospel in consecutive order. Each devotional consists of a passage, reflection and a prayer which opens up the day's scripture and shows how it challenges you to live for Jesus.
What Jesus Did! is written by Phil Ware.
Easy-to-Read Version copyright © 2001 by World Bible Translation Center. All rights reserved.