The Good News about Jesus Christ, the Son of God, begins ...
— Mark 1:1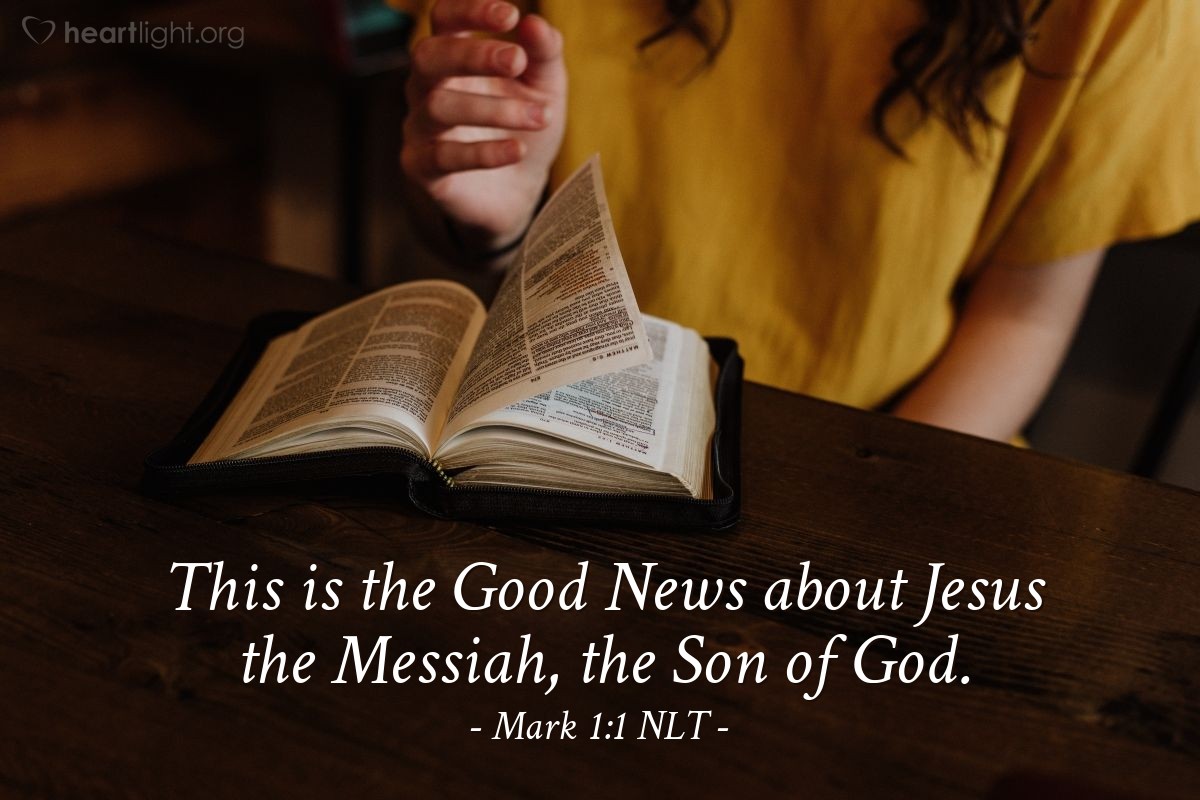 Key Thought
We are beginning a journey through the Gospel of Mark. Gospel means "good news." Mark wants us to know four things about our journey with him through the life of Jesus. First, it is a journey about God's good news. Second, it is about a very human person named Jesus; his humanity is revealed throughout Mark's Gospel. Third, this Jesus is also the Messiah (or Christ) promised in the Old Testament, and fourth, he is the Son of God. Never lose sight of the fact that Mark is telling us the good news of God about Jesus in the message that he shares with us. Sometimes the words and stories will be challenging and hard to understand. Yet at the heart of each story, event, or teaching is an implicit hope that God has brought us something very good in Jesus!
Today's Prayer
Father, as I make the journey through the next year, please help me know Jesus better. Help me see Jesus as the source and foundation of your good news. Open my eyes and help me see Jesus, in whose name I pray. Amen.
Today's Verses in Context
The Good News about Jesus Christ, the Son of God, begins with what the prophet Isaiah said would happen. Isaiah wrote: "Listen! I (God) will send my helper ahead of you. He will prepare the way for you." "There is a person shouting in the desert: 'Prepare the way for the Lord. Make his paths straight.'" So John the Baptizer came and was baptizing people in the desert area. He told the people to be baptized to show they wanted to change their lives. Then their sins would be forgiven. All the people from Judea and Jerusalem went out to John. These people told the sins they had done, and then they were baptized by John in the Jordan River. John wore clothes made from camel's hair. John had a leather belt around his waist. He ate locusts and wild honey. This is what John told the people: "There is a person coming later who is greater than I am. I am not good enough to kneel down and untie his shoes. I baptize you with water. But that person who is coming will baptize you with the Holy Spirit. " At that time Jesus came from the town of Nazareth in Galilee to the place where John was. John baptized Jesus in the Jordan River. While Jesus was coming up out of the water, he saw the sky open. The Holy Spirit came down to Jesus like a dove. A voice came from heaven and said: "You are my Son and I love you. I am very pleased with you."
Mark 1:1-11
Related Scripture Readings
Sing to the Lord! Bless his name! Tell the good news! Tell about him saving us every day!
Psalm 96:2
It is a wonderful thing to see a messenger come over the hills with good news. It is wonderful to hear a messenger announce, "There is peace! We have been saved! Your God is king!" The city guards begin shouting. They are all rejoicing together! Why? Because every one of them sees the Lord returning to Zion. Jerusalem, your destroyed buildings will be happy again. You will all rejoice together. Why? Because the Lord will be kind to Jerusalem. The Lord will rescue his people. The Lord will show his holy strength to all the nations. All the faraway countries will see how God saves his people.
Isaiah 52:7-10
The person that wants to save his life will lose it. And every person that gives his life for me and for the Good News will save his life forever.
Mark 8:35
About This Devotional
What Jesus Did is a one-year devotional guide through the gospels, using one short passage each day and following the Gospel in consecutive order. Each devotional consists of a passage, reflection and a prayer which opens up the day's scripture and shows how it challenges you to live for Jesus.
What Jesus Did! is written by Phil Ware.
Easy-to-Read Version copyright © 2001 by World Bible Translation Center. All rights reserved.