"I finished the work you gave me to do. I brought you glory on earth. And now, Father, give me glory with you. Give me the glory I had with you before the world was made."
— John 17:4-5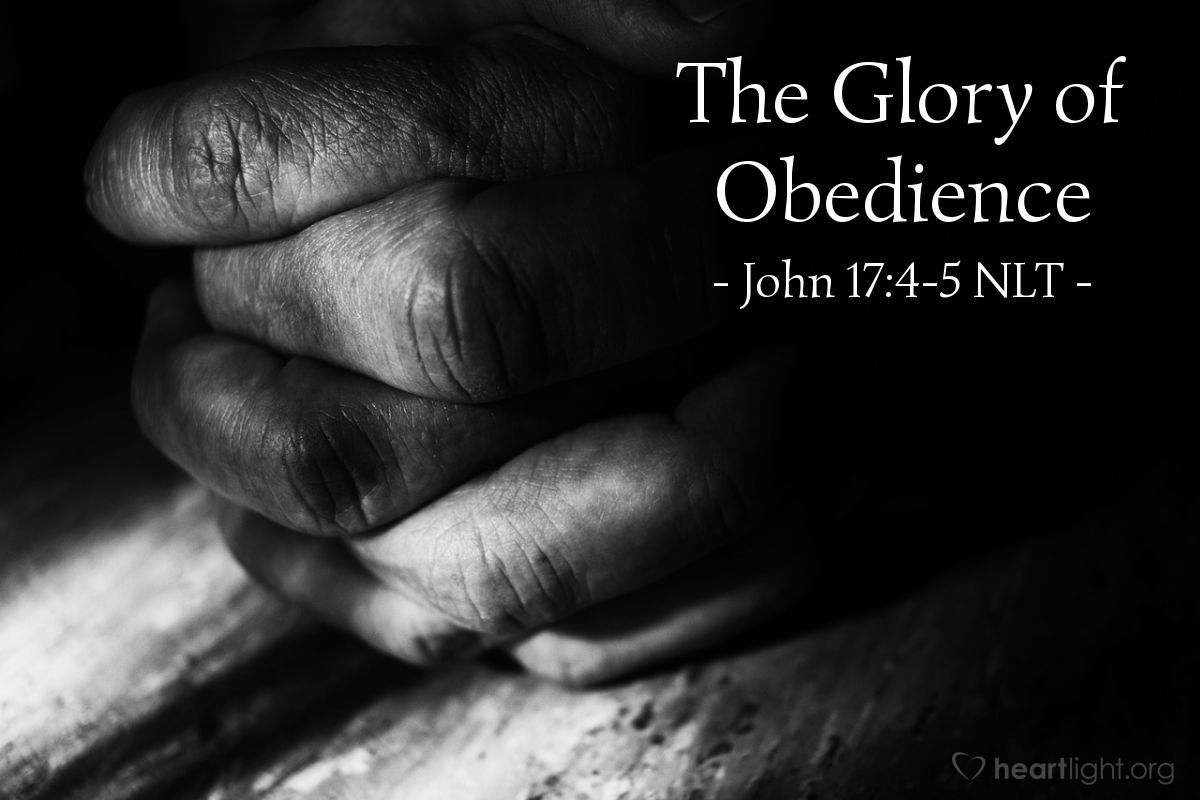 Key Thought
Jesus did everything God had told him to do. Imagine, finishing your task at such a young age! But isn't that what Jesus did? So often we don't look on obedience as a way to give God glory. Powerful praise songs in worship seem like a much more exciting way to give God glory. Leading someone to Christ is another example of giving God glory. But let's not forget that it's in the simple and hard, everyday and heroic, intentional acts of obedience we offer to God that we are bringing him glory! Obedience is worship incarnate—worship coming to life in our flesh. So rather than looking on obedience as a hard and sometimes harsh thing, let's look on it as the embodiment of praise!
Today's Prayer
Father, thank you for sending Jesus to be my example. I know that he was obedient from the heart to all your desires and commands. I sometimes falter and fail in my obedience. Please forgive me. Open my heart to understand that you are brought glory when I obey you. In Jesus' name I pray. Amen.
Today's Verses in Context
After Jesus said these things he looked toward heaven. Jesus prayed, "Father, the time has come. Give glory to your Son so that the Son can give glory to you. You gave the Son power over all people so that the Son could give eternal life to all those people you have given to him. And this is eternal life: that people can know you, the only true God, and that people can know Jesus Christ, the One you sent. I finished the work you gave me to do. I brought you glory on earth. And now, Father, give me glory with you. Give me the glory I had with you before the world was made. "You gave me some men from the world. I have shown them what you are like. Those men belonged to you, and you gave them to me. They have obeyed your teaching. Now they know that everything you gave me comes from you. I gave these men the teachings that you gave me. They accepted those teachings. They know that I truly came from you. And they believed that you sent me. I pray for them now. I am not praying for the people in the world. But I am praying for these men you gave me, because they are yours. All I have is yours, and all you have is mine. And my glory is seen in these men. Now I am coming to you. I will not stay in the world now. But these men are still in the world. Holy Father, keep them safe. Keep them safe by the power of your name (the name you gave me), so that they will be one, the same as you and I are one. While I was with them, I kept them safe. I kept them safe by the power of your name—the name you gave me. I protected them. And only one of them was lost—the man (Judas) that chose to be lost. He was lost so that what was said in the Scriptures would happen.
John 17:1-12
Related Scripture Readings
While the woman was in town, Jesus' followers were begging him, "Teacher, eat something!" But Jesus answered, "I have food to eat that you know nothing about." So the followers asked themselves, "Did somebody already bring Jesus some food?" Jesus said, "My food is to do what the One (God) who sent me wants me to do. My food is to finish the work that he gave me to do.
John 4:31-34
"If you love me, then you will do the things I command. If a person knows my commands and obeys those commands, then that person truly loves me. And my Father will love the person that loves me. And I will love that person. I will show myself to him." Jesus answered, "If any person loves me, then he will obey my teaching. My Father will love that person. My Father and I will come to that person and live with him.
John 14:15, 21, 23
Jesus' mother stood near his cross. His mother's sister was also standing there with Mary the wife of Clopas, and Mary of Magdala. Jesus saw his mother. He also saw the follower that he loved very much standing there. He said to his mother, "Dear woman, here is your son." Then Jesus said to the follower, "Here is your mother." So after that, this follower took Jesus' mother to live in his home. Later, Jesus knew that everything had been done. To make the Scriptures happen he said, "I am thirsty." There was a jar full of vinegar there. So the soldiers soaked a sponge in it. They put the sponge on a branch of a hyssop plant. Then they lifted it to Jesus' mouth.
John 19:25-29