"I am the shepherd that cares for the sheep (people). I know my sheep like the Father knows me. And my sheep know me like I know the Father. I give my life for these sheep."
— John 10:14-15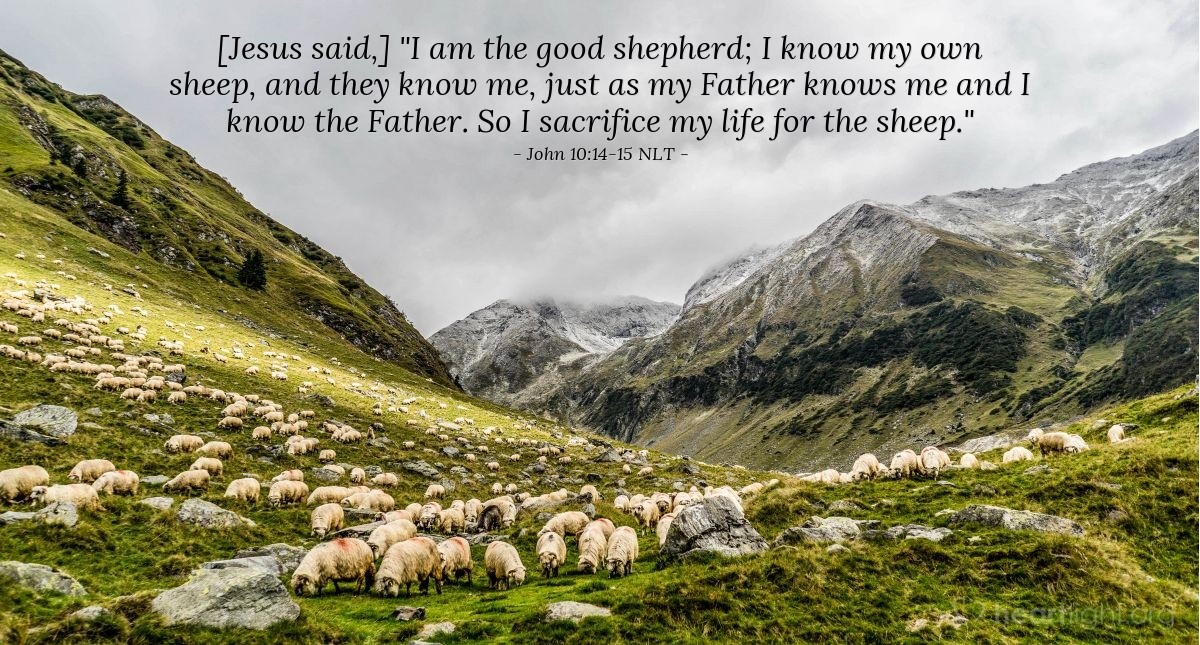 Key Thought
Jesus knows us. He knows our hearts. He knows our fears. He knows our temptations. He knows us inside and out. We do not have to try to vainly pretend. We do not have to be afraid in his presence. We know he wants what is best for us. He demonstrated it by allowing himself to be born into our world and placed in a corn crib in a stable at Bethlehem. He made it clear by allowing himself to be arrested, mistreated, falsely tried, and then crucified on the cross at Golgotha.
Today's Prayer
Father, because of your love and because of Jesus, who is interceding for me now, I pour out to you my deepest concerns... I know you will hear my cries and minister to my needs. I do not mean to be selfish today, O God, but I do want to be honest in your presence knowing that I can come to you honestly and receive your grace. Thank you for such love, understanding, and assurance which were given to me at such a high price. In Jesus' name I pray. Amen.
Today's Verses in Context
Jesus said, "I tell you the truth. When a man enters the sheep pen, he should use the gate. If he climbs in some other way, then he is a robber. He is trying to steal the sheep. But the man that takes care of the sheep enters through the gate. He is the shepherd. The man that guards the gate opens the gate for the shepherd. And the sheep listen to the voice of the shepherd. The shepherd calls his own sheep, using their names, and he leads them out. The shepherd brings all of his sheep out. Then he goes ahead of them and leads them. The sheep follow him because they know his voice. But sheep will never follow a person they don't know. They will run away from that person, because they don't know his voice." Jesus told the people this story. But the people did not understand what the story meant. So Jesus said again, "I tell you the truth. I am the gate for the sheep. All the people that came before I came were thieves and robbers. The sheep did not listen to them. I am the gate. The person that enters through me will be saved. That person will be able to come in and go out. He will find everything he needs. A thief comes to steal, kill, and destroy. But I came to give life—life that is full and good. "I am the good shepherd. The good shepherd gives his life for the sheep. The worker that is paid to keep the sheep is different from the shepherd. The paid worker does not own the sheep. So when the worker sees a wolf coming, he runs away and leaves the sheep alone. Then the wolf attacks the sheep and scatters them. The man runs away because he is only a paid worker. He does not really care for the sheep. "I am the shepherd that cares for the sheep (people). I know my sheep like the Father knows me. And my sheep know me like I know the Father. I give my life for these sheep. I have other sheep too. They are not in this flock here. I must lead them also. They will listen to my voice. In the future there will be one flock and one shepherd. The Father loves me because I givemy life. I give my life so that I can get it back again. No person takes my life away from me. I give my own life freely. I have the right to give my life. And I have the right to get it back again. This is what the Father told me." Again the Jews did not agree with each other because of these things Jesus said. Many of these Jews said, "A demon has come into him and made him crazy. Why listen to him?" But other Jews said, "These things we are hearing are not coming from someone that is crazy with a demon . Can a demon heal the eyes of blind people? No!"
John 10:1-21
Related Scripture Readings
Jesus was in Jerusalem for the Passover festival. Many people believed in Jesus because they saw the miracles he did. But Jesus did not trust them. Why? Because Jesus knew the things people were thinking. Jesus did not need any person to tell him about people. Jesus knew what was in a person's mind.
John 2:23-25
Those children are people with physical bodies. So Jesus himself became like those people and had the same experiences people have. Jesus did this so that, by dying, he could destroy the one who has the power of death. That one is the devil. Jesus became like those people and died so that he could free them. They were like slaves all their lives because of their fear of death. Clearly, it is not angels that Jesus helps. Jesus helps the people who are from Abraham. For this reason Jesus had to be made like us his brothers and sisters in every way. Jesus became like people so that he could be their merciful and faithful high priest in service to God. Then Jesus could bring forgiveness for the people's sins. And now Jesus can help those people who are tempted. Jesus is able to help because he himself suffered and was tempted.
Hebrews 2:14-18
My dear children, I write this letter to you so that you will not sin. But if any person sins, we have Jesus Christ to help us. He is the righteous (good) One. Jesus defends us before God the Father. Jesus is the way our sins are taken away. And Jesus is the way that all people can have their sins taken away, too.
1 John 2:1-2