Welcome to the Heart Gallery. Hundreds of scripture images are available for viewing. Select from the most recent, past favorites, or search to find exactly what you're looking for.

Now, with more features! Rate the images, or link to related devotionals, study materials and more!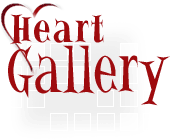 Search the Gallery:
or select from a
specific Bible book:
or select from a
specific image creator:

Today in Heartlight...

Touching Jesus
by Tim Archer
The woman wanted to be healed as well. She had heard of Jesus and the miracles he had done. She knew that no holy man would touch her on purpose… they wouldn't want to defile themselves in that way. She would have to find a way to be healed in secret. ... (read more)

Also:
•
•
• Today's Verse
• More...

Get Heartlight articles and devotionals by email FREE every day!
Daily Heartlight
Today's Verse
What Jesus Did!
Quotemeal

More Information