With God, Anything Is Possible! - Matthew 27:57-61
That evening a rich man named Joseph came to Jerusalem. Joseph was a follower of Jesus from the town of Arimathea. Joseph went to Pilate and asked to have Jesus' body. Pilate gave orders for the soldiers to give Jesus' body to Joseph. Then Joseph took the body and wrapped it in a new linen cloth. Joseph put Jesus' body in a new tomb (grave) that Joseph had dug in a wall of rock. Then he closed the tomb by rolling a very large stone to cover the entrance. After he did these things, Joseph went away. Mary Magdalene and the other woman named Mary were sitting near the tomb. (ERV)
Full Text
Key Thought
This camel found a way! Or better yet, God found a way for this camel to get through the eye of a needle!
We normally don't think of many of the followers of Jesus as rich. There surely weren't many who were rich; at least they weren't openly his followers. But a few were. What is amazing here is that Joseph picks the absolutely worst time to show his allegiance to Jesus! Joseph is identifying himself with one who was now viewed as the scum of the earth, a man apparentley cursed by God, a supposed criminal executed by Rome, and a Jew condemned to death by the religious ruling counsel and the High Priest. There is nothing to gain by his identifying himself with Jesus, at least nothing apparent. But that didn't stop Joseph! He was a follower, and he was willing to follow Jesus all the way through the cross. He was willing to become unclean for Passover by handling the dead body of Jesus. Joseph did for Jesus what was decent, loving, tender, and right. And he did it when there appeared to be nothing to gain in doing so.
I don't know about you, but I want to be like Joseph. While there is so much talk about the Apostles—their power and their authority—Joseph does what none of them did, and what none of them could. I'd surely like to do the same!
Today's Prayer
O Precious God, Mighty Father, and Faithful Lord, thank you for examples of faith that not everyone holds up as heroes. They become for us discoveries of joy in the middle of history's greatest story. Father, I really want to be like Joseph. I want to be faithful when no one else is. I want to be useful when no one else can be. I want to be tender when it is needed most. Through your Spirit, please make me a follower for all seasons. In Jesus' precious name I pray. Amen.
Today's Verses in Context

That evening a rich man named Joseph came to Jerusalem. Joseph was a follower of Jesus from the town of Arimathea. Joseph went to Pilate and asked to have Jesus' body. Pilate gave orders for the soldiers to give Jesus' body to Joseph. Then Joseph took the body and wrapped it in a new linen cloth. Joseph put Jesus' body in a new tomb (grave) that Joseph had dug in a wall of rock. Then he closed the tomb by rolling a very large stone to cover the entrance. After he did these things, Joseph went away. Mary Magdalene and the other woman named Mary were sitting near the tomb. That day was the day called Preparation day. The next day, the leading priests and the Pharisees went to Pilate. They said, "Sir, we remember that while that liar was still alive he said, 'After three days I will rise from death.' So give the order for the tomb to be guarded well until after three days. His followers might come and try to steal the body. Then they could tell the people that he has risen from death. That lie will be even worse than what they said about him before." Pilate said, "Take some soldiers and go guard the tomb the best way you know." So they all went to the tomb and made it safe from thieves. They did this by sealing the stone in the entrance and putting soldiers there to guard it.

— Matthew 27:57-66 (ERV)
---
God With Us:
365 Devotionals from the Gospel of Matthew
By Phil Ware

Join the author of the Gospel of Matthew in God With Us, a devotional that will immerse you in exploring the glories of Immanuel. The book uses one short passage each day and follows the Gospel text from beginning to end. Each day's passage is followed by a brief Reflection to open up the day's Scripture and a Prayer to show how the verses challenge you to live for Jesus.
---
Comments on "With God, Anything Is Possible!":

Easy-to-Read Version copyright © 2001 by World Bible Translation Center. All rights reserved.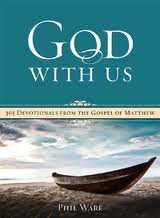 Get Phil's book God With Us featuring 365 Devotionals from the Gospel of Matthew.
Later, a man named Joseph from Arimathea asked Pilate for the body of Jesus. (Joseph was a follower of Jesus. But he did not tell people, because he was afraid of the Jewish leaders.) Pilate said that Joseph could take the body of Jesus. So Joseph came and took Jesus' body away. Nicodemus went with Joseph. Nicodemus was the man who had come to Jesus before and talked to him at night. Nicodemus brought about 100 pounds of spices. This was a mixture of myrrh and aloes. These two men took Jesus' body. They wrapped it in pieces of linen cloth with the spices. (This is how the Jews bury people.) In the place where Jesus was killed on the cross, there was a garden. In the garden there was a new tomb. No person had ever been buried there before. The men put Jesus in that tomb because it was near, and the Jews were preparing to start their Sabbath day. —John 19:38-42 (ERV)
Jesus continued to say to all of them, "If any person wants to follow me, he must say 'No' to the things he wants. That person must accept the cross (suffering) that is given to him every day, and he must follow me. The person that wants to save his life will lose it. And every person that gives his life for me will save it. It is worth nothing for a person to have the whole world, if he himself is destroyed or lost. If any person is ashamed of me and my teaching, then I will be ashamed of that person. I will be ashamed of that person at the time I come with my glory and with the glory of the Father and the holy angels. —Luke 9:23-26 (ERV)
Don't be afraid of the things that will happen to you. I tell you, the devil will put some of you in prison. He will do this to test you. You will suffer for ten days. But be faithful, even if you have to die. If you continue faithful, then I will give you the crown of life. —Revelation 2:10 (ERV)